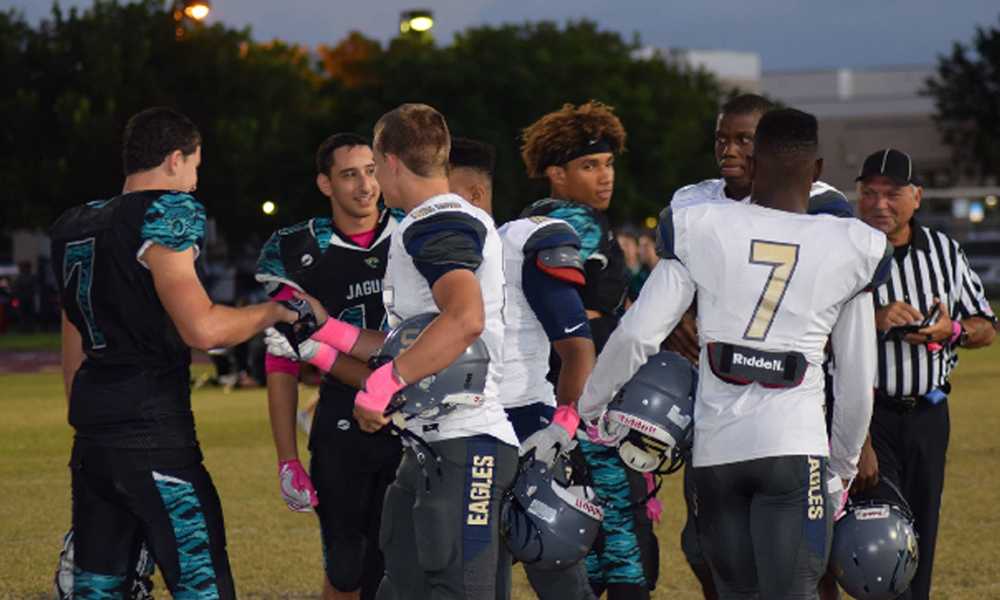 Calvary Christian (6-1) at North Broward Prep (7-1)
When: Friday October 28th, 7:00 P.M.
Where: North Broward Preparatory School
There will be an Eagle clash at Tom Marcy Field on Friday, and it's a big one. Calvary Christian and North Broward Prep will battle it out, with the winner hosting the first round game of the Gold Coast Conference semifinals. With a win, North Broward will be the two seed, which would make it a must win game for Calvary Christian next Friday against Archbishop McCarthy in order to even make the playoffs (Calvary has one conference loss, if it has three and Westminster also has three, Westminster gets into the playoffs because they own tiebreaker with Calvary).
However, if Calvary wins Friday, North Broward will travel to Calvary for the first round of the playoffs.
Calvary Christian
WHAT TO KNOW: The Eagles are entering their sixth season under head coach Kirk Hoza, who has turned this program around. Calvary is 43-16 under Hoza, including a Southern Football Conference championship in 2014, and a trip to the championship last season. Hoza came to Calvary after coaching at FAU, and took over a 5-5 team and improved it to 7-3 in his first season. They are in the midst of its first season in the Gold Coast Football Conference.
Calvary Christian has had five road games – with two left – and just three home games this season.
OFFENSE: The Eagles' offense has been sluggish this season, but it's because their outstanding defense takes care of business for them. Since scoring 82 against lowly Inlet Grove, Calvary has averaged 29.6 points per game in their last five, although inflated by the 49 against Pembroke Pines Charter and 42 against Coral Glades. Calvary is led by sophomore quarterback Skylar Pearcy, who has thrown for 567 yards and six touchdowns on the season, and senior running back Massimo Gamble, who has rushed for 439 yards and seven touchdowns on the year.
DEFENSE: This is where Calvary wins its games. Calvary has arguably the best defense in the Gold Coast Conference by a good margin. The Eagles' defense has allowed an average of just 5.8 points per game, and has had four shutouts out of seven games this season. The unit is led by 6'3", 230-pound senior linebacker Diego Fagot – rated a three-star prospect by 247 Sports – who is committed to Navy. Fagot's presence in the defense makes the rest of it better, including what is a great rest of the linebacker core and strong defensive line that has proven to shut down opposing rushing attacks and get to the passer all season.
GAME OUTLOOK: To win this game, Calvary needs to get locked into a defensive battle: the games they thrive in. If the defense stacks the box against the run, and puts pressure on North Broward sophomore backup quarterback Christian Paillet to make the perfect throw, it could shut down an injury-plagued North Broward offense. Offensively, long possessions with the run game and screen passes could chew up clock, get points on the board, and keep the ball out of North Broward's playmakers' hands. When Calvary is able to get Gamble in space, his speed takes care of the rest and he can take it to the house. Calvary should also look to exploit a struggling North Broward Prep special teams, which has been vulnerable to long kickoff returns.
North Broward Prep
WHAT TO KNOW: North Broward's quest for an undefeated season ended two weeks ago at home to Archbishop McCarthy, and the Eagles have been struggling lately with key members of their team injured and banged up. Junior starting quarterback Logan Shooster is out for the rest of the regular season after injuring his throwing hand against Archbishop McCarthy, while star running back Dymitri McKenzie also played just a few snaps last week against Coral Glades.
North Broward is off to its best start (7-1) since 2008 when current Dolphin Brandon Doughty was the quarterback.
OFFENSE: Without Shooster and McKenzie, offensive coordinator Derrick Mays had to get creative last week. We have seen the wildcat formation, jet sweeps, and other plays from the North Broward offense, but at the end of the day the Eagles' offense goes as far as McKenzie and sophomore backup quarterback Christian Paillet will take it. Paillet bounced back after a rough first half against and threw for four touchdowns without an interception last week against Coral Glades. It should be a huge boost to have McKenzie back this week – arguably the best running back in the conference – which should jumpstart the running game and potentially open things up for Paillet in the pass game. However, the Eagles' offense has had their lowest point totals of the season, 20 and 27, in their last two weeks without Shooster at quarterback.
DEFENSE: A dominant effort by this unit last week kept North Broward from a scare against Coral Glades. Defensive Coordinator Akeem Cedeno's group has let up just over 17 points per game this season, and it was even well less than that before coughing up 28, 28, and 29 points in consecutive weeks to Pompano Beach, Westminster Academy, and Archbishop McCarthy. Running attacks haven't been very successful against North Broward, with the forces of Kallen Jennings, Ivan Bronnikov, Kenny Henningsen, and company clogging up the middle. The Eagles' secondary has also been able to feed off that and cause turnovers, with senior Anthony Gomez racking up three interceptions on the season.
GAME OUTLOOK: For North Broward to be successful, the game plan defensively should be to stack the box against the run and press the receivers in man coverage. Most of Calvary's offense is running the ball and screen and bubble passes. In the Westminster game, the Lions were able to defeat Calvary because they were stout defensively against the run and short passes, and forced Calvary into 3rd-and-long. Skyler Pearcy – Calvary's QB – is just a sophomore, so forcing 3rd and longs could lead to mistakes and put pressure on the Calvary passing game, which isn't too good. Against the run, keep Gamble out of space, because his speed could lead to huge plays if he gets out in space. Offensively, it's going to be tough against this Calvary defense, but if North Broward gets creative to jumpstart the running game – wildcat with Kevin Austin and McKenzie, jet sweeps, screen passes – it could lead to success and open things up for Paillet and the passing game. North Broward's receivers' talent is far superior to Calvary's defensive backs, which could be an area to exploit. But in each of North Broward's wins this season, Dymitri McKenzie has had a big day; his success on Friday is vital.
PREDICTION: North Broward Prep 14, Calvary Christian 13.
This one could go either way. It can come down to a missed extra point, so special teams could be key.