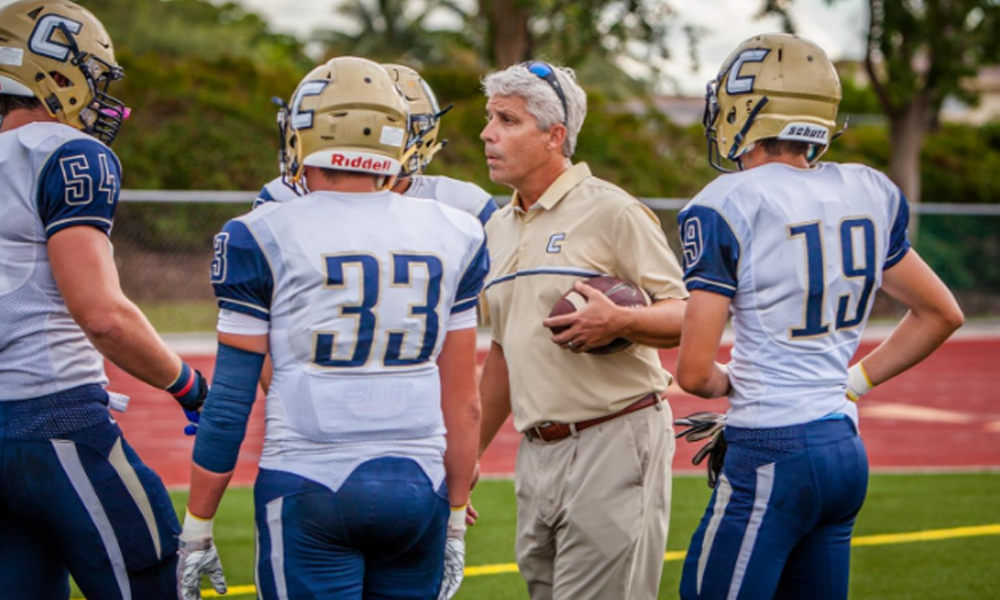 COCONUT CREEK, Fla.— All season long, Calvary Christian's defense has made big plays, and they did so again Friday night.
After North Broward pulled within three and had the ball early in the third quarter, Calvary cornerback Robbie Evans picked off Christian Paillet's pass and ran it right into the end zone to give Calvary a 17-7 lead – and take all the momentum away from North Broward – early in the second half.
Calvary rallied off Evans' play and didn't look back en route to a big 31-14 road win over North Broward Prep. The win clinches home field advantage in the semifinals of the Gold Coast Conference for Calvary (7-1), and they can hold the number one seed in the playoffs with a win over Archbishop McCarthy next week.
"They're a really good football team so anytime you beat a really good football team you've got to feel like you've done some things right," Calvary Christian head coach Kirk Hoza said after the game. "We're certainly proud of our kids, and it's certainly a big win."
Evans – also a running back – broke off a 47-yard touchdown run up the middle to again stretch Calvary's lead to ten with just over eleven minutes to play. Calvary's defense would then come up with a couple more stops to seal the deal.
"He's a heck of a player," Hoza said.
That defensive unit – which has four shutouts in seven games for Calvary – was huge all night, causing two turnovers, and holding North Broward (7-2), the highest scoring team in the Gold Coast Conference, to just one offensive touchdown, a 17-yard pass from Paillet to Anthony Gomez.
"Obviously we created some adversity for them," Hoza said about his defense's effort. "I saw them keep fighting and they've done that all year. They're not real pretty, but they line up and play, and they continue to play well."
Down 10-0 with under a minute to go until half, North Broward kicker Andres Del Castillo missed a 42-yard field goal, and it appeared Calvary Christian would head into halftime with a ten-point lead. However, Calvary decided to run the ball with 30 seconds left in the half from their own 17, opposed to taking a knee, and North Broward four-star Kevin Austin ripped the ball out of the hands of Massi Gamble and ran it into the house to make it just a three-point Calvary lead heading into halftime.
But Calvary didn't let that break their momentum and came out strong in the third quarter.
"We talk about process and how you respond in the moment," Hoza said. "At halftime we felt we wanted to have a ten-point cushion and we didn't so at that point you could either dwell on that or you can worry about what we're going to do with the opening kickoff, how we're going to incorporate the adjustments the coaches make at halftime, and I think these kids are maturing. Sometimes that's a challenge at their age, but I think they responded well in the second half."
Friday was the first game all season where North Broward Prep didn't lead at some point.
North Broward finished the game with over 150 yards in penalties, lost 81 yards snap deficiencies (three dropped by Paillet), and turned the ball over twice. It's always hard to win playing that way, but especially hard against a fundamentally sound team such as Calvary.
With Calvary up 10 with just over two minutes to go, sophomore quarterback Skylar Pearcy kept it for a large gain on a keeper which would eventually lead to an Evans touchdown run and a Calvary win.
Paillet threw a touchdown, but was picked off, dropped three snaps, and was mainly inefficient at quarterback in place of Shooster, who as of now is still slated to return for North Broward in the semifinals of the Gold Coast Conference playoffs.
North Broward Prep will host John Carroll Catholic on senior night next week, while Calvary Christian heads to Archbishop McCarthy for a huge showdown with the Mavericks to determine who will hold the top seed in the GCFC playoffs.