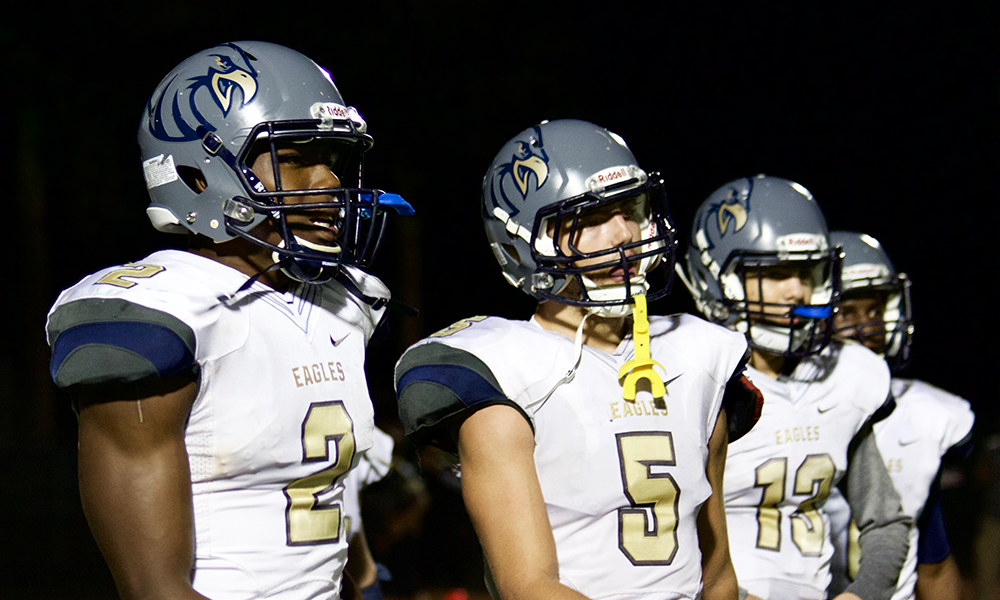 FORT LAUDERDALE, Fla. – "Just one more," was the theme, and message North Broward Prep head coach Rex Nottage had for his team all week leading up to a Gold Coast Conference semifinal game at Calvary Christian.
Just one more yard, just one more play, just one more ounce of effort to get a victory, in just one more time. In the past two times, North Broward had fallen in this exact game – the GCFC semifinals – to end their season, last year against Key West, and the year before against Oxbridge Academy.
And after dropping two out of their last four games following a 6-0 start, hardly anyone was giving North Broward a chance in this year's semifinal on the road against Calvary. It seemed, to many, that North Broward would fall again in the semifinals.
Not this time.
With one more win, they will take home the hardware.
North Broward Prep avenged a 31-14 loss two weeks ago at home to Calvary and clinched a spot in the Gold Coast Conference championship game with a thrilling 14-7 double overtime victory over Calvary Christian in the semis. The game went into overtime – which in High School Football is sudden death with each team getting a chance to score from the ten-yard – scoreless.
"It's team effort," Nottage said after the game. "They all work hard and they believe. It showed tonight that we're not just individuals that are going to win the game. They went for the challenge, they fought their tails off, and I'm just so proud of them."
In the second overtime, after Calvary (7-3) had struck first and North Broward Prep (9-2) answered right away when Anthony Gomez rushed in from ten yards out to send it to the second overtime, North Broward quarterback Logan Shooster hit four-star receiver Kevin Austin on a slant in the back of the end zone to give North Broward the lead.
Four plays later, senior Ivan Bronnikov sacked Calvary quarterback Skylar Pearcy on fourth down to clinch the North Broward double overtime win.
North Broward Prep junior quarterback Logan Shooster returned to action after he missed the last four weeks due to injury – including against Calvary Christian two weeks back – and was clearly a huge boost for North Broward in regulation and overtime. Shooster threw the game-winning touchdown and was good all night against Calvary's top-ranked defense.
"He was huge," Nottage said of Shooster. "His hard work, him believing in himself, and the kids believing in him, they know he can orchestrate the offense. He came up with some big runs when we needed it, some big runs when we needed it. I was hoping for a little bit more, but hey, I'll take it."
North Broward Prep had one field goal blocked and another missed in the first half, but Calvary Christian, too, had some field goal miscues.
With a second left in the first half, Calvary Christian had it 4th-and-goal from the six, was attempting a 23-yard field goal to give them a three-point lead heading into recess. However, Nottage called a timeout to ice the kicker – he made the first attempt shortly timeout was called – and it worked.
The 23-yarder was missed on the second attempt, after the timeout, and the game remained scoreless heading into halftime.
"You got to take your shots," Nottage said of his timeout to ice the kicker. "We deal as a team, we deal as a team, and it was the right timing and we were fortunate. But, hey, we missed two [field goals] as well, so you have to look at it like that."
And with 6:26 to play, Calvary Christian lined up for a 22-yard field goal to again take the lead. But this time, North Broward senior Anthony Gomez blocked the kick.
"Watch out for [Anthony] Gomez," North Broward Offensive Coordinator Derrick Mays had said before the game. "He could have a big game tonight."
And he did.
Along with the blocked kick, Gomez racked up over 50 yards in punt return yardage, was again lockdown at corner – dropping two near interceptions – was huge for the North Broward offense and had the game-tying ten-yard touchdown run in the first overtime.
North Broward Prep is undefeated (6-0) on the road this season.
Although Calvary Christian's top-ranked defense gets all the spotlight, North Broward Prep's unit went toe-to-toe with it tonight. Defensive Coordinator Akeem Cedeno's group became the first team to shutout Calvary in regulation time all season. They also had five sacks, and three turnovers, including two interceptions by sophomore cornerback Justin Dolles.
"You just hit it on the nail; it was 0-0 at the end of the game," Nottage said of the way his defense matched the standard of Calvary's. "Coach Cedeno and that group did an excellent job with their hard work and constant film study. Our kids just stepped up, and they believed in what we were teaching them, and they really did an awesome job tonight."
North Broward Prep will look to take home the school's first Gold Coast title as they travel to Archbishop McCarthy next Thursday night for a championship clash with the Mavericks.
"Let's enjoy this one tonight," Nottage said. "We'll deal with getting ready for [Archbishop McCarthy] tomorrow."