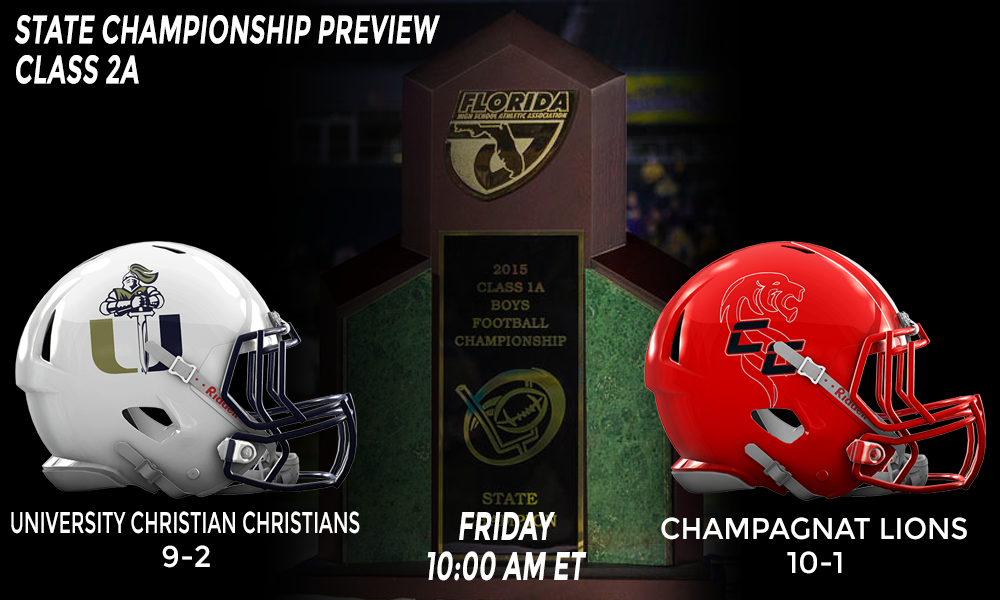 University Christian (9-2) vs. Champagnat (10-1)
FHSAA Class 2A Football State Championship
10:00 a.m. EST Friday at Camping World Stadium, Orlando
Game Details, How To Watch/Listen & Live Updates
Tickets: $12 ($15 at the gate) general admission / $17 ($20 at the gate) reserved seating — can be purchased through Ticketmaster.com. Gates open 90 minutes prior to kickoff. All patrons will enter the stadium from Church Street. Parking is $10.
Live Updates: On Twitter at @FlaHSFootball | Pregame preview, halftime update, and end of game recaps on Periscope.
TV Broadcast: Spectrum Sports Florida (HD 1147 for Charter Subscribers in Central Florida and Tampa Bay)
Radio Broadcast: None
Internet Stream: Watch online at MySpectrumSports.com (there is a fee to watch the games)
The Drive To December
University Christian: Defeated FAMU, 42-6, in regional semifinals; defeated North Florida Christian, 32-14, in regional finals; defeated Victory Christian, 42-13, in state semifinals
Champagnat: Defeated Community School, 34-31, in regional semifinals; defeated First Baptist, 13-0, in regional finals; defeated Northside Christian, 14-3, in state semifinals.
Rankings
University Christian: Ranked No. 1 in Class 2A by Joe Pinkos; Ranked No. 4 in Class 2A by The Associated Press.
Champagnat: Ranked No. 3 in Class 2A by Joe Pinkos; Ranked No. 3 in Class 2A by The Associated Press.
FHSAA State Series History
University Christian: 27 state series appearances, eight state titles, one runner-up finishes, 41-19 overall playoff record.
Champagnat: Three state series appearances, one state title, 7-2  overall playoff record.
Head Coaches & Coaching Records
University Christian: David Penland III, sixth year (61-17 at University Christian, only coaching stop)
Champagnat: Dennis Marroquin, second year (14-8 at Champagnat, only coaching stop)
Coaching Staffs
University Christian: David Penland Jr. – defensive coordinator and defensive backs; Frank Ciresi – offensive coordinator, wide receivers; Heath Nivens – quarterbacks, special teams; Kevin Wiley – linebackers; Willie McClendon – defensive line; Ryan Crowley – kickers; Chris Seely – wide receivers; Courtney Moore – running backs
Champagnat: Daniel Clavijo – defensive coordinator; George Stubbs – offensive coordinator; Dwayne Gatlin – quarterbacks; Eduardo Barnes – offensive line; Leroy Smith – wide receivers; Torrence Seymour – running backs; Hector Clavijo – linebackers, special teams; Timmmathy Johnson – defensive backs; Hans Louis – defensive assistant; Johnny Johnson – offensive assistant
Players To Watch
RB Otis Anderson, University Christian, Jr. — The biggest offensive weapon for the Christians and likely to be the star of the game for the team. Anderson has rushed for nearly 1,200 yards so far this season through the state semifinals and has scored 17 times. Anderson is a verbal pledge to Scott Frost's University of Central Florida program.
QB Kervin Desources, Champagnat, Soph. — Only a sophomore, Desources has proven that you don't need to go to a large school to make a big impact on your team. Desources has thrown for 1,510 yards through the state semifinals and has thrown 18 touchdowns while only intercepted only 6 times on 107 completions. Desources will have multiple receivers to throw to which could prove to be an issue for the University Christian defense.
The Skinny On University Christian
The Fighting Christians are no stranger to the state championship environment. That is something this program has been through nines times over the last four decades. For Coach Penland, he now has the chance to join history at University Christian as only the second head coach to be able to repeat as state champions in back to back years. That is something that legendary head coach Robby Pruitt did in 1991-1992. A win here would give the Jacksonville-based program their ninth overall state championship.
In looking at the team for this game, expect them to be relying on Otis Anderson a lot to carry the ball through traffic against Champagnat. However, running back DJ Stubbs should get in some of the action to help ease some of the pressure off Anderson. However, if Champangat's defense is able to shut down the run game on the Christians look for them to turn to quarterback Clay Boyd who has only thrown over 1,100 yards this season with just 12 touchdowns. Looking at the defense, senior linebacker Leon Huey could be the guy that could create trouble for the Champangat offense. However, it is likely to take more than Huey to shut down the Lions passing game, something that could prove problematic if the Lions find success with it against the Christians.
The Skinny On Champagnat
With this being only the second-ever state championship appearance for the small, private Catholic school based in Hialeah, the success for the program in such a short time has been relatively impressive. The last time the Lions were in Orlando in 2013, they defeated Victory Christian 14-7 at the Citrus Bowl.
Since that time the first head coach of the program has come and gone and current coach Dennis Marroquin has quickly rebuilt the program into a team that believes it has a chance to bring home a second state championship in football. To do that they must overcome a team that has been in this situation many times in University Christian. If there is one advantage for the Lions here, they can balance things out on offense. However, the passing game is something to keep an eye for the Lions as Desources has had a solid season so far and will have a trio of receivers he could throw the ball to get things going. They could also turn to the running game to keep the Christians on their heels. Defensively the team could put a strain on the Christians with players like Tyrick Robinson and Donovan Georges who have to lead the team in tackles this season. If the Lions play the game right, they could be the champions at the end of the final whistle.
The Picks
FloridaHSFootball.com: University Christian 27, Champagnat 24
Joe Pinkos: Champangnat 5 over University Christian