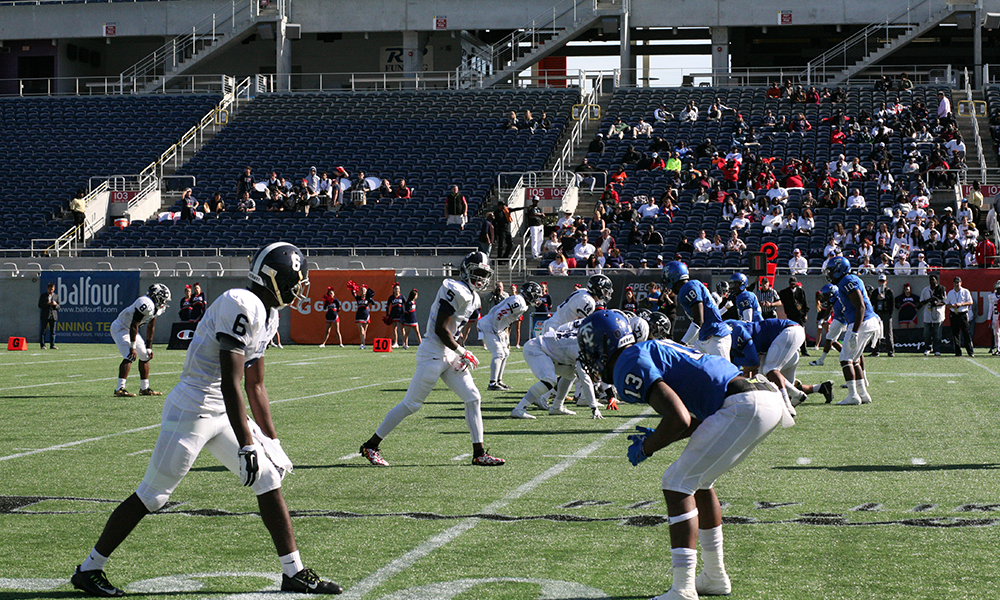 STATE CHAMPIONSHIP GAME COVERAGE POWERED BY

ORLANDO, Fla. — It wasn't pretty, but the Trinity Christian Conquerors were effective enough Saturday at Camping World Stadium in Orlando.
Trinity Christian celebrating as they tie the state record of winning 4 state championships in a row. #flhsfb pic.twitter.com/r046VtUYKz

— FloridaHSFootball.com (@FlaHSFootball) December 10, 2016
The Conquerors held off Chaminade-Madonna 24-13 to win their fourth consecutive 3A state championship and tie a state record held by four other schools.
Trinity Christian (11-3) had to work from behind in this game, as Chaminade-Madonna junior running back Shaun Shivers ripped off an 80 yard TD play on the first play from scrimmage.  Shivers, an Auburn commit, finished with 140 yards on 20 carries for the Lions (10-4).
The Conquerors answered right back to tie the game on a 7 play, 80-yard drive.  Senior quarterback and FSU commit D.J. Matthews lobbed a 17 yard TD pass to Isaiah Washington to tie the game at 7, and that was the score at the end of the opening quarter.
Jordan Williams intercepted a pass from Trinity's Austin Thomas late in the first quarter, and eventually, the Lions settled for a 23-yard field goal to re-take the lead 10-7.  Trinity Christian answered right back on another 80-yard drive and six plays and regained the lead 14-10 as UNC commit Rasheed Martin ran it from 13 yards out.  Martin paced the Conquerors rushing attack with 156 yards on 27 carries.
On the next drive, Ohio State commit Shaun Wade picked off Chaminade-Madonna quarterback Henry Colombi with a diving play on the sideline at the Lions 30.  4 plays later Matthews rushed for a 21-yard score on 4th and 1 to extend the Trinity Christian lead to 21-10 and that was the score at halftime.
The third quarter didn't see any scoring but did see some extremely strange plays.  Chaminade-Madonna punter Jason Merry dropped a snap early in the third, and Trinity Christian recovered at the Lions 37.  But on 4th and 9, Frankie Onate lined up for a 39-yard field goal and instead Wade, the holder, tried to pass to Onate on a fake field goal. The pass was missed, and picked up by Chaminade-Madonna and taken back for a touchdown.  But the play was blown dead as Wade had his knee down before he attempted the pass.
The aftermath of a scuffle here. Punches thrown #flhsfb pic.twitter.com/7Eppj57v0n

— ᴊᴀᴋᴇ ᴘᴇʀᴘᴇʀ (@JakePerper) December 10, 2016
Chaminade-Madonna  gets to keep the ball and made it down to first and goal on the three-yard line, but Colombi was sacked by Andrew Brown on third down and the Lions settled for a 30-yard field goal on the first play of the fourth quarter to cut Trinity Christian's lead to 21-13.
Tyreke Johnson returned the ensuing kickoff 53 yards to set up a 52-yard field goal by Onate, and the Conquerors lead was extended back to 24-13 with 8:50 left.
Trinity Christian's defense took over for the rest of the game, stopping Chaminade-Madonna on 4th down and picking off Colombi on the last two Lions possessions to put the game away.
For Trinity Christian, Matthews rushed for 101 yards and a score on nine carries and was 5 of 8 passing for 58 yards and another TD.  Colombi was 8 of 16 passing for 81 yards and two interceptions in a game that was dominated by defenses and the running game.
Trinity Christian ended up with 280 total yards, 222 of those coming on the ground, and had three turnovers while enjoying five minutes more of time of possession than Chaminade-Madonna.  The Lions ended up with 171 total yards, 90 rushing, and 81 passing, and had two turnovers on interceptions.
Trinity Christian celebrating as they tie the state record of winning 4 state championships in a row. #flhsfb pic.twitter.com/r046VtUYKz

— FloridaHSFootball.com (@FlaHSFootball) December 10, 2016
Trinity Christian is the fifth team to four-peat as state champs, joining Suwannee (1987-90), North Florida Christian (1998-2001), Miami Central and Miami Booker T. Washington (2012-15).  Central didn't qualify for the 6A playoffs this year, and Booker T. Washington was eliminated in the 4A state semifinals 24-21 by eventual state champion Cocoa.
Trinity Christian celebrating their 2016 Class 3A State Championship win! #flhsfb pic.twitter.com/VCIUkz9a4Z

— FloridaHSFootball.com (@FlaHSFootball) December 10, 2016
HEAD COACH VERLON DORMINEY AFTER THE GAME