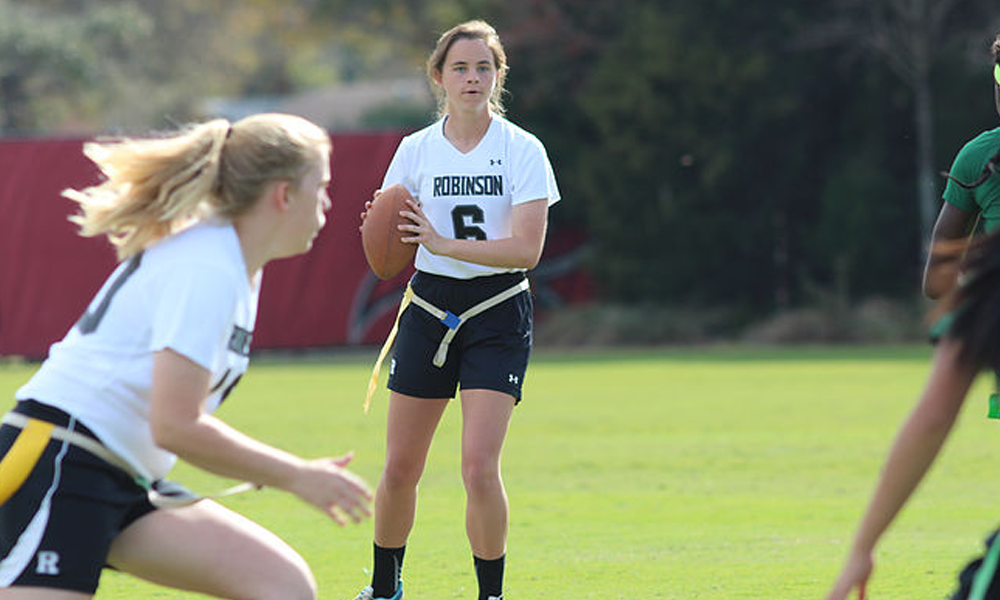 Help support the No. 1 Independent high school sports website in the State of Florida by becoming a FRIEND of FloridaHSFootball.com for as little as $3.00 per month by clicking here.
Here are the latest FloridaHSFootball.com Girls Flag Football Class 1A rankings following the second week of regular season games.

Current ranking, followed by team record and previous ranking

1. Robinson (Tampa), 1-0, 1
Notable Wins: None
The Buzz: Another week another big win for Robinson as the Knights rolled by 1A Jefferson (Tampa) last week in a 45-0 shutout win. Now the attention turns to potential district wins against Blake (Tampa) and Brooks-DeBartolo (Tampa) before heading to Tallahassee on Friday to start off the Capital City Classic against 1A No. 11 Glades Central (Belle Glade) as part of a three-game weekend.

2. Godby (Tallahassee), 2-0, 2
Notable Wins: Lincoln
The Buzz: Godby got off to a quick start to the season going 2-0 last week that included an overtime win against Lincoln (Tallahassee). However, attention turns towards the Capital City Classic this week with their first matchup of three games coming against International opponent Markham High School out of Canada. They will also play 1A East Gadsden (Havana) just prior to the tournament.

3. Harmony, 2-0, 3
Notable Wins: None
The Buzz: The season started off with two wins for the Longhorns defeating two 2A teams in Celebration and Gateway (Kissimmee). They will take on district foes Edgewater (Orlando) and East River (Orlando) this week to get the district slate started.

4. Lincoln (Tallahassee), 1-1, 4
Notable Wins: None
The Buzz: Lincoln drew an even start to the season after falling just short to Godby in an overtime game late last week. That result led us to hold Lincoln steady at No. 4 despite the loss. Now the Trojans must turn around quickly to get ready for a solid FAMU DRS (Tallahassee) team as well as get ready to face 2A No. 4 Apopka in the first of their three games at the Capital City Classic in Tallahassee.

5. Miami Edison, 2-0, 6
Notable Wins: None
The Buzz: The Red Raiders got another win this past week, shutting out district foe Hebrew Academy (Miami), 41-0. They will take on flag football newcomer IND Chaminade-Madonna (Hollywood) and district foe Miami Springs in matchups this week.  

6. Chiles (Tallahassee), 2-0
Notable Wins: FAMU DRS (Tallahassee)
The Buzz: Off to a good start on the season, Chiles was able to squeak by a 13-6 win over 1A FAMU DRS (Tallahassee) while they easy handled 1A Florida High (Tallahassee) in a shutout win. As the only Tallahassee-area team not participating in the Capital City Classic this weekend, the Timberwolves will take on West Gadsden before heading to Central Florida to take on 2A Cypress Creek (Orlando) and 2A Spruce Creek (Port Orange) over the weekend.

7. Fort Pierce Westwood, 0-0, 5
Notable Wins: None
The Buzz: The Panthers' game against 2A Treasure Coast (Port St. Lucie) was called off last Thursday due to severe weather that impacted their area with no reschedule date set as of yet. They will host district foe Okeechobee at home later on this week.

8. Choctawhatchee (Fort Walton Beach), 2-0, 10
Notable Wins: Niceville
The Buzz: Choctaw got off to a fast start to their season easily handling Crestview and Niceville to get to a 2-0 start. What might be even more impressive is posting a shutout on rival Niceville. They Indians will get a district game this week against Fort Walton Beach before traveling to the Capital City Classic in Tallahassee for three games over the weekend with the first game against 1A Jefferson (Tampa) on Saturday.

9. Miami Jackson, 3-0, 9
Notable Wins: None
The Buzz: Miami Jackson continues to build upon its success as a girls flag football program in year two as they achieved big victories over 1A Keys Gate Charter (Homestead) and 1A North Miami Beach last week. This week things continue as they will take on a rising district foe Booker T. Washington (Miami) and 2A No. 5 Martin County (Stuart).
10. Orange Park, 2-0, 11
Notable Wins: None
The Buzz: Orange Park gets back on the field this week, after being off last week for spring break, at the Capital City Classic in Tallahassee. They will open the three-game weekend with 2A No. 1 and defending Gold Bracket champion Alonso (Tampa) on Friday.

The Next 10
11. Glades Central (Belle Glade), 1-0, 12
12. Monsignor Pace (Miami), 3-1, 7
13. Mainland (Daytona Beach), 3-0, 15
14. Terry Parker (Jacksonville), 1-0, 16
15. Pembroke Pines Charter, 3-0, NR
16. Coconut Creek, 3-1, 13
17. Englewood (Jacksonville), 1-0, 19
18. Seabreeze (Daytona Beach), 1-1, 14
19. Paxon (Jacksonville), 1-0, 20
20. Jensen Beach, 1-0, NR

Dropped Out: No. 17 Armwood (Seffner), 0-1; No. 18 Northeast (St. Petersburg), 0-1