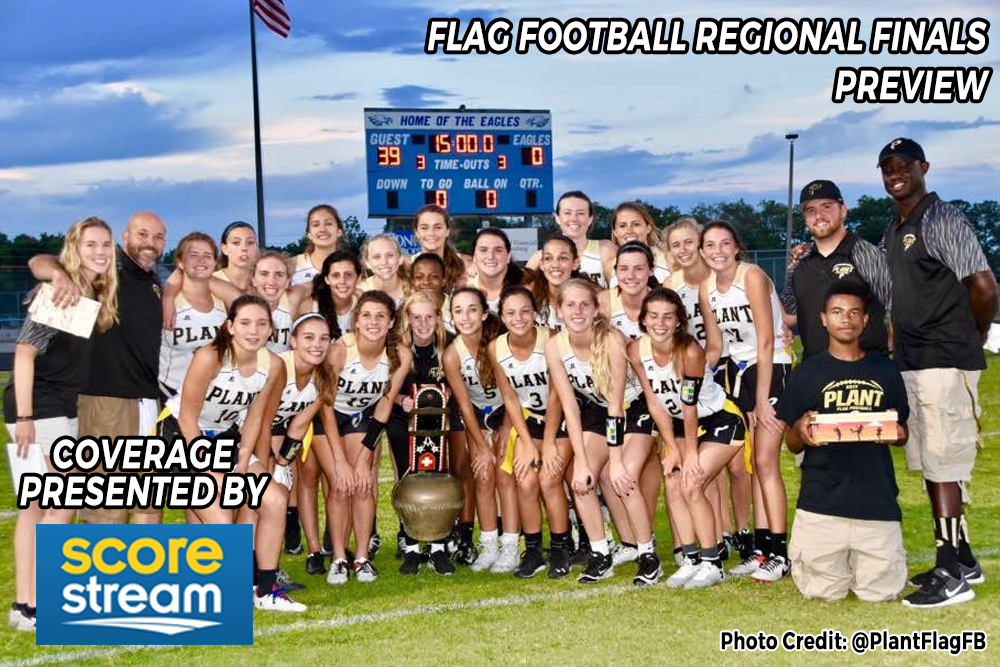 Help support the No. 1 Independent high school sports website in the State of Florida by becoming a FRIEND of FloridaHSFootball.com for as little as $3.00 per month by clicking here.
The drive to #Get2Gainesville continues on Tuesday for the remaining 16 girls flag football teams around the state after advancing to the regional semifinals on Friday.
Now the name of the game is to win the regional final. Who do we think has the best chances to be making a trip to Gainesville at the end of the week? Find out here in our preview for the regional semifinals.

Sponsor Note: Our coverage of the Flag Football playoffs on FloridaHSFootball.com is brought to you by ScoreStream! ScoreStream powers thousands of scores in over a dozen sports across the country. You can download the ScoreStream app on your iOS or Android device and score games for your favorite school all school year! To download the app, click here!
All games scheduled for 7:00 pm Eastern on Tuesday unless noted.
CLASS 2A 
No. 17 Fleming Island (7-2) at No. 2 Dr. Phillips (15-0): Fleming Island survived a test from DeLand on Friday night to advance to the regional final for a third straight year. However, they are going to face a tough challenge from a very tough and skilled opponent in Dr. Phillips. Dr. Phillips which went down to Stuart on Friday afternoon, knocked off the No. 1 team in Class 2A, Martin County, to advance to the regional finals. The big thing is here Fleming Island cannot afford to start off slow and much likely needs to be the first one to score to establish any momentum. If they do not, Dr. Phillips could control the entire game which would advance them to their first trip to state since 2013.
Prediction: Dr. Phillips over Fleming Island
No. 7 East Bay (13-2) at No. 5 Plant (13-2): This is a rematch of the regular season where East Bay almost knocked off Plant. Now they get a chance to try to do it again here in this regional final that is going to send one of the two teams to state. For Plant, a win here would be their second straight trip to state. For East Bay, a win here would be a historic accomplishment for a program that is built itself over the last decade in Hillsborough County. In the end, East Bay has improved considerably since the Capital City Classic in Tallahassee while, Plant has shown they can be defeated in several close games this season. This is a toss up for us, but either team has literally earned the right to #Get2Gainesville.
Prediction: Plant over East Bay
No. 8 Piper (13-1) at No. 3 Seminole Ridge (15-0): Seminole Ridge kept up its undefeated win streak on Friday night, but not by much, defeating No. 4 Park Vista in a close 7-6 matchup. However, how much longer can the Hawks handle winning close games? That is a big question that won't be answered until someone puts more points up against them. However, the focus is now on Piper with a trip to Gainesville on the line for both teams. Piper defeated an upstart Coral Glades team last week 7-0. The question for this game will be this be a game the Hawks bounce back from and put more points up or could this be a close defensive battle with a Bengals team that has had its share of close this season? That is what it could all come down to.
Prediction: Seminole Ridge over Piper
No. 15 Miami Southridge (10-2) at No. 6 Cooper City (14-1): Here is another matchup between two teams that could set history for their schools with a win on Tuesday night. Cooper City easily handled No. 8 Dr. Krop last week to advance to what it appears only their second regional final in school history. For Miami Southridge, this is their first trip to the regional finals and they are looking to make the most and become the second or possibly the third Miami-Dade County team to reach the state semifinals (all dependent on how Miami Edison fairs). Cooper City has been playing Flag Football a lot longer than Miami Southridge, but all bets are off saying that they don't have a chance. Anything could happen in this game. However, we are going to stick with the home team for now.
Prediction: Cooper City over Miami Southridge
CLASS 1A
No. 7 Clay (12-0) at No. 2 Choctawhatchee (13-0), 6 pm CT: Choctawhatchee is proving they have earned the No. 2 ranking in the state after winning their first regional semifinal game on Friday night against No. 9 FAMU DRS. However, with a chance to host a home game with a team coming from just over five hours away could open the door for them to reach Gainesville. Clay is athletic all-around like Choctaw is and that could set up for a big defensive battle. However, we are certainly given the Indians home field advantage here in this game over the Blue Devils.
Prediction: Choctaw over Clay
Brandon (9-5) at No. 1 Robinson (15-0): There is Robinson… and then there is everyone else in Class 1A. That is how we have talked about the Knights and how we have written about them as well this season. There is no other team close to the level of Robinson's caliber at this point in Class 1A and this matchup could be done quickly before halftime gets here. That is how much confidence we are putting into this game, but Robinson is also no stranger to being hyped about so this shouldn't phase them at all. Sorry to say it, but the drive to #Get2Gainesville ends here for Brandon after squeaking by an upstart No. 16 Crystal River team last week in overtime.
Prediction: Robinson over Brandon
No. 4 Harmony (12-2) at No. 15 Jensen Beach (11-3): Harmony defeating Mainland last week comes as no surprise. But shutting Mainland out was a surprise, somewhat. However, Harmony moves on and now heads on the road to Jensen Beach to face a team that literally destroyed Oxbridge Academy. For Harmony, they are familiar with the territory here as they look for the second straight trip to states with this game. For Jensen Beach, a win here would not only send them to Gainesville but would give them first state final four berth. With the way both teams have played lately, things could be tight.
Prediction: Harmony over Jensen Beach
No. 3 Pembroke Pines Charter (15-0) at No. 6 Miami Edison (13-1), 4 pm: Oh my oh my… this is by far the best matchup of all eight regional final games for Tuesday. Pembroke Pines Charter has been on fire since the start of the season and the same goes for Miami Edison. Remember, Edison's only loss is to 2A No. 2 Dr. Phillips, which that has been seen as something to grow from. Both teams have athletic and both know how to cruise past opponents with ease. The question is can either one of them do that here or will this turn into a defensive slugfest? That is the biggest question that will get answered on Tuesday afternoon. By rights, both teams deserve to be in Gainesville, but only one is going to make it and we can only predict one winner as well.
Prediction: Pembroke Pines Charter over Edison.
Last Week: 14-2 overall (7-1 in Class 2A, 7-1 in Class 1A)