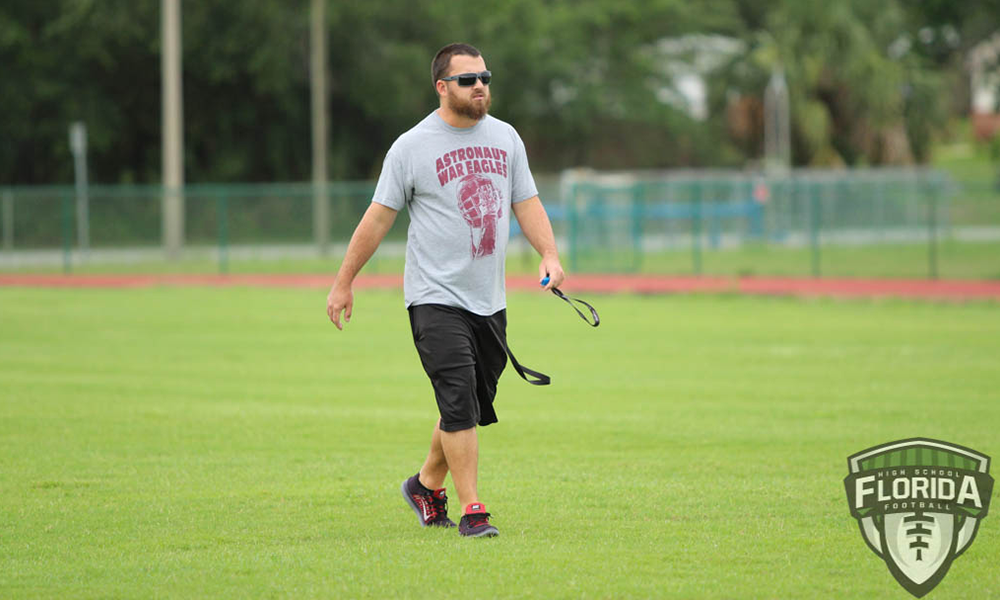 Help support the No. 1 Independent high school sports website in the State of Florida by becoming a FRIEND of FloridaHSFootball.com for as little as $3.00 per month by clicking here.
TITUSVILLE, Fla. — When Justin Worden left Nature Coast Tech to be the head football coach at Astronaut in Titusville, a lot of people in the Tampa Bay area were shocked.
And for good reason.
Worden had just led the Sharks to two of the best seasons in school history over 2015 and '16, including a pair of district championships and a trip to the Class 5A-Region 2 final in that time. However, for Worden, it was a chance for him to come home to Astronaut to coach the War Eagles, where he graduated from in 2004 when the school was a lock to make the playoffs every year. Worden experienced a time of greatness at Astronaut, in which now he's trying to pursue as the guy in charge.
Worden experienced a time of greatness at Astronaut, in which now he's trying to pursue as the guy in charge.
"I didn't play varsity football during my freshman year, but I was always around the program because my father coached here. We got beat in the state championship game that year, and we went to the final four the year before that. There was just a certain mentality we had at Astronaut those two seasons, and it's time to reintroduce that same mentality," Worden said.
Worden's decision to come back to Astronaut wasn't solely about football – he has a two-year-old son that will now be able to grow up around his family in Titusville.
"The opportunity to come home was a big reason I left NCT. My fiancé is going back to school to pursue her doctorate degree, and I wanted my son to be able to grow up around family. It gave us all a lot more stability."
Stability – something that's lacked at Astronaut High over the last couple of years in its football program – was another big reason why Worden returned to his alma mater.
Stability in the program's success, stability in the rivalry against the Titusville Terriers, is something that could really come back with Worden at the helm.
'The Battle for the Hudson,' as it's called in Titusville, is one of the fiercest rivalries and more storied in the state between Astronaut and Titusville. The War Eagles shut out Titusville 40-0 in 2015 but dropped a 35-14 game to the Terriers last season.
Worden is looking to reverse the fortunes in 2017.
"This rivalry is everything to us. If you're 2-7, and one of your wins is against Titusville, that's more job security than if you were to go win a state championship. It really is the end-all, be-all for our season," Worden said. "My father had been involved in the Astronaut-Titusville rivalry since the 80s, and now I'm trying to fire up that rivalry and bring back that saltiness back into it."
The rivalry between Titusville and Astronaut is evident on social media, around town, and in all facets of everyday life, according to Worden. This year, they play in week 11, which will be a very competitive game, especially if neither team will be expecting to go to the playoffs.
Worden's goal isn't just to beat Titusville, but to educate his players about the teams of Astronaut's past, including that 2000 state finalist team. He's still finding time to do that, even while coaching his guys to be better than they were in the previous two seasons.
"I've always felt like I do things differently. Every Thursday from January to May, we'll do some trivia. If they get it right, I would cut down the length of their suicide runs they would do for conditioning. It would be questions like, 'how many times has Astronaut played this team,' 'what year did Astro play in the state title game,' questions that would expose them to the history of our program," Worden said.
This team certainly has the potential to return to those winning ways by the number of talents they have along the offensive side of the ball.
Chase Gadapee will be the man under center for Worden's War Eagles in 2017 after going 69-of-144 for 746 carries and five touchdowns last season. He'll need to rebound from a shaky junior season after he threw nine interceptions – three of which came against Lake Highland Prep, who will be a regional opponent in the new region format for Class 4A-Region 3.
The real pride of this team, offensively, is going to be its running game. There's no DeShawn Smith for Worden at Astronaut (3,715 rushing yards and 60 touchdowns en route to a Florida Mr. Football award in his senior season at NCT), but there are three guys that Worden can see putting up some pretty good numbers: Dominick Robinson, Luis Arnold III, and Gibran Williams.
"I'm a guy that will ride the hot hand. If all three of these guys are hot, then they're all going to get carries," Worden said. "Dominick is a shifty guy that can make guys miss, but neither he nor Gibran can get you those tough yards on third-and-one, and that's why you need Louis in the mix. He'll get you the tough yardage. Gibran has the home run speed, he's a 10.7 100 guy, once he gets into open space, he's gone. We can mix things up with these guys, especially with Chase being so versatile and being able to line him up at tight end."
Astronaut came out with some interesting looks in their spring game against Melbourne in May, as Williams got a number of snaps out of the wildcat, while Gadapee moved to the outside.
Defensively, there's Cameron Ockerman, who had 87 tackles (seven of them for a loss), an interception, and a forced fumble in 2016. He flips to the other side of the ball where he caught 25 passed for 232 yards. Cory Sides and Josh Rodriguez each had three interceptions for Astronaut last season while Arnold compiled 70 tackles from the linebacker spot as a freshman. Deanthony Mallory will lead the pass rush with 17 TFL and four sacks last season.
That's all good and dandy, but without a solid offensive line, they may not go as far as they can. Worden believes that's the make-or-break part to Astronaut's success or failure in 2017.
"They're an upperclassmen group that will put the rest of the team on their shoulders. I believe we will be very good up front," Worden said.
He speaks from experience in remembrance of Nature Coast's second-round game against River Ridge in last year's playoffs where the offensive line couldn't make key adjustments that the Royal Knights' defense exploited, en route to only being able to score three points after averaging 43.5 prior to that game.
"Nobody will ever really talk about them after this season, and that's just the nature of their position. But for them to be able to grasp what we're doing, making the end-game, pre-snap adjustments will be what makes or breaks our season. We have a fantastic offensive line coach in Tom Bundy, and I really think they'll be the leaders of this team."
Astronaut's offensive line may not be remembered in 20 years, but if they play to their ultimate potential, they'll be the stable building blocks to a rebuild to being a powerhouse, not just on the east coast, but on the state level.
"The biggest thing for me as an alum, to see Astro as a down team in recent years, hurt, because you take pride in where you come from, even when I wasn't around. To now be able to give back to these kids what was given to me is going to be an amazing thing," Worden said.
PHOTO GALLERY
All photos by Will Turner/FHSF