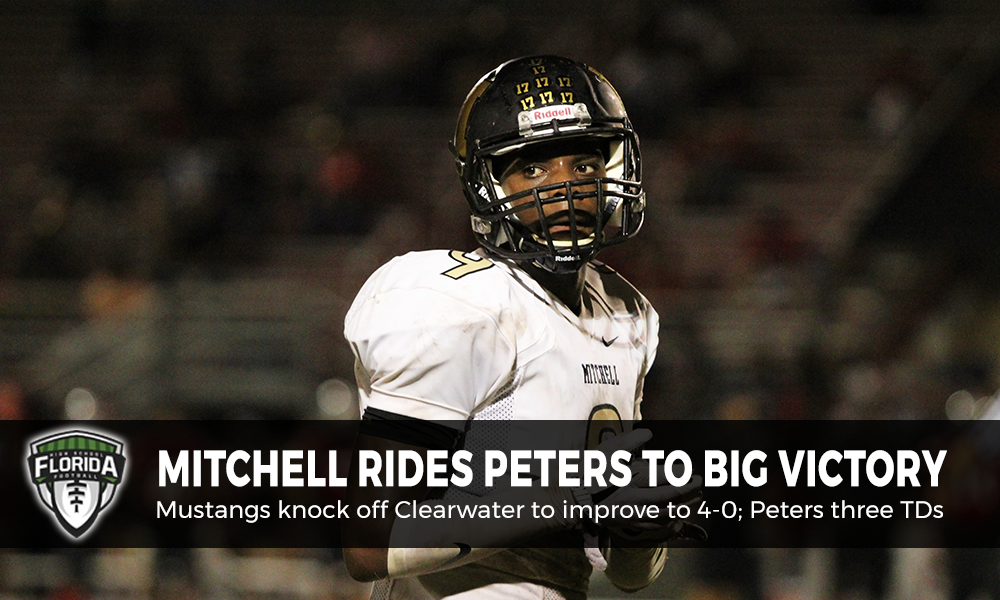 CLEARWATER, Fla. – The Mitchell (New Port Richey) Mustangs are back-to-back Class 6A-District 6 champions.
Friday night showed that the Mustangs are primed for the three-peat.
Facing a fellow 6A opponent in Clearwater, in a game that a lot of people believed Mitchell had no chance to win, gave the Mustangs a chance to show the rest of the Tampa Bay Area what they had to offer.
They certainly didn't disappoint.
Clearwater got on the board first after Semaj James intercepted Mitchell QB Jakob Mattos, as six plays later, Jarius Williams plowed into the end zone from one-yard out. Mitchell and Clearwater would tear apart the middle (of an already worn) field for the next seven minutes of game time before J.P. Watt knocked in a 27-yard field goal to put the first points on the board for the Mustangs.
Jarvis Williams caps off a six-play @CHS_Tornadoes with this one-yard TD rush. @FlaHSFootball @Pcounty_FB pic.twitter.com/HsjwFSN5Pr

— Will Turner (@TBTurner813) September 23, 2017
On the next drive, Clearwater fumbled (the first of four) deep in their own territory, but Watt would miss a 30-yarder that would've cut the lead to one.
The Mustangs didn't need it. With 16 seconds left in the first half, Adam Rogers would pick up a punt that went over the head of the Tornado punter, in the end zone, to give Mitchell the lead going into the half.
Clearwater would come out throwing in the second half, specifically when Colin Wray threw a dart down the middle to an open Brannan Demeter, accounting for a 54-yard touchdown to put the Tornadoes up 14-10.
Another seven minutes passed in the third. Then things got silly.
Mattos threw a jump ball into the corner of the end zone to Stephaun Peters from 11-yards away to give Mitchell the lead back. On the ensuing kickoff, Mitchell recovered another Clearwater fumble, getting the ball right back, inside the Tornado 30-yard line.
It would only take one play to get back to the promised land. Mattos rolled out to his left under pressure and flipped a ball to Mychael Hamilton, who did the rest and took it 30 yards for the score.
Clearwater wouldn't quit. Williams scored his second touchdown from 12 yards to put Clearwater only down three, going into the fourth quarter. He'd score again four minutes into the fourth, rushing 40 yards for his third touchdown of the evening, giving Clearwater a 28-24 lead. Williams would finish with 123 yards on 19 carries and his three touchdowns.
Have a game, Jarius Williams! His third rushing TD for @CHS_Tornadoes is from 40-yards out, puts them up 28-24. 8:21 4Q. @FlaHSFootball

— Will Turner (@TBTurner813) September 23, 2017
That would be the last time Clearwater had a lead.
Mitchell took only four plays to get back in front, using a 20-yard pass from Mattos to Peters to catapult itself to a 31-28 lead. After a fumble, it happened again. This time, even more acrobatic of a catch by Peters than the first two times. The Mitchell sideline erupted even louder as teammates were awestruck by his ability.
"He [Peters] is one of the more competitive guys I've ever been around," said Mitchell head coach Andy Schmitz. "When we throw him a 50/50 ball, he's convinced it's not a 50/50 ball. He's convinced that it's his."
Peters finished with 41 yards on three receptions, all touchdown catches.
"I just try to get the ball at its highest point every time. Every time a ball is thrown to me, I just try my best to make a play for my team," Peters said.
Hamilton tacked on another touchdown with 2:39 to play, and Rogers contributed with an interception to cement the 45-28 victory. For Mitchell, it's a statement win on many levels.
"Nobody believes in us, ever. Everybody doubts us, over and over, and we just always do better than what they say. Our team fights like nobody else does," Peters said.
Hamilton finished with 84 yards on 24 carries while Mattos went 15-for-30 with 173 yards and three scores. It was the second consecutive game that the Mustangs scored over 40 points.
"It doesn't matter who we played, we needed to get better offensively anyways, and for us to do what we just did, and what the offensive line just did was really good to see. For us to do it against a great program like Clearwater, made it even better," Schmitz said.
Most impressive win of the night, and as of right now, of the season in Pasco County.

— PascoCountyFB (@PascoCountyFB) September 23, 2017
For the Tornadoes, Wray finished with 178 passing yards, 84 of those to Demeter, who caught four passes, including the touchdown score.
Both teams will open district play next week as Mitchell looks to improve to 5-0 when it takes on Pasco (Dade City), while Clearwater hosts Osceola (Seminole) to try to get back over .500.