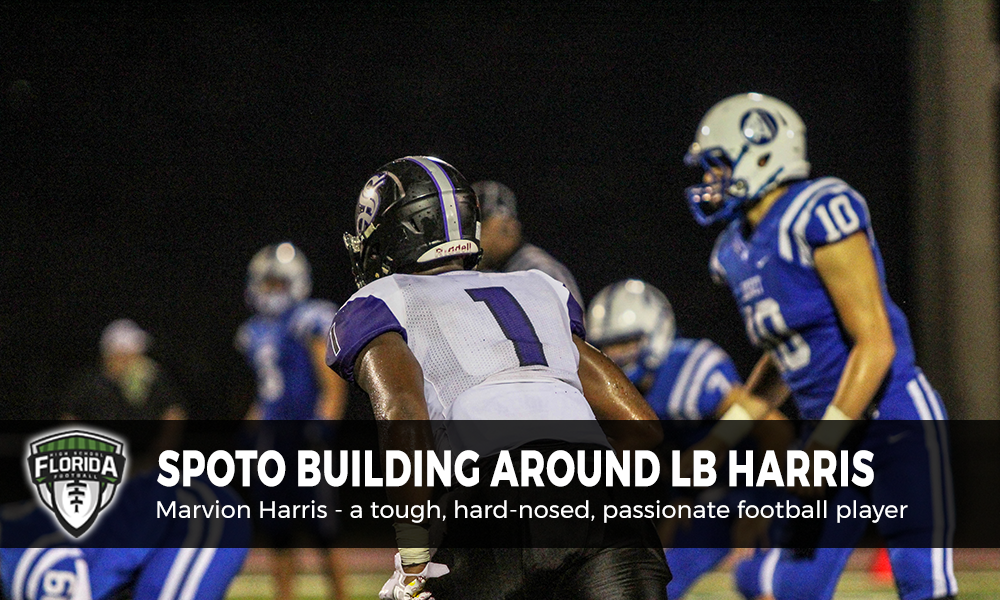 Coming into 2017, Spoto High School collected just four winning seasons in its 12-year history.
In that same amount of time, there have been three head coaches. Dale Caparaso led the Spartans to all four of those winning seasons and coupled that with three playoff appearances, including a second-round berth in 2012. Caparaso coached for nine seasons at Spoto, before moving across the bridge to Pinellas County to Dixie Hollins.
David Searfoss came into the mix at Spoto. Searfoss, a former assistant with Martin County High in Stuart, took over the reigns at Spoto, a program tucked in between Riverview and East Tampa. An unstable program, in an unstable area, but a program loaded with athletes, nonetheless.
How do you build your program around senior athletes that haven't seen a winning season since their freshman year?
Enter Marvion Harris.
The senior linebacker is a solid football player all-around, and a great player to build a program around. When Searfoss came in, Harris was ready to work and have a successful senior season. "I clicked with Coach Searfoss pretty quick. I could tell coming in that he really wanted the best athletes on the field. I believe that because of that, he helped me get to a whole new level this year," Harris said.
Over the previous summer, Harris worked out with the Gift Needs Guidance (GNG) 7-on-7 team, who play and workout mainly at the Larry Sanders Sports Complex in Progress Village. Centered mainly in the Riverview/Gibsonton/Ruskin area, GNG gives athletes competitive offseason training. "They really took me in as part of the family this year," Harris said.
The GNG family, one that stretches all the way to North Tampa to Alonso High with QB Gavin DenBoer, provided Harris with a brotherhood within the area. "We all try to push each other. Guys like [Riverview S] Tamel [McCall] bring out the competition," Harris said. "If Tamel made a big play, then I have to go out and make a big play."
During the season, when the athletes from GNG play for their separate teams, there's a rivalry instilled, but a brotherly one at that. "On the field, we don't like each other because we want to win. It feels better when you give them the work. Off the field, we're so close, and it's awesome to see what some of the other guys do in games."
"Marvion is just as talented, if not more talented than a lot of these guys with multiple offers," said Dwayne Sanders Jr. of GNG.
McCall is a University of Tennessee-Martin-commit, but aside from that, a majority of GNG players, are not committed to a university and have little to no verbal offers. Harris is one of those players. Having that in common with the fellow athletes of GNG, drives the group even more.
"We call offers 'Os,' it's our own little thing. I'm surrounded by some great guys with GNG, even guys like Cedrick [Roberts], Kobe [Smith], and Derrick [Curtis] back at Spoto that really help each other get the 'Os.'" Harris said.
The grind with GNG helped spark a senior season to remember, as Harris compiled career high in tackles and interceptions. He took the ballcarrier down 74 times (50 solo) and intercepted four passes on the season, two against Jesuit (Tampa). He also forced a fumble against the Tigers.
Harris does everything he can to be a sideline-to-sideline player for the Spartans. He also played a good amount of time on the offensive side of the ball, compiling 371 all-purpose yards in 2017. He plays pretty much anywhere on the defensive front, getting snaps at safety, linebacker, and cornerback. Linebacker is his most natural position, where Harris is able to effectively shed blocks and consistently get into the backfield.
Talk about a guy you could build your program around. An offensive and defensive weapon that does anything to help his team win. Work-ethic? Impeccable.
"I love this work ethic. He's always looking to get better," Sanders said. "His hunger to be great at this game really drives his passion."
Simply put, Harris is a hard-nosed, passionate football player. He's one of the most passionate players you'll ever meet when it comes to the game. Harris is one of those guys that if Searfoss told him to sit on the bench and they'll win the game (as much as it would hurt), he would do it. For the senior, humble upbringings led to his fire for football.
"I've always had football. It was something I could use to take my mind off of things when I was little," Harris said.
Having a pair of younger brothers to serve as a role model towards adds to Harris' drive.
"Just seeing them in the stands really pushes me," Harris said. "I tell them every day that they have to earn everything and that things aren't going to be handed to them. They play for the Brandon Bears [a youth football team outside of Tampa], and I tell them all the time that they have to give 110-percent on and off the field."
As his the curtains to Harris' senior season drew shut, a 56-9 victory against Leto (Tampa) gave way to a positive mood going into the offseason for the returning Spartans. It was part of a season where a new attitude was adopted at Spoto, not only because of Searfoss but also because of the solid leadership from Harris.
"I felt like I was able to show these guys they could come back and win a game if the other team scores a couple of points. It really is a different Spoto. A lot of teams would come into a game with us and say, 'we're going to win, we're playing Spoto this week.' We're not going to lose anymore just because we're Spoto," Harris said.
The Spartans finished 4-5 in 2017, after going 0-4 in Class 5A-District 10 play down the stretch. The Spartans matched their win total from the previous two seasons combined. The progression will be fun to watch.
"This team became closer since last spring as a family. I can't wait to see what they're going to do. I really want to see them do even better and I know they can."
Watch Harris' senior season film here: