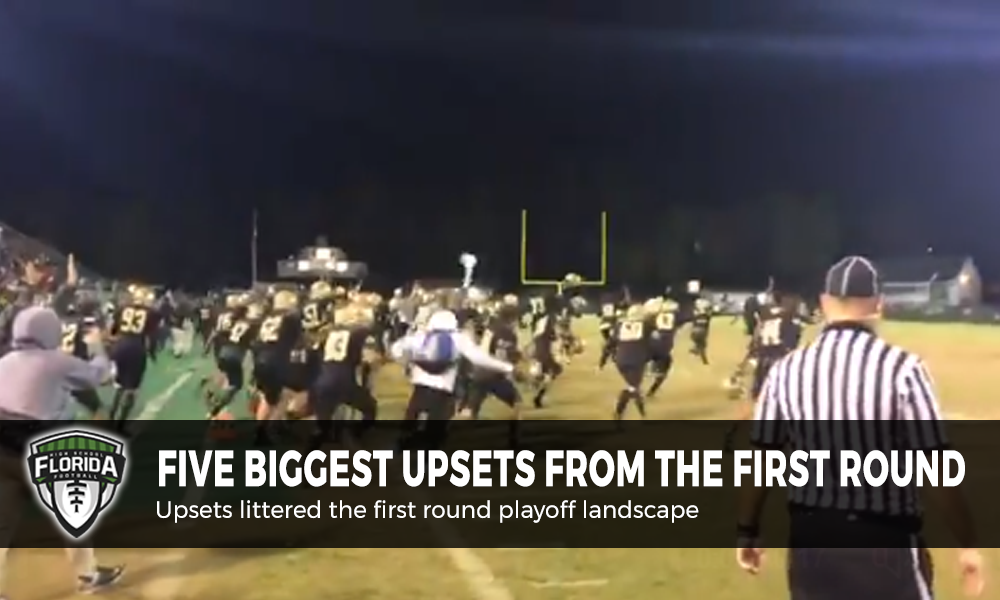 The first round of the playoffs provided some exciting finishes and led to some incredible upsets across the state. After letting the dust settle here are our Top Five upsets from the first round of the playoffs.
Park Vista 28, Miramar 20
We did not see this one coming… at all. If you had told me after Miramar beat St. Thomas Aquinas in Week 11 that the Patriots would be an early exit from the first round after getting the No. 1 seed in Class 8A-Region 3, I would have said you are kidding. But here we are with the No. 8 seed in the Cobras advancing to the Regional Semifinals in Class 8A with a rematch against Delray Atlantic waiting, while Miramar hangs up the helmets and pads until spring football.
#ATrain Park Vista 28 Miramar 20 Outstanding work fellas #Letsgetbetter!!! pic.twitter.com/LwULsvr3DH

— A-Train (@ATrain_Speed) November 11, 2017
Miami High 28, Miami Palmetto 0
The No. 7 Stingarees took down the No. 2 seed and District 8A-16 champion Panthers easily like there was no tomorrow. It also was a statement that Miami High is back in the football talk in Miami-Dade County in their first trip in the playoffs since 2010. Now the Stingarees get a shot of taking down the defending Class 8A champion and No. 6 seed in Class 8A-Region 4, the Miami Southridge Spartans.
UPSET COMPLETE!

No. 7 seed Miami High 28, No. 2 seed Miami Palmetto 0 – FINAL via @DavidFurones_ #flhsfb @MiamihighFB @miamiseniorhigh https://t.co/dJ3vTsp8Oy

— FloridaHSFootball.com (@FlaHSFootball) November 10, 2017
Lincoln 36, Columbia 33
What in the heck? No one gave the No. 4 seed Lincoln Trojans a chance against the No. 5 seed Columbia Tigers, except Terence Huie at Huie Productions in Tallahassee. The Trojans were coming into this Regional Quarterfinal game very hot after upending Godby 20-19 in Week 11. That very much likely set the tone and Lincoln weren't going to go down without a fight which they gave their all to Columbia who had come off a devastating 44-41 loss to Bolles in Week 11. Lincoln gets its biggest test this coming week against the No. 1 seed in Class 7A-Region 4, the Bartram Trail Bears.
Like i said on the podcast, taking Lincoln over Columbia https://t.co/VkJW616vzO

— 1st & 10 Films (@1stand10Films) November 10, 2017
Tigers FG attempt fails and the Trojans hold on to win… one more week for Lincoln@Linc_TrojansFB 36@TigerTownCHS 33

FINAL pic.twitter.com/NIFiAEAYWJ

— 4Quartersonline (@4quartersonline) November 11, 2017
Jesuit 14, Jefferson 7
YO! This was another game we thought the No. 3 seed had a much better chance than the No. 6 seed. That was the wrong answer apparently. Not even with several players returning from suspensions helped the Dragons out as Jesuit repaid the deed from October 30 when they fell to Jefferson in overtime in a makeup district game. Now. Jesuit will get another challenge this coming week when they travel to No. 2 seed in Class 5A-Region, the Lakewood Spartans.
Jesuit Wins!!!!! Redemption against Jefferson- on to next round of playoffs!!!!!!!! #AMDG pic.twitter.com/DtZohmv4Ty

— seth ravenna (@sethravenna14) November 11, 2017
Florida High 28, Fort White 27 (OT)
Didn't see this one coming either or nor the fact Fort White would fall in overtime on a two-point conversion to get the win. Now the Indians must hang up the cleats and helmets while the Seminoles get a big test against the No. 1 seed in Class 3A-Region 1, the Taylor County Bulldogs this coming week. Apparently, the win was so big they celebrated even after the lights went out.
We're still celebrating but the lights are out here at Fort White. Noles win. Next round. Let's go!

— FSUS Athletics (@FSUS_Athletics) November 11, 2017
Others considered: Western 20, Deerfield Beach 17 (Class 8A); Fleming Island 31, Robert E. Lee 26 (Class 7A); Chipley 30, Holmes County 29 (OT) (Class 1A)