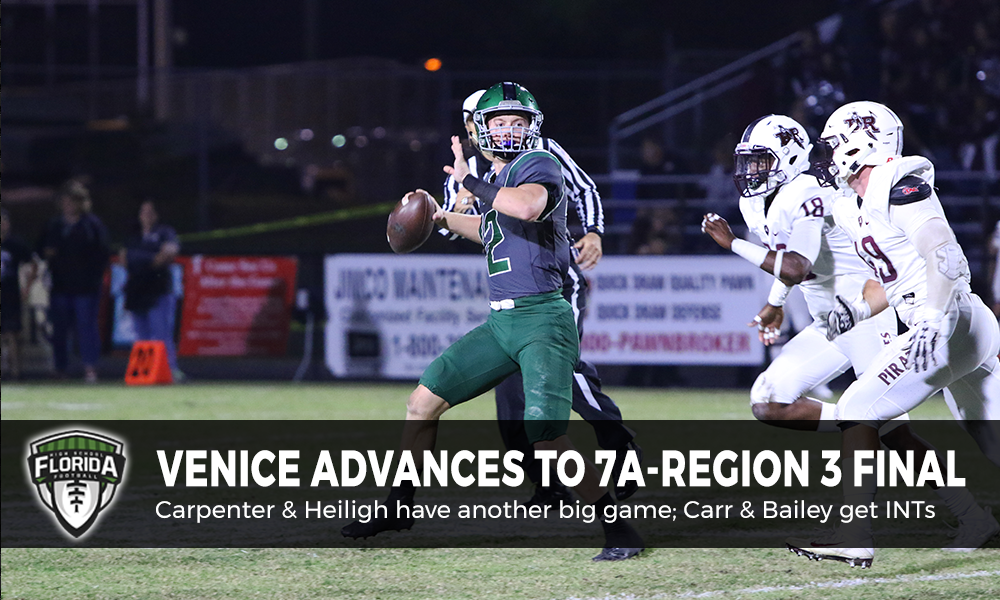 VENICE, Fla. – Fourth-and-three, on the Braden River 49, just over three minutes to play with a 34-32 lead, and what do you expect?
A dump-off pass from Bryce Carpenter to Jaivon Heiligh to get the first down. Heiligh gets shifty and makes a couple of moves. He sets his sights on the end zone, and with one final move, he's in the end zone.
49 yards, Venice extends its lead to 41-32, which would become the final score on Friday night in the Class 7A-Region 3 Semifinal. With the win, Venice advances to the region final, played next week against Tampa Bay Tech.
Wait. Never mind, no punt. What did you expect would happen?

Another @Cashinout_Carp TD pass to @JHeiligh, this time from 49 yards out.@VeniceIndianFB extends the lead to 41-32. 2:58 4Q. @FlaHSFootball https://t.co/Q03RHQcJH7

— Will Turner (@TBTurner813) November 18, 2017
The Pirates (9-2) came out strong with a 34-yard pass from Bryan Gagg to Deshaun Fenwick over the middle. Braden River would strike first and hold the lead for a good portion of the night. Five plays later, Gagg would fire a 29-yard pass down the left sideline to Daveon Wortham, who found himself wide open in the secondary.
Venice came right back with a quick five-play drive of its own with Carpenter rumbling 52 yards down the left sideline for the touchdown. On their next drive, the Coastal Carolina-commits would hook up for their first touchdown score as Carpenter hit Heiligh for a 45-yard catch.
Brett Thoma hit a 26-yard field goal to put Braden River within two. After that, head coach Curt Bradley got gutsy. A surprising onside kick was recovered by Braden River's Jameire Hayes inside of the Venice 40-yard line.
Four plays later, Braden River was back in the end zone. Gagg connected with Cravion Koonce for a 31-yard touchdown that would give the Pirates the lead going into halftime.
Halftime thoughts from Powell-David Stadium. @FlaHSFootball @VeniceIndianFB @BradenRiverFB pic.twitter.com/ehdGRzIAZL

— Will Turner (@TBTurner813) November 18, 2017
Fenwick, a South Carolina commit, rattled off a 15-yard run that set up Gagg's second touchdown pass to Koonce, this time from 29 yards out, putting the Pirates up by 12 with not even three minutes past in the third quarter.
The Indians, who were state semifinalists in 7A just a year ago, were on the edge of being ousted in the second round.
That's when Carpenter took over. On the next drive, Carpenter pounded for 68 yards on six plays, including a 23-yard touchdown run, which put Venice right back into the game.
Noah Carr would intercept Gagg on the next drive – his second interception of the night (Jared Bailey had the first) – setting Venice up at their own three-yard line. Once again, Carpenter found Heiligh, this time for 80, giving the Indians the lead back.
Three scores, a combined 174 yards on those touchdown throws and catches. Just another night at the office for the pair, who have already connected for 1,595 yards and 25 touchdowns before Friday.
"They just have something you can't buy," said Venice head coach John Peacock. "They work at it every day, just like they have for the past three years. I knew 12 and 6 were just not going to let us down tonight and they didn't."
Brandon Gregory would tack on a 35-yard rushing touchdown for Venice. Braden River would come right back. Fenwick pounded through the line from a yard away to tie it up at 32.
.@kinggDeshaun gets in from a yard away. His name all over that Braden River TD drive.

32-32, @BradenRiverFB ties it up. 7:56 4Q. @FlaHSFootball pic.twitter.com/98NLVihne5

— Will Turner (@TBTurner813) November 18, 2017
Venice would pin Braden River deep in their own territory, and an offensive holding call would push them back even further. A bad snap would go over Gagg's head and past the back of the end zone to give the Indians a safety.
Carpenter's 49-yard pass to Heiligh would put the finishing touches on the win.
"We needed a big play, and I know Jaivon was going to make that play just because he's made those type of plays his whole career. I know that I just had to put the ball in a spot where Jaivon could make a play, I knew he would make it and he really just made a remarkable play," Carpenter said.
Already in 2017, Heiligh has doubled his production in receiving yardage and has been a threat to make a big play nearly every time he touches the ball.
"For the past three years, we've come to work. I knew when I came in my sophomore year that we were going to be great. I knew this team was going to be great and we're living up to the dreams. I love this team and I love this community. The way they support us is absolutely amazing," Heiligh said.
One more test for Carpenter, Heiligh, and the rest of the Indians in Tampa Bay Tech will come next week, before a likely rematch with St. Thomas Aquinas in the 7A State Semifinal.
"If I'm going to go down, I'm going to go down with those two guys, 12 and 6," Peacock said.
Venice isn't going down this week. There's Black Friday football waiting.