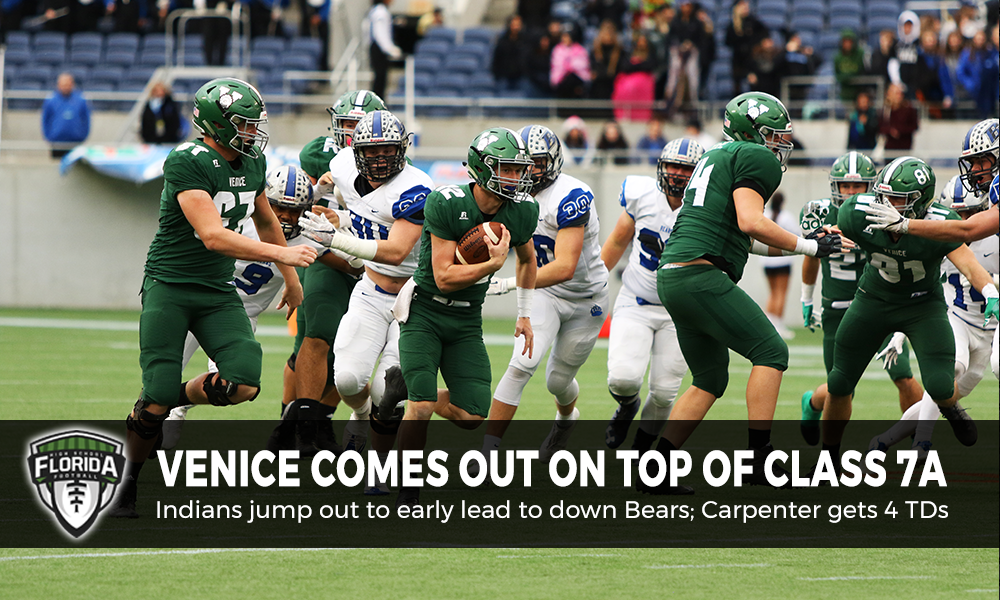 ORLANDO, Fla. – 10,400 yards 130 touchdowns, and 4 years later, Bryce Carpenter goes out as a champion.
Carpenter led his Venice Indians to their first state championship since 2000 with a four touchdown performance on Saturday night at Camping World Stadium in the Class 7A State Championship against a solid Bartram Trail squad.
The Indians finally overcame St. Thomas Aquinas to get to the championship game and proved they deserved to be there by jumping out to a 20-3 halftime lead.
Carpenter opened the scoring with an 18-yard rush to the right sideline to put the Indians up 7-0.
Venice would lead wire-to-wire following that.
Bartram Trail would get the ball for their first possession and tick off 16 plays over five minutes down to the Venice 8-yard line but would eventually be forced to kick a 25-yard field goal from Ethan Dudley after Noah Lay and Tyrone Barber combined for a tackle for loss on third down.
Three plays later, Carpenter threw an interception into the hands of Chase Ruskin. The Bears could not take advantage on it after committing a turnover on downs.
After that, Venice blew things open. Carpenter rattled off a 45-yard run, however, the drive would stall shortly after. Zack Sessa hit his first of three field goals during the evening, booting a 28 yarder through the uprights.
On Venice's ensuing drive, Carpenter got another long rush, this time for 31. This time, the Indians would finish the drive on as Carpenter walked into the end zone from two-yards away. Sessa would tack on a 45-yard field goal at the end of the half to cement a 17-point halftime lead.
Through the first two quarters, Venice's defense was phenomenal, allowing Bartram Trail to just 3.4 yards per play. Auburn-commit Joey Gatewood only had 27 total yards while fellow D-I prospect QB Riley Smith had 56. Carpenter, on the other hand, had 142 rushing yards.
In the second half, Venice opened with a 64-yard pass from Carpenter to fellow Coastal Carolina-commit Jaivon Heiligh. With that reception, Heiligh set the single-season record in receiving yards with 2,089. He would add to that total before the game was done. Carpenter would rush for an eight-yard score on the next play to put Venice up 27-3.
"I don't look at stats a whole lot. We're getting a ring and that's so exciting and I love it," Heiligh said.
Carpenter would rush for his fourth touchdown when he had a four-yard score to break open a 31-point lead in the third.
Bartram Trail wouldn't go away. Gatewood would dump a short pass to Devin Ellison that would take 12-yards to the end zone. On their next drive, Smith threw a 54-yard bomb to Griffin Helm to put the Bears within 20. They'd get the ball right back when Carpenter threw another interception, this time to Harry Bowker. Gatewood finished the Bears' scoring with a five-yard touchdown rush.
Venice's defense would hold strong on the final two Bartram Trail drives and Barber would sack Gatewood to seal the deal for the Indians.
The Indians' championship brings home a 7A title to a community that rallied around it's football team all season.
"It's just unbelievable. This city deserves this championship so bad and it's just a great feeling to have done this," Carpenter said.
For head coach John Peacock, the journey comes full circle after being the linebackers coach on the 2000 state championship team.
"It feels great that our hard work had reached a pinnacle to finally accomplish this one feat," Peacock said.
Quotable:
"We definitely knew we didn't want to fall into the trap of beating St. Thomas Aquinas and that being our identity. We knew we had to finish the deal and play against this very tough Bartram Trail team." – Peacock on the resiliency of playing St. Thomas Aquinas in the state semifinal and then Bartram Trail
"It's just so unreal to be here. From that game on we made it our mission to work hard every single day. We worked hard and we to rewarded." – Venice CB Jeremy Trebbles on Venice's 46-42 loss to Plant in the Kickoff Classic and how that sparked the Indians
"The offensive line did all of the work and stepped up to the plate in a big way and had an incredible night tonight," – Carpenter on his offensive line