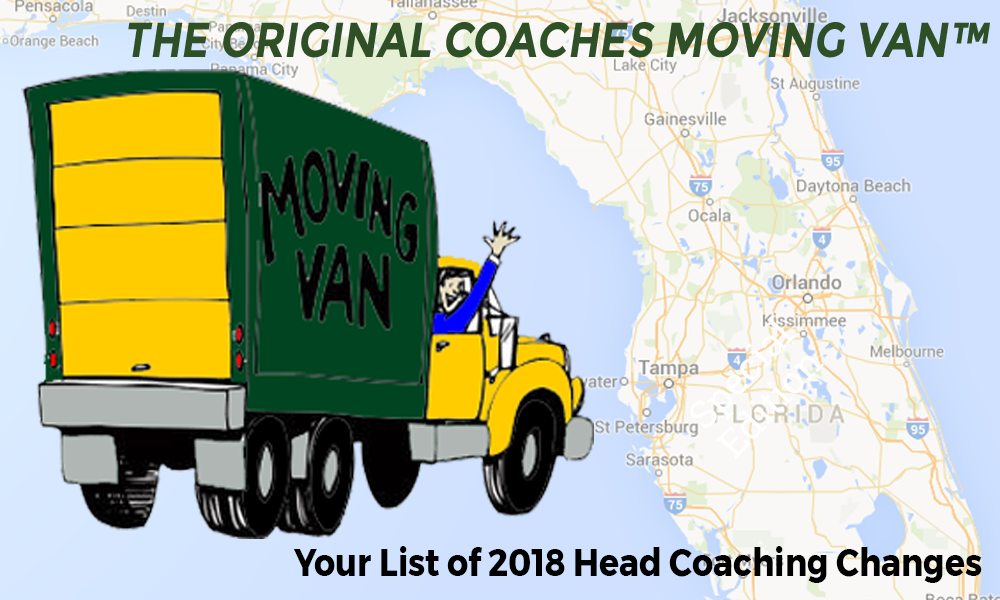 Help support the No. 1 Independent high school sports website in the State of Florida by becoming a FRIEND of FloridaHSFootball.com for as little as $3.00 per month by clicking here.
Here is a complete list of coaching changes as part of The Original Coaches Moving VanTM which includes changes going back to the first practice of the 2017 season.
If you have a coaching change that you would like to report to us that is not on this list or and update, please email it to football@floridahsfootball.com.
LAST UPDATED: May 29, 2018, 11:04 A.M. EST
TOTAL CHANGES TO DATE: 124
| | | |
| --- | --- | --- |
| School | Out | In |
| Alonso | Reggie Crume | Ron Perisee |
| Atlantic (Port Orange) | Kendall Bradley | DJ Mayo |
| Avon Park | Wade Jackson | Jerry Hudnell |
| Bayshore Christian | Jeremy Burnett | Lane McLaughlin |
| Bayside | Mike Nahl | Corey Broomfield |
| Benjamin | Ron Ream | Eric Kresser |
| Blanche Ely | Calvin Davis | Clifford Wimberly Jr. |
| Blountstown | Greg Jordan | Beau Johnson |
| Boca Raton | Eric Davis | Brandon Walker |
| Bozeman | Lyle Messer | Jason Griffin |
| Brandon | Isaac Anderson | Antonio Brown |
| Bronson | Tim King | Seth Stebbins |
| Calvary Christian (Clearwater) | Todd Yoder | Reggie Crume |
| Cape Coral | Larry Geary | Dale More |
| Cardinal Mooney | Drew Lascari | Paul Maechtle |
| Cardinal Newman | Brian Pulaski | Joe Molina |
| Central (Brooksville) | Chris Sands | John Warren |
| Champagnat | Dennis Marroquin | Hector Clavijo III |
| Cocoa | John Wilkinson |  Ryan Schneider |
| Cooper City | Brandon Walker | Danny Carlisle |
| Coral Gables | Tim Neal | Roger Pollard |
| Crystal River | Tony Lewis | Cliff Lohrey |
| Cypress Bay | Mark Guandolo | Josh Shapiro |
| Cypress Creek | Shaun Lorenzano | Bob Goebel |
| DeSoto County | Matt Egloff | |
| Dillard | Ricky Hemingway | Toriano Morgan |
| East Lee County | Dave Smith | Johnny Brown |
| East Ridge | Ashour Peera | Jason Robinson |
| Eau Gallie | Tim Powers | Chris Sands |
| Edison | Vick Evans | Herb Herring |
| Englewood | Barry Stewart | JD Stalvey |
| Estero | Jeff Hanlon | Brad Vojcak |
| Fernandina Beach | John Pate | Jude Swearingen |
| First Academy (Leesburg) | Sheldon Walker | |
| Flanagan | Al Lang | Michael Eugene |
| Florida Deaf | Christian DeNight | Travis Homewood |
| Forest (Ocala) | Skip Austin | Rayburn Greene |
| Fort Pierce Central | Brad Paulson | Jeff Cameron |
| Freedom (Orlando) | Carl Holden | Phil Vogt |
| Freedom (Tampa) | Floyd Graham | Henry Scurry |
| Gainesville | Mark Latsko | Pat Miller |
| Gateway Charter | Chris Morant | |
| Graceville | Justin Miles | |
| Gulf Coast | Pete Fominaya | Tom Scalise |
| Hamilton County | Seth Stebbins | Ric Whittington |
| Hernando | Bill Vonada | |
| Hialeah | Pierre Senatus | Gary Sanchez |
| Hilliard | Zack Whittenburg | |
| Immaculata-LaSalle | Matt Dillon | Edwin Pata |
| Inlet Grove | Michael Timpson |  Robert McKay |
| Interlachen | Joseph Szymanski | Matt Yancey |
| Island Coast | John Schwochow | Jim Wiseman |
| Jefferson | Jeremy Earles | Joe Midulla |
| John I. Leonard | Kevin Fleury | Keith Chattin |
| John Carroll | Chris Hutchings | Mickey Groody |
| King | Rafael Tolentino | |
| Lake Howell | David Wensyel | Shaun Lorenzano |
| Lake Placid | Jerry Hudnell | Andy Judah |
| Lake Region | Gee Roe | Jason Stokes |
| Lake Weir | Will Dettor | Knox Robinson |
| Lake Worth | Micah Mays |  Don Hanna |
| Lakewood Ranch | Michael Koczersut | Christopher Culton |
| Land O'Lakes | Brian Wachtel | Chad Walker |
| Liberty (Kissimmee) | Doug Gabriel | Brandon Pennington |
| Marathon | Anthony Davis | |
| Marco Island Academy | Damon Coiro | Bill Cranston |
| Martin County | Bill Cubit | Rod Harris |
| Matanzas | Robert Ripley | Don Matthews |
| Mater Academy | Angel Estrada | Jeff Pond |
| McArthur | Laron Culpepper | Pierre Senatus |
| Menendez | Patrick Turner | Kyle Skipper |
| Merritt Island | Jeff McLean |  Hurlie Brown |
| Miami | Sedrick Irvin | Helder Valle |
| Miami Jackson | Lakatriona Brunson | Scott Daniels |
| Miami Southridge | Billy Rolle |  Sedrick Irvin |
| Moore Haven | Richard Roudybush | Max Manin |
| Munroe Day | Rodell Thomas | Joseph Gaddy |
| Newsome | Kenneth Hiscock | CJ Yockey |
| New Smyrna Beach | Kevin Hubbard |  John Wilkinson |
| North Bay Haven | Jeff Lee | Andy Siegal |
| North Fort Myers | Earnest Graham |  Dwayne Mack |
| Oakleaf | Steve Reynolds | Frank Garis |
| Oasis | Liam Corley | Eric McAuley |
| Ocoee | Jason Boltus | Aaron Sheppard |
| Olympia | Kyle Hayes |  Travis Gabriel |
| Palatka | Bobby Humphries | Willie Fells |
| P.K. Yonge | Kent Johnson | Marcus McDonald |
| Poinciana | Ken Knapczyk | Phillip Prior |
| Port St. Joe | John Palmer | Greg Jordan |
| Providence | Jeff Kopp |  Bobby Dan McGlohorn |
| Ridgewood | Jay Fulmer | Dropping All Sports |
| Robinson | Shawn Taylor | Craig Everhart |
| Royal Palm Beach | Willie Bueno | Elton "Al" Gilkes (Interim) |
| St. Brendan | New Program for 2018 | |
| St. John's Country Day | Bill Sellinger | Derek Chipoletti |
| St. John Lutheran | Carlos Burrows | Caleb Alexander |
| St. John Paul II (Tallahassee) | Kez McCorvey | France Green |
| Santa Fe (Alachua) | Cliff Harrell | Dock Pollard |
| Sarasota | Brian Ryals | Spencer Hodges |
| Seminole Ridge | James Parson | Rick Casko |
| Seven Rivers Christian | Rayburn Greene | Monty Vann |
| Somerset Canyons | Klay Smith | Tom Halikman |
| Southeast | Rashad West | Brett Timmons |
| South Plantation | Dominic Anderson | Cecil McNair |
| Space Coast | Jake Owen | Matt Diesel |
| Spoto | David Searfoss | Melvin Jenkins |
| Stranahan | Tally Adams |  Travis Harden |
| Suncoast | Bobby May | Brian Pulaski |
| Tampa Bay Christian | New Program 2018 | William McDonald |
| Terry Parker | Marcus Miller | Cha-ron Dorsey |
| Tohopekaliga | New Program 2018 | Anthony Davis |
| Trenton | Lyle Wilkerson | Ben Jacquomin |
| Trinity Catholic | Joe Sturdivant | Andrew Thomas |
| Trinity Christian (Deltona) | Monty Vann | Troy Rayburn (Interim) |
| Venice | John Peacock | Larry Shannon (Interim) |
| Viera | Kevin Mays | Derek Smith |
| Village Academy | Rod Huggins | Dameon Hughes |
| Warner Christian | Chris Green | Ramell Harell |
| Washington (Pensacola) | Charlie Ward | Dredrick Bell |
| West Boca Raton | Alphonso Moran | Mike Cook |
| Westwood | Aaron Sheppard | Chris Hutchings |
| Windermere | Greg Miller | Fred Priest |
| Winter Springs | Curtis Smith | Steven Mikels |
| Wolfson | Rodney Gnat | Dennis Bettinger |