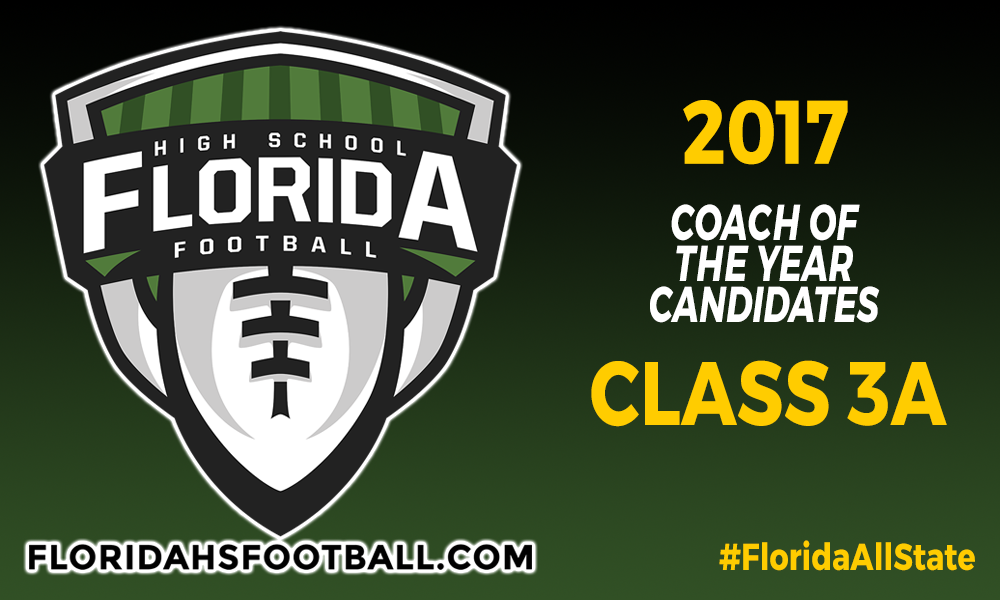 GAINESVILLE, Fla. — With the final step to fully closing the 2017 season is almost here, we are proud to reveal our candidates for our Class 3A Coach of the Year candidates. For Coach of the Year, five coaches are selected as candidates based upon the resume they had for the season. For Player of the Year, three players are selected on offense and three on defense as candidates for Offensive Player of the Year and Defensive Player of the Year. One player from each classification of the six candidates total will be selected as the Overall Player of the Year for their respective classification.
EDITOR'S NOTE: Watch the first team reveal for all eight classifications including the award winners for Coach of the Year, Offensive Player of the Year, Defensive Player of the Year and Overall Player of the Year, this Wednesday night on the FloridaHSFootball.com Gridiron Report on Varsity Sports Network, starting at 8:00 p.m. EST / 7:00 p.m. CST by clicking here.
Without further ado, here at the candidates for 2017 Class 3A Coach of the Year:
• Dameon Jones, Hollywood Chaminade-Madonna (11-2) – Jones led the Lions to their second Class 3A state championship appearance and the school's first state championship in over a decade.
• Jarrod Hickman, Tallahassee Florida High (9-6) – Lead Florida High through a tough schedule and a run to the Class 3A State Semifinals as a No. 3 seed, a first for the Seminoles since 2013.
• Brendan Kent, West Palm Beach Oxbridge Academy (10-2) – Kent who has been with the program since the beginning earlier in this decade, finally got the ThunderWolves over the hump of near misses the last few years, leading them to their first state championship appearance in school history.
• Chris Havey, Clearwater Central Catholic (11-1) – Lead the Marauders to a perfect regular season and their fourth appearance in the Class 3A state semifinals in five seasons.
• Todd Yoder, Clearwater Calvary Christian (7-3) – Lead school to their second playoff berth in three seasons as well the school's first playoff win in a season that saw two games missed due to Hurricane Irma and severe weather.