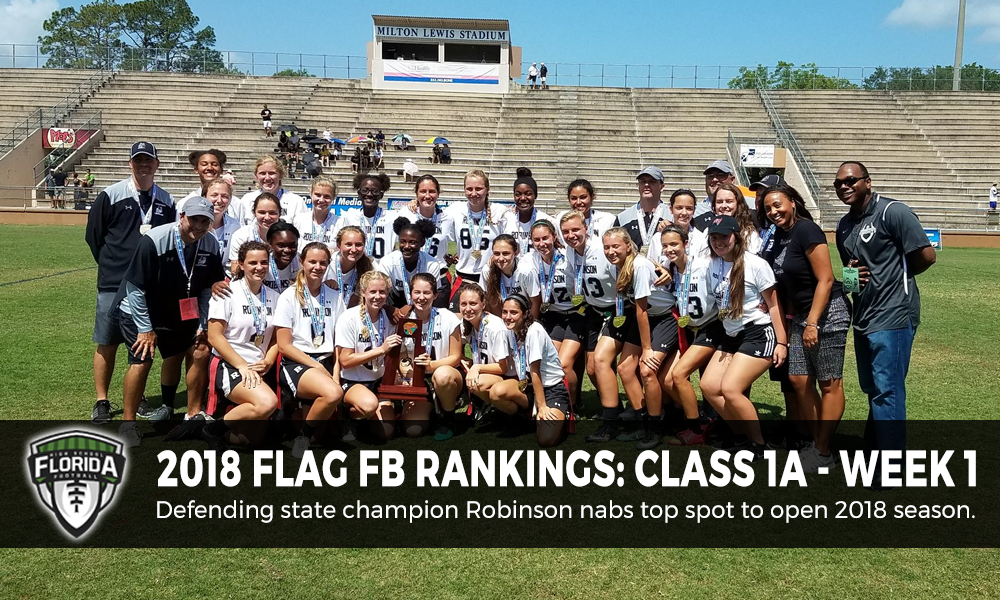 Welcome to Florida High School Football's 2018 Class 1A Top 25 Rankings for Flag Football. Each week during the season we will update the Top 25 rankings as well as provide The Next 15 teams that we have ranked to complete the Top 25 rankings. Information used to determine the preseason rankings include record and performance from 2017, recent history and tradition and the potential for team success in 2018. After this week we will release updated rankings which will then be determined based upon information including record and games played by teams. It is important that teams update their information with scores with us on a regular basis each week by emailing us score reports at flag@floridahsfootball.com, sending us a direct message on Twitter @FlaHSFootball or updating scores in the ScoreStream app.  Lack of information (scores) reported by the teams will only hurt their chances of being ranked, especially if they are having a solid season.
1. Robinson (Tampa)
2017 Record: 18-0
The Buzz: Straight up, hands down, the best girls flag football team in the Sunshine State. The Knights, which now hold the longest active win streak in the state at 28 with their last loss dating back to a 13-6 loss on April 2, 2016, at the Capital City Classic. However, rebuild is not in the Knights' thought process. Instead, the word again for this season is reloading. While the loss of first-team All-State players like quarterback Olivia Salzman, wide receiver Emily Draper, defensive back McKenna Tyson, and rusher Sarah Jennewein could all have major impacts for most other teams, don't expect it here. Instead, All-State players like wide receivers Emily Kemp and Cassidy Renninger and linebacker Christiana Rolack are back while coach Josh Saunders expects big-time contributions from quarterback Lauren King and rusher Chelsey Campbell. Biggest game will come April 4 against top-ranked 2A Plant, just prior to the Capital City Classic in Tallahassee.
2. Miami Edison
2017 Record: 15-2
The Buzz: The first team from Miami-Dade County to compete for a girl's flag football state championship last season, The Red Raiders showed they are going to be a team that is going to be in the mix for a deep playoff run for a couple of more years at least. Although the loss of players like All-State defensive back Brittany Julius and linebacker Jaquala Brown, could make a serious impact, those are the only two losses to the roster compared with the 14 players returning, including eight who were on the All-Dade team, including All-State first team defensive back Irena Hines as well as All-State honorable mention running back Nakesha Pierre. Edison will once again face some challenges among the better-quality teams in Miami-Dade County, plus Dwyer from Palm Beach County this season.
3. Choctawhatchee (Fort Walton Beach)
2017 Record: 14-1
The Buzz: Played competitively close against defending Class 1A state champion Robinson in the final four last season, the Indians have shown they are not a team to ignore and a big reason why they are inside the Top 3 to start off the season. Key players like senior quarterback/athlete Kassandra Fairly and senior wide receiver Amber Leggett, both who made first team All-State as well as third team All-State sophomore linebacker Jessie Fairley, plus junior Carolyn Castelin and sophomore D'Aun Riggs. To make this even more likable about Choctaw as players like Kassandra Fairly and Amber Leggett were part of the team that just played for the Class 7A girls basketball state championship last week.
4. Jensen Beach
2017 Record: 12-4
The Buzz: We cannot forget about what Jensen Beach did last season running through the playoffs and reaching the regional finals when no one thought they would make it past the district tournament. Now that they have our attention, success is likely to continue along for the Falcons in 2018. Although losing one of the biggest key players for that success in All-State first team utility player in Jayci Grosso might hurt some, having senior center/safety Josephine Debiase and senior receiver/corner Meagan Gordon returning will keep things going for the Falcons. Also add in senior Natasha Chen, a four-year athlete and the team's leading flag puller back, things should be just fine for this team from the Treasure Coast.
5. Lincoln (Tallahassee)
2017 Record: 8-5
The Buzz: The Trojans are once again in the mix for a possible district championship coming out of the growing Tallahassee-area district, District 1A-2, having just missed out on it the last two years in the district tournament. Key returning players for the Trojans will include first team All-State senior linebacker Mallory Eichin and third-team All-State junior defensive back Kayley Farmer. Lincoln's schedule remains tough through their subdistrict in District 1A-2, plus will take on a competitive slate later on in the season in the Capital City Classic and trips to play Treasure Coast and Jensen Beach to close off the regular season.
6. Clay (Green Cove Springs)
2017 Record: 12-1
The Buzz: With Orange Park losing their longtime head coach, the sole focus is now on Clay as the team to beat as District 1A-4 expands to a nine-team district with the addition of Bradford and Florida Deaf and Blind, both which launched flag football programs last season. Clay which did capture the District 1A-4 championship including reaching the regional finals for the first time should once again could be in the mix for another deep run but will not have the help of All-State quarterback Liz Fogarty at hand who early enrolled at Mississippi State.
7. Godby (Tallahassee)
2017 Record: 12-2
The Buzz: One of the best teams not to reach the playoffs last season, Godby will be in the mix once again for a possible District Championship in District 1A-2 along with Lincoln, Chiles and a much-improved Rickards program. For the Cougars, they continue to have a competitive program through their schedule which includes the Capital City Classic as well as a trip to South Florida later in the season to play Cooper City and Monsignor Pace. Key players to watch out for include second team All-State junior wide receiver Armani Williams and quarterback Kayline Colburn who is a returning quarterback.
8. Pembroke Pines Charter
2017 Record: 15-1
The Buzz: Pembroke Pines Charter had a tremendous 2017 season and likely could do so again in 2018, but given their district setup, with all games being a district game, it is hard to go any higher than where they are at to start off the preseason. One of the biggest names to keep an eye out for is returning first team All-State wide receiver Jahneal Morgan, but she will be working with a new quarterback as Christine Alayon, who made third team All-State honors, graduated. Second team All-State defensive back Ashlynn Correa is also back for the Jaguars as well.
9. Harmony
2017 Record: 12-3
The Buzz: Harmony is once again the team to beat in District 1A-10 as they have dominated this district the past two seasons without much challenge from the other four teams in the district. Right out of the gate Harmony will take on a state ranked Apopka team from Class 2A, while taking on a much-improved Rickards team and Class 2A state ranked St. Cloud team later on in the season. Keep an eye on returning players including second team All-State unior jwide receiver Bryn Hudson and All-State honorable mention senior defensive back Brook Barber.
10. Chiles (Tallahassee)
2017 Record: 10-3
The Buzz: If having three teams ranked in the Top 10 from Tallahassee tells you anything, that means that District 1A-2 is highly competitive, even in a split district format. The Timberwolves will again be in the mix for a possible district championship and will take on the same competitive slate as well as making a trip to Jacksonville against what should be a much-improved Ed White programs as well as a trip to Orlando to take on Jones. Key players to keep an eye on include All-State honorable mention junior running back Abbie Townley, plus senior safety/running back Brianna Caines and senior wide receiver Dorian Simpkins. Head coach Stan Goldstein did say that there is a chance Townley could play at quarterback as well this season.
The Next 15
Rank, Team (City), 2017 record
11. Terry Parker (Jacksonville), 12-1
12. Miami Jackson, 10-3
13. Glades Central (Belle Glade), 9-5
14. Rickards (Tallahassee), 6-6
15. FAMU DRS (Tallahassee), 10-5
16. Niceville, 9-4
17. Mainland (Daytona Beach), 12-2
18. Tarpon Springs, 11-3
19. Seabreeze (Daytona Beach), 8-3
20. Matanzas (Palm Coast), 10-2
21. Booker T. Washington (Miami), 8-2
22. Crystal River, 11-2
23. Osceola (Seminole), 11-2
24. Brandon, 9-5
25. Monsignor Pace (Miami), 9-4