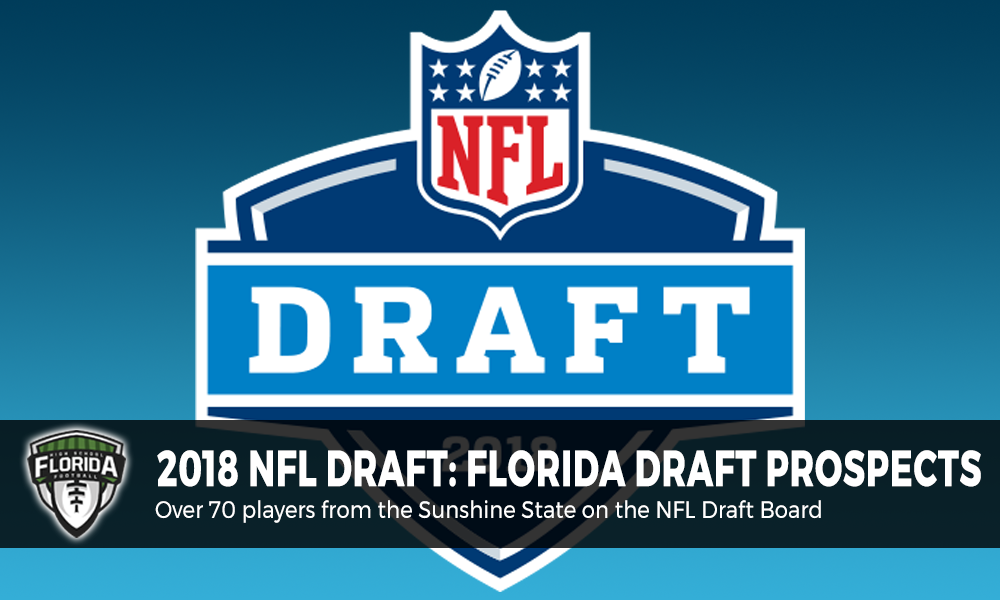 Help support the No. 1 Independent high school sports website in the State of Florida by becoming a FRIEND of FloridaHSFootball.com for as little as $3.00 per month by clicking here.
The 2018 NFL Draft starts tonight with the first round. Over 70 prospects who played high school football in the Sunshine State are in consideration for getting drafted by one of the 32 teams over the next three days. You can keep track of all of the picks from the Sunshine State this weekend on our 2018 Florida NFL Draft Tracker, plus special graphics on our Twitter, Facebook, and Instagram pages.
Here is a full list of the prospects for the 2018 NFL Draft that played high school football in Florida. If we missed anyone, shoot an email over to joshua.wilson@floridahsfootball.com so we can add to this list.
| | | | |
| --- | --- | --- | --- |
| Name | Position | College | High School |
| Tarvarus McFadden | CB | Florida State | American Heritage (Plantation) |
| Sony Michel | RB | Georgia | American Heritage (Plantation) |
| Aaron Evans | OT | UCF | Armwood |
| Mike Boone | RB | Cincinnati | Baker County |
| Hayden Hurst | TE | South Carolina | Bolles |
| Chad Thomas | DE | Miami (FL) | Booker T. Washington |
| Matthew Thomas | OLB | Florida State | Booker T. Washington |
| Mark Walton | RB | Miami (FL) | Booker T. Washington |
| Antonio Callaway | WR | Florida | Booker T. Washington |
| Johnny Townsend | P | Florida | Boone |
| Derrick Tindal | CB | Wisconsin | Boyd Anderson |
| Lamar Jackson | QB | Louisville | Boynton Beach |
| RJ McIntosh | DT | Miami (FL) | Cardinal Gibbons |
| Chucky Williams | S | Louisville | Champagnat Catholic |
| Trey Marshall | S | Florida State | Columbia |
| Darious Williams | CB | UAB | Creekside |
| Duke Dawson | CB | Florida | Dixie County |
| Marcell Harris | DB | Florida | Dr. Phillips |
| Tavares Martin Jr. | WR | Washington State | Dwyer |
| Mason Cole | OC | Michigan | East Lake |
| Javon Wims | WR | Georgia | Ed White |
| Ro'derrick Hoskins | OLB | Florida State | Evans |
| Ronnie Harrison | SS | Alabama | Florida High |
| Jeff Badet | WR | Oklahoma | Freedom (Orlando) |
| Ralph Webb | RB | Vanderbilt | Gainesville |
| Jacob Pugh | OLB | Florida State | Godby |
| Derwin James | SS | Florida State | Haines City |
| Bo Scarbrough | RB | Alabama | IMG Academy |
| D'Ernest Johnson | RB | USF | Immokalee |
| Deadrin Senat | DT | USF | Immokalee |
| J.C.Jackson | DB | Maryland | Immokalee |
| Kurt Benkert | QB | Virginia | Island Coast |
| James Looney | DT | California | Lake Worth |
| Shaquem Griffin | OLB | UCF | Lakewood |
| Marquez Valdes-Scantling | WR | USF | Lakewood |
| Isaiah Wynn | OL | Georgia | Lakewood |
| James Hearns | OLB | Louisville | Lincoln |
| Deatrick Nichols | CB | USF | Miami Central |
| Quinton Flowers | QB | USF | Miami Jackson |
| Jaquan Johnson | S | Miami (FL) | Miami Killian |
| Teko Powell | DL | UAB | Miami Norland |
| Carlton Davis | CB | Auburn | Miami Norland |
| Eddy Pineiro | K | Florida | Miami Sunset |
| Calvin Ridley | WR | Alabama | Monarch |
| Steve Ishmael | WR | Syracuse | North Miami Beach |
| KC McDermott | OG | Miami (FL) | Palm Beach Central |
| Jeremy Reaves | S | South Alabama | Pensacola Catholic |
| Chris Lammons | DB | South Carolina | Plantation |
| Richie James | WR | Middle Tennessee | Riverview (Sarasota) |
| Byron Pringle | WR | Kansas State | Robinson |
| Robert Priester | CB | Wyoming | Robinson |
| Chris Jones | DB | Nebraska | Sandalwood |
| Charles Nelson | WR | Oregon | Seabreeze |
| Ray-Ray McCloud | WR | Clemson | Sickles |
| Ryan Green | RB | Florida State | St. Petersburg Catholic |
| John O'Korn | QB | Michigan | St. Thomas Aquinas |
| Deon Cain | WR | Clemson | Tampa Bay Tech |
| Geron Christian | OL | Louisville | Trinity Catholic |
| Kendrick Norton | DT | Miami (FL) | Trinity Christian (Jacksonville) |
| Andre Smith | DB | North Carolina | Trinity Christian (Jacksonville) |
| Jeff Holland | DE | Auburn | Trinity Christian (Jacksonville) |
| Kevin Toliver II | DB | LSU | Trinity Christian (Jacksonville) |
| Marquis Haynes | OLB | Ole Miss | University Christian |
| Mike White | QB | WKU | University School |
| Skai Moore | ILB | South Carolina | University School |
| Natrell Johnson | S | Wisconsin | Vanguard |
| Tre'Quan Smith | WR | UCF | Village Academy |
| Auden Tate | WR | Florida State | Wharton |
| Chase Litton | QB | Marshall | Wharton |
| Trent Harris | DE | Miami (FL) | Winter Park |