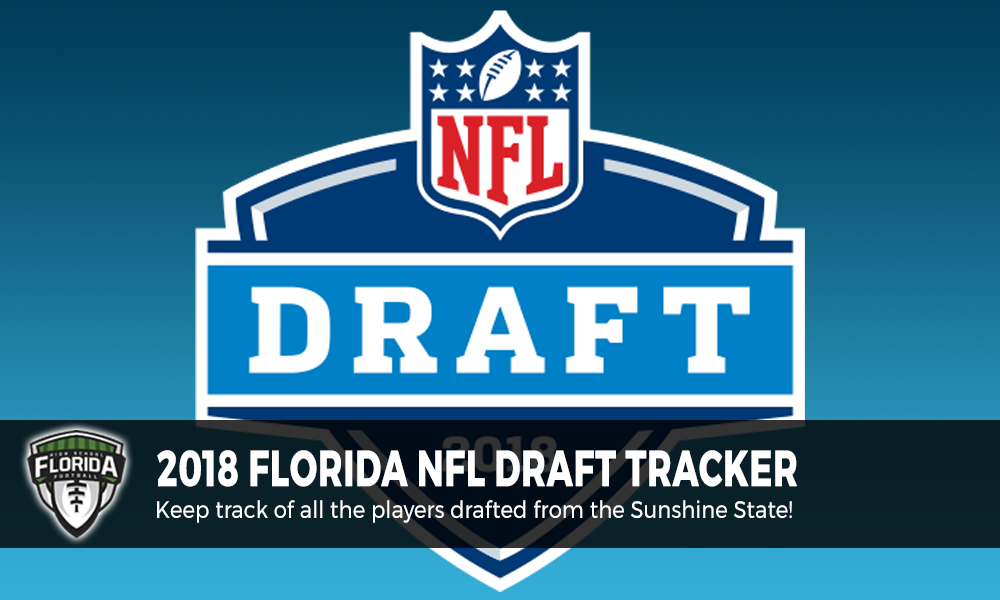 Help support the No. 1 Independent high school sports website in the State of Florida by becoming a FRIEND of FloridaHSFootball.com for as little as $3.00 per month by clicking here.
Tonight and through Saturday, join us as we track all the former athletes that played football and graduated from a Florida high school with our 2018 Florida NFL Draft Tracker. We will post the information and plus look for some special things we will post on our Twitter and Facebook pages, as well as each player who has called the Sunshine State home, gets drafted into the NFL.
NOTE: Tables in each section are scrollable if viewing on mobile.
First Round - Thursday, April 26
| | | | | | |
| --- | --- | --- | --- | --- | --- |
| PICK | TEAM | NAME | POS | HIGH SCHOOL | COLLEGE |
| 17 | LAC | Derwin James | S | Haines City | Florida State |
| 23 | NE | Isaiah Wynn | OG | Lakewood | Georgia |
| 25 | BAL | Hayden Hurst | TE | Bolles | South Carolina |
| 26 | ATL | Calvin Ridley | WR | Monarch | Alabama |
| 31 | NE | Sony Michel | RB | American Heritage (Plantation) | Georgia |
| 32 | BAL | Lamar Jackson | QB | Boynton Beach | Louisville |
Second Round - Friday, April 27
| | | | | | |
| --- | --- | --- | --- | --- | --- |
| PICK | TEAM | NAME | POS | HIGH SCHOOL | COLLEGE |
| 56 | NE | Duke Dawson | CB | Dixie County | Florida |
| 63 | TB | Carlton Davis | CB | Miami Norland | Auburn |
Third Round - Friday, April 27
| | | | | | |
| --- | --- | --- | --- | --- | --- |
| PICK | TEAM | NAME | POS | HIGH SCHOOL | COLLEGE |
| 67 | CLE | Chad Thomas | DE | Booker T. Washington | Miami (FL) |
| 74 | WAS | Geron Christian | OT | Trinity Catholic | Louisville |
| 90 | ATL | Deadrin Senat | DT | Immokalee | USF |
| 91 | NO | Tre'Quan Smith | WR | Village Academy | UCF |
| 93 | JAX | Ronnie Harrison | S | Florida High | Alabama |
| 97 | ARZ | Mason Cole | OC | East Lake | Michigan |
Fourth Round - Saturday, April 28
| | | | | | |
| --- | --- | --- | --- | --- | --- |
| PICK | TEAM | NAME | POS | HIGH SCHOOL | COLLEGE |
| 105 | CLE | Antonio Callaway | WR | Booker T. Washington | Florida |
| 112 | CIN | Mark Walton | RB | Booker T. Washington | Miami (FL) |
| 136 | CAR | Marquis Haynes | DE | University Christian | Ole Miss |
Fifth Round - Saturday, April 28
| | | | | | |
| --- | --- | --- | --- | --- | --- |
| PICK | TEAM | NAME | POS | HIGH SCHOOL | COLLEGE |
| 139 | NYG | RJ McIntosh | DT | Cardinal Gibbons | Miami (FL) |
| 141 | SEA | Shaquem Griffin | OLB | Lakewood | UCF |
| 164 | NO | Natrell Jamerson | S | Vanguard | Wisconsin |
| 171 | DAL | Mike White | QB | University School | WKU |
| 173 | OAK | Johnny Townsend | P | Boone | Florida |
| 174 | GB | Marques Valdes-Scantling | WR | Lakewood | USF |
Sixth Round - Saturday, April 28
| | | | | | |
| --- | --- | --- | --- | --- | --- |
| PICK | TEAM | NAME | POS | HIGH SCHOOL | COLLEGE |
| 184 | SF | Marcell Harris | S | Dr. Phillips | Florida |
| 185 | IND | Deon Cain | WR | Tampa Bay Tech | Clemson |
| 187 | BUF | Ray-Ray McCloud | RB | Sickles | Clemson |
| 188 | CLE | Simeon Thomas | DB | Miami Carol City | Louisiana-Lafayette |
Seventh Round - Saturday, April 28
| | | | | | |
| --- | --- | --- | --- | --- | --- |
| PICK | TEAM | NAME | POS | HIGH SCHOOL | COLLEGE |
| 220 | SEA | Alex McGough | QB | Gaither | FIU |
| 224 | CHI | Javon Wims | WR | Ed White | Georgia |
| 232 | GB | James Looney | DE | Lake Worth | California |
| 234 | CAR | Andre Smith | ILB | Trinity Christian (Jacksonville) | North Carolina |
| 236 | DAL | Bo Scarbrough | RB | IMG Academy | Alabama |
| 240 | SF | Richie James | WR | Riverview (Sarasota) | Middle Tennessee |
| 242 | CAR | Kendrick Norton | DT | Trinity Christian (Jacksonville) | Miami (FL) |
| 253 | CIN | Auden Tate | WR | Wharton | Florida State |