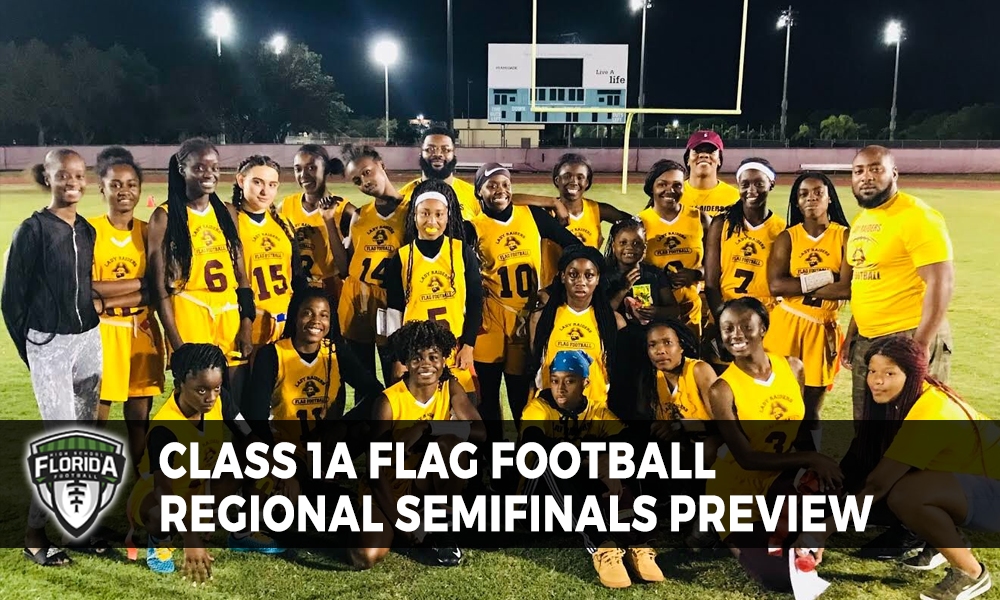 Current defending Class 1A State Champion Robinson is looking to make another run at the title again. However, teams like Choctaw, Miami Edison, and even Glades Central want a shot of the trophy. Can they do it or will Robinson come out on top again? The Road to Boca Raton continues here in the regional playoffs.
Here is our preview of the eight regional semifinal games on Thursday night in Class 1A with rankings showing of the current Overall Top 25:
Note: You can help us score games using the ScoreStream app. Click here to learn how you can get the app on your phone!
No. 16 Lincoln (9-4) at No. 2 Choctaw (11-0), 6 CT
Quick Hit: Having seen both of these team play this season, this is going to be a great matchup for the fans. Lincoln come into the regional playoffs having extracted revenge on Godby on a shutout loss early in the season in last week's district tournament. Choctaw has dominated almost everyone they faced and when it came to playing against some of the tougher competition from other areas of the state, they have shown they can play. The biggest question is here, who wants it more. Both teams want this win badly and both deserve to move on to the next round, but only one team can advance.
Predicted Winner: Choctaw
No. 10 Clay (11-0) at No. 24 Terry Parker (12-1)
Quick Hit: Here is another rematch from last year's playoffs and this one should be a good one. Terry Parker, who came up short against Clay on the road last year, now would like to extract some revenge on the visiting Blue Devils at home. When comparing both team's schedules they are pretty even in terms of winning games they need to or at least being in the games they needed to be. At the end of the day though, I think Clay has been more battle tested, but this game is one that could swing either way.
Predicted Winner: Clay
Brandon (8-5) at Belleview (11-2)
Quick Hit: This is familiar territory for the visiting Eagles, but brand new territory for the host Rattlers. For Brandon, two of their losses this season which came at the Bloomingdale Tournament could have easily been wins. However, when it came to facing some of the tougher competition, there have been struggles. For Belleview, they have taken on new challenges of a growing program, becoming the first Marion County team to go to Tallahassee to play in the Capital City Classic which they experienced first-hand other competition from different parts of the state. I think this experience here will come into play here in this matchup.
Predicted Winner: Belleview
No. 25 Osceola (Seminole) (12-1) at No. 3 Robinson (11-2)
Quick Hit: As the defending state champion, Robinson says their toughest game might be this game. However, I am having a hard time agreeing with that considering that their toughest games I felt came in the regular season which gave them two losses against Lincoln and Alonso, both playoff teams. But, Osceola is not a team to ignore as they have shown they can compete, but the biggest knock against them is the fact they have not played any teams outside of Pinellas County this season. That is going to be a deciding factor here and I think that at the end of the day this game comes down to how you scheduled for the regular season and how you played. For now, it is hard to go against the defending state champions given they have shown that losses can actually fire them up, which certainly did in the district tournament to get to the regional playoffs.
Predicted Winner: Robinson
Jones (9-5) vs. No. 19 Seabreeze (11-3) at Ormond Beach Sports Complex
Quick Hit: Not much is known about Jones who surprising came close to upsetting Harmony in the regular season and completed the task in the district tournament last week. For Seabreeze, two of their losses came at the Bloomingdale Tournament earlier in the season which helped them grow and prepare for some of their tougher games including both games they played against district rival Mainland. At the end of the day, I think experience and the schedule that Seabreeze has played over the schedule Jones has played comes down to Seabreeze moving on and getting one step closer to Boca Raton.
Predicted Winner: Seabreeze
Suncoast (12-2) at No. 7 Glades Central (13-1), 6
Quick Hit: This is a game that should have happened last year, but both teams failed to win their districts thus it not happening. However, with both teams coming through and winning their district tournaments in convincing fashion, the eastern end of Palm Beach County meets the western end of the county. For both teams this a chance to show they are one of the teams to be in the mix for a run to state at Boca Raton next week. Both have played some quality opponents that has allowed them to see where they are at in terms of being ready for a game like this. I think Glades Central has done just that here being able to play Jensen Beach close in the regular season and then running away on them in the district tournament while also beating one of the best flag football teams in the state in Seminole Ridge. Those factors with some incredible talent have some saying the host Raiders could possibly make a run here.
Predicted Winner: Glades Central
No. 15 Monsignor Pace (9-1) at No. 13 Boyd Anderson (13-0)
Quick Hit: This matchup is interesting. Monsignor Pace, which did not play a full schedule this season, could be the better team here coming into this matchup. Why? Boyd Anderson did not play one team outside of its own district and the only reason they are slightly ahead of Monsignor Pace in the rankings is thanks to their two wins over Pembroke Pines Charter. Monsignor Pace can credit scheduling a big game with Godby which they lost in a tightly 6-0 battle towards the end of the regular season as possibly pushing them over and not making things close for anyone since then. This could be another one of those games potentially… or Boyd Anderson proves us all wrong.
Predicted Winner: Monsignor Pace
Miami Jackson (8-3) vs. No. 5 Miami Edison (11-0) at Traz Powell, 3:30
Quick Hit: Miami Jackson got a good taste of what it is like to face some tough competition during the season in Tallahassee against Choctaw and Godby. And as a matter of fact, this game is a rematch of the GMAC tournament final from just two weeks ago. Both teams here are familiar with each other already. I think the biggest thing here is that talent is the key and Miami Edison's talent is way stronger considering it is very senior heavy who helped them reached the Class 1A championship last year. Could the score be closer in this game? Yes, but that all depends on how the visiting Generals have adjusted since two weeks ago.
Predicted Winner: Miami Edison