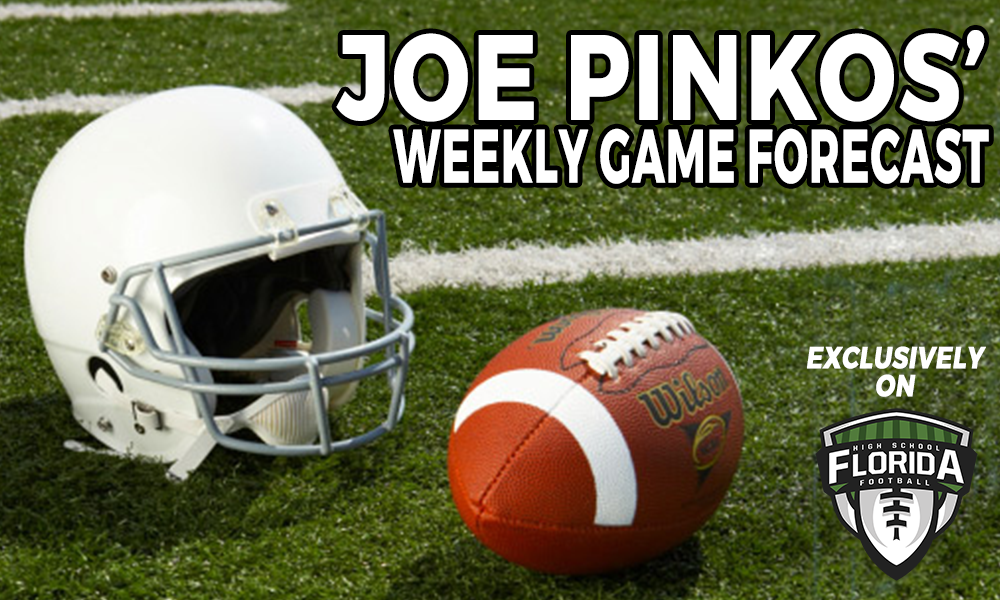 Help support the No. 1 Independent high school sports website in the State of Florida by becoming a FRIEND of FloridaHSFootball.com for as little as $3.00 per month by clicking here.
JOE PINKOS' POWER RATINGS
Florida High School Football
The following match-ups and results are forecast for the 2018 Florida Football Finals:
Class 1A– Madison County over Baker
Class 2A– University Christian over Admiral Farragut
Class 3A– Chaminade-Madonna over King's Academy
Class 4A– Raines over University School
Class 5A– Rockledge over Trinity Christian (Jacksonville)
Class 6A– Carol City over Vanguard
Class 7A– St. Thomas Aquinas over Lakeland
Class 8A– Wekiva over Deerfield Beach
2018 PLAYOFF FORECAST-Week 1
Joe Pinkos' Power Ratings are calculated by a formula based on strength of opposition and margin of victory with greater weight given to recent games. The forecasted margin of victory for each game is determined by subtracting the power rating of the lower-rated team from the power rating of its higher-rated opponent.
CLASS 8A (Regional Quarterfinals)
Region 1
Wekiva 7 over West Orange
Apopka 17 over Oviedo
Mandarin 6 over DeLand
Winter Park 7 over Flagler Palm Coast
Region 2
Vero Beach 42 over Gateway
Dr. Phillips 1 over Centennial
Riverview (Sarasota) 6 over Treasure Coast
Osceola (Kissimmee) 7 over Manatee
Region 3
Deerfield Beach 7 over Miramar
Plantation 18 over Piper
Palm Beach Central 24 over Wellington
Atlantic (Delray Beach) 1 over Western
Region 4
Columbus 13 over Coral Gables
Miami Palmetto 17 over Belen Jesuit
South Dade 10 over Hialeah
Southridge 18 over North Miami
CLASS 7A (Regional Quarterfinals)
Region 1
Columbia 3 over Fletcher
Robert E. Lee 28 over Hagerty
Lincoln 7 over Oakleaf
Buchholz 7 over Edgewater
Region 2
Lakeland 34 over Wiregrass Ranch
Harmony 3 over Kathleen
Plant 17 over Gaither
Viera 28 over Sickles
Region 3
Venice 28 over Tampa Bay Tech
Braden River 4 over Plant City
Riverdale 1 over Bloomingdale
Palmetto 7 over Pinellas Park
Region 4
St. Thomas Aquinas 42 over South Miami
Fort Lauderdale 14 over Doral Academy
McArthur 8 over Palm Beach Lakes
William T. Dwyer 26 over West Broward
CLASS 6A (Regional Quarterfinals)
Region 1
Navarre 18 over Pace
Escambia 3 over St. Augustine
Crestview 20 over Niceville
Pine Forest 9 over Gulf Breeze
Region 2
Vanguard 21 over Sebring
Gainesville 14 over Lake Wales
Mitchell 13 over Lake Weir
Armwood 25 over South Lake
Region 3
Naples 24 over Lehigh
Fort Myers 1 over Barron Collier
North Fort Myers 11 over Largo
Charlotte 15 over Clearwater
Region 4
Carol City 32 over Norland
Miami Central 30 over Dillard
Northwestern 4 over Mainland
Heritage 10 over Eau Gallie
CLASS 5A (Regional Quarterfinals)
Region 1
Trinity Christian (Jacksonville) 24 over Suwannee
Wakulla 8 over Ribault
West Florida Tech 13 over Bolles
Godby 14 over Ponte Vedra
Region 2
Nature Coast Tech 7 over Eastside
Baker County 6 over Hernando
North Marion 14 over Menendez
Zephyrhills 17 over Crystal River
Region 3
Hardee 17 over Jefferson
Booker 1 over Lakewood
Dunbar 12 over Immokalee
Jesuit 28 over DeSoto
Region 4
Rockledge 28 over Coconut Creek
American Heritage (Plantation) 35 over Westwood
Jones 10 over Bishop Moore
Cardinal Gibbons 35 over Merritt Island
CLASS 4A (Regional Quarterfinals)
Region 1
Bye: Raines
Marianna 5 over Rutherford
South Walton 6 over Gadsden County
Bye: West Nassau
Region 2
Bye: The Villages
PK Yonge 4 over Bradford
Dunnellon 7 over South Sumter
Bye: Santa Fe
Region 3
Bye: Cocoa
Astronaut 25 over Avon Park
Lake Placid 7 over LaBelle
Bye: Bishop Verot
Region 4
Bye: University School
Gulliver Prep 7 over Monsignor Pace
Glades Central 17 over Coral Springs Charter
Bye: Booker T. Washington
CLASS 3A (Regional Quarterfinals)
Region 1
Bye: Florida High
Fort White 10 over Pensacola Catholic
Baldwin 3 over Taylor County
Bye: St. Joseph Academy
Region 2
Bye: King's Academy
Holy Trinity Episcopal 1 over Cardinal Newman
Melbourne Central Catholic 6 over Father Lopez
Bye: The First Academy
Region 3
Bye: Clearwater Central Catholic
Tampa Catholic 3 over Lakeland Christian
Cardinal Mooney 3 over Calvary Christian (Clearwater)
Bye: Berkeley Prep
Region 4
Bye: Chaminade-Madonna
Palmer Trinity 1 over Westminster Christian
American Heritage (Delray Beach) 10 over Calvary Christian (Fort Lauderdale)
Bye: Benjamin
CLASS 2A (Regional Quarterfinals)
Region 1
Bye: North Florida Christian
FAMU DRS 22 over Aucilla Christian
University Christian 63 over Rocky Bayou Christian
Bye: Maclay
Region 2
Bye: Victory Christian
Trinity Christian (Deltona) 11 over Oak Hall
Zephyrhills Christian 49 over St. Francis Catholic
Bye: Foundation Academy
Region 3
Bye: Admiral Farragut
Evangelical Christian 13 over Cambridge Christian
Carrollwood Day 27 over Southwest Florida Christian
Bye: Seffner Christian
Region 4
Bye: Moore Haven
Champagnat Catholic 3 over Miami Christian
Glades Day 7 over First Baptist
Bye: St. John Neumann
CLASS 1A (Regional Quarterfinals)
Region 1
Baker 49 over Freeport
Northview 8 over Graceville
Jay 8 over Bozeman
Vernon 29 over Chipley
Region 2
Port St. Joe 63 over Liberty County
Blountstown 21 over Cottondale
Jefferson County 6 over Wewahitchka
Sneads 17 over Franklin County
Region 3
Bye: Madison County
Lafayette 3 over Union County
Dixie County 15 over Branford
Bye: Chiefland
Region 4
Bye: Hawthorne
Crescent City 7 over Fort Meade
Frostproof 3 over Wildwood
Bye: Pahokee
Sunshine State Athletic Conference (SSAC) Playoffs
Coral League Championship Game
St. Stephen's Episcopal 3 over Mount Dora Christian
Coastal League Championship Game
Windermere Prep 1 over Orlando Christian Prep
Forecast Record
Last Week 191-38, 83.4%
Since October 1st 1,029-173, 85.6%
Season 2,276-437, 83.9%
2017 Forecast Record
State Championship Games 7-1, 87.5%
Pre-playoffs forecast correctly selected 6 of the 8 eventual state champions.
FHSAA State Playoffs 152-32, 82.6%
Entire season 2,216-477, 82.3%