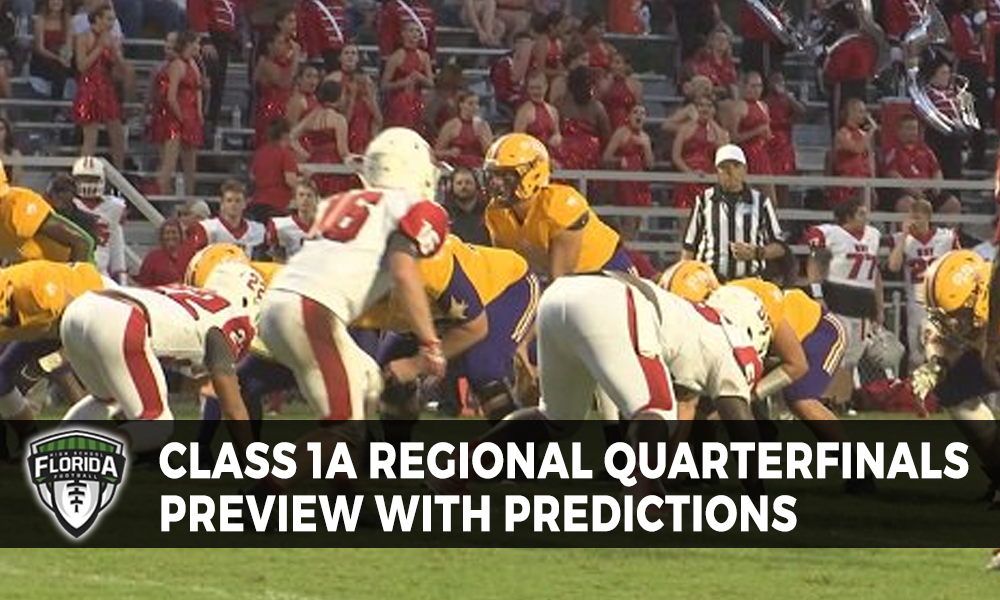 The regional quarterfinals open up Friday night in Class 1A and there is a good slate of games to keep an eye on as the Drive To December gets going.
All game scheduled for Friday, November 9 with a 7:30 p.m. Eastern kickoff unless noted.
ONE TO WATCH
CLASS 1A-REGION 3: No. 5 Union County (5-5) at No. 4 Lafayette (7-3): This game is likely the best of the best in terms of the Class 1A matchups for the regional quarterfinals. Union County comes into this game having seen some ups and downs this season, but the same could be said for Lafayette which has seen a few ups and downs of their own as well. For the visiting Tigers keep an eye on running back Keyshawn Young (149 carries, 1,006 yards rushing, 4 TDs) as he has been the leader of their offense. For Lafayette watch out for quarterback Jaxson Beach (114-194 passing, 2,024 yards, 25 TDs, 7 INTs; 134 carries, 1,019 yards rushing, 11 TDs) as well as favorite target in the passing game, wide receiver Ben Massey (34 catches, 953 yards, 16 TDs). This game could be closer than what some of the forecasts are saying.
Prediction: Lafayette 34, Union County 20
THE REST OF THE SLATE
Region 1
No. 8 Freeport (3-6) at No. 1 Baker (9-0), 7:30 CT: One of the expanded playoff games thanks to Hurricane Michael, but Freeport has not fared well in most games and Baker is the much more talented team in this one. Prediction: Baker 45, Freeport 7
No. 5 Graceville (3-6) at No. 4 Northview (6-4), 7:30 CT: Graceville has had its fair share of ups and downs given the damage suffered from Hurricane Michael. Northview is a much-improved team and looks prepared to at least advance to one more round this year. Prediction: Northview 34, Graceville 20
No. 6 Bozeman (2-6) at No. 3 Jay (5-4), 7:30 CT: Bozeman ended up missing two games due to Hurricane Michael and has not fared well in most of the games played. Jay looks to be the much better team in this matchup given the schedule they have played. Prediction: Jay 31, Bozeman 13
No. 7 Chipley (4-4) at No. 2 Vernon (6-2), 7:30 CT: Both teams saw impacts due to Hurricane Michael, but Vernon has shown flashes all season of something that could be special in the playoffs if they limit the mistakes. Prediction: Vernon 35, Chipley 20
Region 2
No. 8 Liberty County (2-7) at No. 1 Port St. Joe (8-0): Liberty County has struggled in most of their games this season while Port St. Joe has nicely bounced back after suffering major impacts due to Hurricane Michael. The Tiger Sharks look like they could make a run to Orlando. Prediction: Port St. Joe 45, Liberty County 7
No. 5 Cottondale (4-2) at No. 4 Blountstown (7-2), 7:30 CT at Liberty County High: Blountstown not having a home stadium to use right now after Hurricane Michael destroyed theirs is playing five miles away in Bristol. They suffered a setback last week to Vernon, but they look poised to push ahead into the second round over a Cottondale team that canceled their last few games of the season due to damage from Hurricane Michael. Prediction: Blountstown 30, Cottondale 6
No. 6 Wewahitchka (5-4) at No. 3 Jefferson County (5-4): Wewahitchka bounced back after Hurricane Michael only missing one game, but they are going to take on a tough Jefferson County team that has played a tougher schedule. Prediction: Jefferson County 28, Wewahitchka 10
No. 7 Franklin County (4-5) at No. 2 Sneads (7-1), 7:30 CT: Both teams here saw impacts from Hurricane Michael but were able to salvage their seasons and get ready for the playoffs. However, Sneads has been much improved this year and the game likely won't be close. Prediction: Sneads 30, Franklin County 7
Region 3
#6 Branford (6-4) at #3 Dixie County (7-3): This is Branford's first time in the playoffs in at least over a decade if not longer, but they are going up against a very strong Dixie County team that is no stranger to the rodeo of the playoffs. Prediction: Dixie County 28, Branford 7
Region 4
No. 5 Fort Meade (4-6) at No. 4 Crescent City (8-2): Fort Meade has really had a rough this year despite losing up the schedule to play more favorable teams. Crescent City has been through a few tough games with one of their losses coming to University Christian. This could be close, but it could also be ugly. Prediction: Crescent City 28, Fort Meade 10
No. 6 Wildwood (5-5) at No. 3 Frostproof (6-4): Wildwood is back in the playoffs for the second straight year and draws the same opponent they had last season in the opening round, but this time it is on the road instead. On paper, it looks like they are evenly matched, but in reality, Frostproof has played a tougher schedule to get here. Prediction: Frostproof 31, Wildwood 10