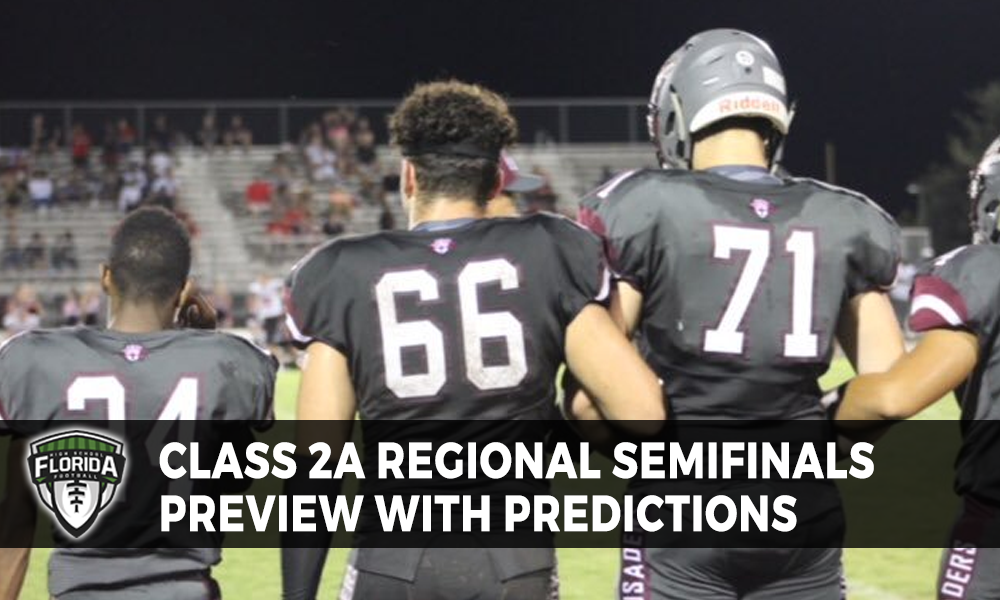 Help support the No. 1 Independent high school sports website in the State of Florida by becoming a FRIEND of FloridaHSFootball.com for as little as $3.00 per month by clicking here.
Class 2A is a classification made up the smallest football programs in the state and there is a lot that can happen along the way. This week's regional semifinal games will help clear the way even more of who should be in the quest for a state championship and who was on pretending.
All games are scheduled for Friday, November 16 with a 7:30 p.m. ET kickoff unless noted
THE ONE TO WATCH
REGION 2
No. 3 Zephyrhills Christian (8-3) at No. 2 Foundation Academy (8-2)
Foundation Academy Field, Winter Garden
This will be the first-ever meeting between Zephyrhills Christian and Foundation Academy between the regular season and postseason … Last week the visiting Warriors defeated St. Francis Catholic, 55-0 … The host Lions drew a first-round bye last week and finished their season in Week 11 picking up a forfeit win over Carrollwood Day after a tornado damaged Carrollwood's fields that lead to the forfeit … For Zephyrhills Christian keep an eye on Javion Hanner who had 150 yards rushing and two touchdowns … Keep a watch on quarterback Henry Austad who has passed for over 1,600 yards and thrown 24 touchdowns this season.
Prediction: Zephyrhills Christian 35, Foundation Academy 24
POLL: Who wins Friday night?

CLASS 2A-REGION 2 SEMIFINAL
No. 3 Zephyrhills Christian (8-3) at No. 2 Foundation Academy (8-2)@WarriorsFBZca @ZCA_FB4 @thefalions @faathletic

— FloridaHSFootball.com (@FlaHSFootball) November 14, 2018
THE REST OF THE SLATE
REGION 1
No. 5 FAMU DRS (5-4) at No. 1 North Florida Christian (5-4)
Eagle Field, Tallahassee
The longtime Tallahassee rivals will meet for the first time ever in the playoffs … Both teams were originally scheduled to meet during the regular season before Hurricane Michael forced a cancellation on the highly anticipated matchup … Last week FAMU knocked off No. 4 seed Aucilla Christian on the road, 28-7 …. North Florida Christian had a first-round bye and closed out the regular season in Week 11 with a 24-7 loss to Port St. Joe … Watch out for Maurice Kirksey for the visiting Baby Rattlers who rushed for 123 yards and two touchdowns in last week's win … For the host Eagles, keep an eye on running back Deon Cosby who has 680 yards rushing and four touchdowns on the season. Prediction: North Florida Christian 24, FAMU DRS 21
POLL: Who wins Friday night?

CLASS 2A-REGION 1 SEMIFINAL
No. 5 FAMU DRS (5-4) at No. 1 North Florida Christian (5-4)@ThisIsTrueFam @NFC_Football

— FloridaHSFootball.com (@FlaHSFootball) November 14, 2018
No. 3 University Christian (7-4) at No. 2 Maclay (10-0), 7:00 p.m.
Shaw Field, Tallahassee
This will be the second playoff meeting between the two schools … University Christian won the last meeting in 2015 in Jacksonville, 59-6 … This playoff game marks the first time that Maclay has hosted a playoff game … However, I can say this here, throw the records out on this game as University Christian has played a much tougher schedule … Last week, University Christian easily defeated No. 6 Rocky Bayou Christian, 56-12 … Maclay drew a first-round bye last week after closing out the season in Week 11 defeating Pataula Charter, 63-6 … For the visiting Fighting Christians keep an eye out for quarterback Ridge Jacobs who threw for 236 yards, five touchdowns while adding a rushing touchdown in last week's win … For the host Marauders, watch for quarterback Brecht Heuchan to damage in the air as he has over 1,700 yards passing on the season to go along with 19 touchdowns. Prediction: University Christian 38, Maclay 21
POLL: Who wins Friday night?

CLASS 2A-REGION 1 SEMIFINAL
No. 3 University Christian (7-4) at No. 2 Maclay (10-0)@UCChristians @PEBODY83 @MarauderFootbal @maclayathletics

— FloridaHSFootball.com (@FlaHSFootball) November 14, 2018
REGION 2
No. 5 Deltona Trinity Christian (7-4) at No. 1 Victory Christian (9-1), 7:00 p.m.
Victory Field – Southeastern University, Lakeland
This will be the second-ever playoff meeting between the two schools … Victory Christian won the previous meeting 2015, 46-0 … The visiting Eagles ran past No. 4 seed Oak Hall, 35-7 … Victory Christian drew a first-round bye and finished the regular season in Week 11 with a 40-0 win over Kingdom Prep … Watch out for John Davila for the visiting Eagles who was responsible for two scores in last week's win … For the host Storm, keep an eye on running back Cornelius Shaw who has rushed for over 1,500 yards and 12 touchdowns so far on the season. Prediction: Victory Christian 42, Trinity Christian 14
POLL: Who wins Friday night?

CLASS 2A-REGION 2 SEMIFINAL
No. 5 Deltona Trinity Christian (7-4) at No. 1 Victory Christian (9-1)@TCADeltona @FootballTCA @stormplaybyplay

— FloridaHSFootball.com (@FlaHSFootball) November 14, 2018
REGION 3
No. 5 Cambridge Christian (4-7) at No. 1 Admiral Farragut (8-1)
Al Ross Field, St. Petersburg
This will be the third playoff meeting between Cambridge and Admiral Farragut … Cambridge leads the playoff series 2-0 … Last week Cambridge blew out No. 4 seed Evangelical Christian on the road by a score of 54-7 … Admiral Farragut has a first-round bye last week and finished the regular season in Week 11 with a 31-6 win over Zephyrhills Christian … Keep an eye out for running back Julian Suriel who rushed for 135 yards and a score in last week's win … Admiral Farragut has a plethora of weapons on their roster that allowed them to finish with the top seed overall in the region. Prediction: Admiral Farragut 35, Cambridge Christian 13
POLL: Who wins Friday night?

CLASS 2A-REGION 3 SEMIFINAL
No. 5 Cambridge Christian (4-7) at No. 1 Admiral Farragut (8-1)@CCSLancers @airdare43 @AdmiralFarragut

— FloridaHSFootball.com (@FlaHSFootball) November 14, 2018
No. 3 Carrollwood Day (6-5) at No. 2 Seffner Christian (10-0)
Strawberry Crest High School, Dover
This is the first postseason meeting between the two schools … However, this game will mark the second meeting this season … Seffner Christian won the first meeting back in Week 4 by a score of 34-7 … Last week Carrollwood Day easily defeated Southwest Florida Christian at home, 41-3 for the first playoff victory in school history … Seffner Christian drew a first-round bye after going undefeated in the regular season for the first time … Watch out for quarterback Chris Butash who threw for 309 yards last week with five passing touchdowns last week for the visiting Patriots … For the host Crusaders, keep an eye out for sensational quarterback Isaiah Knowles who has thrown nearly 2,000 yards this season along with 31 touchdowns and has five rushing touchdowns as well. Prediction: Seffner Christian 38, Carrollwood Day 10
POLL: Who wins Friday night?

CLASS 2A-REGION 3 SEMIFINAL
No. 3 Carrollwood Day (6-5) at No. 2 Seffner Christian (10-0)@CarrollwoodDay @CDS_FBall @CDS_Athletics @sca_football

— FloridaHSFootball.com (@FlaHSFootball) November 14, 2018
REGION 4
No. 5 Champagnat Catholic (5-5) at No. 1 Moore Haven (8-1)
Terrier Field at Joe Brown Stadium, Moore Haven
This is a rematch of between Moore Haven and Champagnat from last year's playoffs … Champagnat won last year's meeting 47-0 … Last week Champagnat squeaked by No. 4 seed Miami Christian 20-19 … Moore Haven drew a first-round bye last week and finished the regular season in with a 54-48 win over LaBelle … The visiting Lions will rely on the efforts of many players on the roster but one to watch out for is two-way athlete Daryn Jones who stopped a two-point conversion in last week's game and scoring one touchdown on offense … With the host Terriers, the rushing efforts will be split between Nate Crawford and Lorenzo Sampson who have combined for over 20 touchdowns this season. Prediction: Champagnat Catholic 27, Moore Haven 24
POLL: Who wins Friday night?

CLASS 2A-REGION 4 SEMIFINAL
No. 5 Champagnat Catholic (5-5) at No. 1 Moore Haven (8-1)@ChampagnatCS @iRepCoaches @MHFLAthletics @MHfootball247 @MaxManin

— FloridaHSFootball.com (@FlaHSFootball) November 14, 2018
No. 3 Glades Day (7-4) at No. 2 St. John Neumann (9-1)
Celtic Field, Naples
This game marks the first postseason meeting between the two schools … Last week Glades Day won in a shootout over No. 6 Naples First Baptist, 49-39 … St. John Neumann was on a first-round bye last week after finishing out the regular season in Week 11 with a 48-0 win over Southwest Florida Christian … For the visiting Gators, quarterback Anthony McPhee will be a tough one to contain as he accounted for seven touchdowns last week, six on offense (three passing, three rushing) and an interception return for a touchdown on defense … With the host Celtics, dual-threat quarterback Jensen Jones will be the one keeping the defense on its toes as he has thrown for over 1,400 yards and 13 touchdowns while adding over 1,600 yards rushing and 28 touchdowns on the ground. Prediction: St. John Neumann 45, Glades Day 42
POLL: Who wins Friday night?

CLASS 2A-REGION 4 SEMIFINAL
No. 3 Glades Day (7-4) at No. 2 St. John Neumann (9-1)@gladesdayschool @Sjnceltics1

— FloridaHSFootball.com (@FlaHSFootball) November 14, 2018
Last Week's 2A picks record: 7 correct, 1 boo out of the stadium