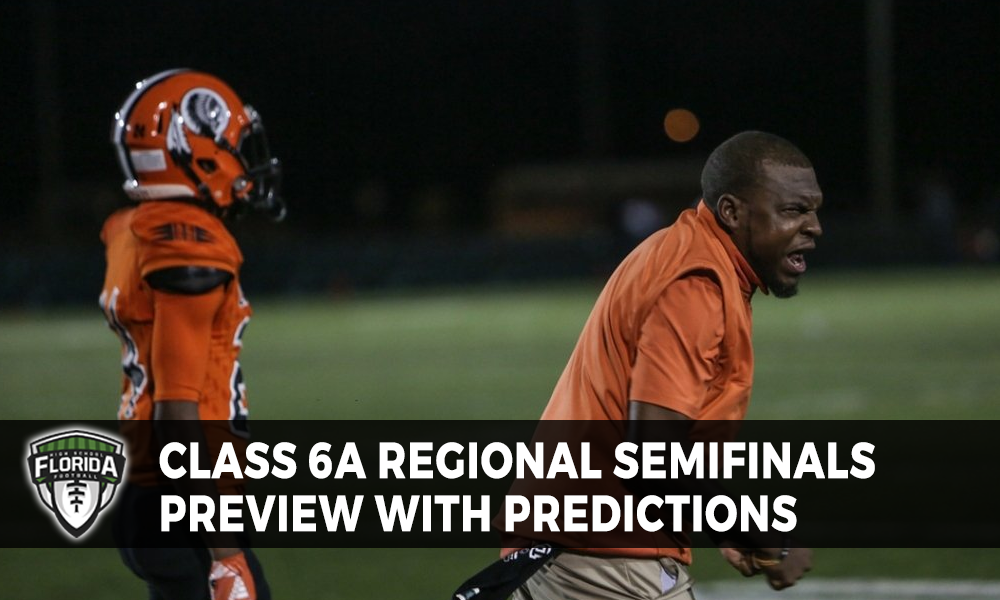 The Class 6A bracket has been one of the favorites to watch in the Sunshine State and every matchup this week could be competitive. Here is a look at the eight regional semifinal games for this week.
All games are scheduled for Friday, November 16 with a 7:30 p.m. ET kickoff unless noted
THE ONE TO WATCH
REGION 4
No. 5 Miami Central (9-2) vs. No. 1 Miami Carol City (9-2)
Traz Powell Stadium, Miami
A rematch of the No. 1 and the No. 2 team in the Sunshine State … the previous meeting back in Week 10 for the District 6A-16 championship, Carol City won 36-28 … Last week the Rockets defeated No. 4 seed Dillard, 35-20 … Miami Carol City easily took care of No. 8 Miami Norland in a rematch last week, 34-0 … Keep an eye on quarterback Maurice Underwood for the visiting Rockets who threw two touchdowns and rushing for one in last week's win … For the host Chiefs keep an eye on quarterback Daniel Richardson who went 7-of-15 last week for 154 yards and three scores in last week's win.
Prediction: Carol City 35, Miami Central 28.
POLL: Who wins Friday night?

CLASS 6A-REGION 4 SEMIFINAL
No. 5 Miami Central (9-2) vs. No. 1 Miami Carol City (9-2) @Roc__Nation @CarolCitySr1

— FloridaHSFootball.com (@FlaHSFootball) November 14, 2018
THE REST OF THE SLATE
REGION 1
No. 5 Escambia (9-2) at No. 1 Navarre (10-1), 7:30 CT
Bennett C. Russell Stadium, Navarre
This is a rematch of from Week 7 … Escambia defeated Navarre in that Week 7 contest, 37-27 giving Navarre their only loss in the regular season … This also game also marks the second postseason meeting between the two schools … Navarre won the first meeting in 2015 by a score of 40-35 … Last week, Escambia defeated No. 4 seed St. Augustine on the road, 33-14 … Navarre easily took care of business at home against No. 8 seed Pace, winning 38-6 … For the visiting Gators keep a watch for running back Frank Peasent who rushed for 176 yards and a touchdown on 25 carries in last week's win … With the host Raiders, the name to know is athlete Dante Wright who had three interceptions in last week's win. Prediction: Navarre 34, Escambia 21
POLL: Who wins Friday night?

CLASS 6A-REGION 1 SEMIFINAL
No. 5 Escambia (9-2) at No. 1 Navarre (10-1)@ehs_gators @NHSRaidersFB @TheNHSRaiders @IrishBill63 @BLester1993

— FloridaHSFootball.com (@FlaHSFootball) November 14, 2018
No. 3 Crestview (8-2) at No. 2 Pine Forest (8-3), 7:30 CT
Lon R. Wise Stadium, Pensacola
This will be the second meeting of the two teams in the postseason … The first meeting in the postseason came in 2010 in which Pine Forest defeated Crestview, 42-6 … Last week Crestview defeated No. 6 seed Niceville in a rematch from two weeks ago, 28-7 … Pine Forest defeated Gulf Breeze in a rematch from the regular season last week, 27-14 … The name to know for the visiting Bulldogs is Devin Vosin who scored three touchdowns in last week's win … For the host Eagles watch out for Ladarius Clardy who had over 200 yards of offense and scored three touchdowns in last week's win. Prediction: Pine Forest 27, Crestview 24
POLL: Who wins Friday night?

CLASS 6A-REGION 1 SEMIFINAL
No. 3 Crestview (8-2) at No. 2 Pine Forest (8-3)@crestview_fb @CrestviewHS @PineForestFB @Ryan_Vandervort

— FloridaHSFootball.com (@FlaHSFootball) November 14, 2018
REGION 2
No. 4 Lake Wales (10-1) at No. 1 Vanguard (11-0)
Booster Stadium, Ocala
This is the third all-time meeting between Lake Wales and Vanguard, according to Florida high school football historian, Richard Burton … The last time the teams met in 1978, the visiting Highlanders won … The all-time series is split 1-1 … Lake Wales took down No. 5 seed Gainesville last week, 25-14 … The host Knights ran past No. 8 seed Sebring 35-7 last week … Johnny Richardson is the one to keep an eye on for Lake Wales as he rushed on 30 attempts last week, gaining 210 yards and two touchdowns … For Vanguard, multiple players will likely contribute to a rushing attack like last week that could be led by quarterback Trevonte Rucker (126 yards, two touchdowns) and running back Kimo Clarke (103 yards, two touchdowns). Prediction: Vanguard 32, Lake Wales 20
POLL: Who wins Friday night?

CLASS 6A-REGION 2 SEMIFINAL
No. 4 Lake Wales (10-1) at No. 1 Vanguard (11-0)@lwhs_f @vanguard_high @edwinfarmer1974

— FloridaHSFootball.com (@FlaHSFootball) November 14, 2018
No. 6 Lake Weir (8-3) at No. 2 Armwood (10-1)
Lyle Flagg Stadium, Seffner
This is the first-ever meeting between Lake Weir and Armwood, according to Florida high school football historian, Richard Burton … Lake Weir last week upset No. 3 seed Mitchell 30-21 in their first playoff victory in school history under first-year head coach Knox Robinson … Armwood easily took care of business against No. 7 seed South Lake with a 54-0 shutout victory … Keep an a watchful eye on quarterback Deiontae Simpkins who has over 2,000 yards passing on the season for the visiting Hurricanes … For the host Hawks, the name to know is Eric "EJ" Wilson who accounted for over 150 yards of offense in last week's win. Prediction: Armwood 35, Lake Weir 24
POLL: Who wins Friday night?

CLASS 6A-REGION 2 SEMIFINAL
No. 6 Lake Weir (8-3) at No. 2 Armwood (10-1)@lwhurricanes @LWHS_Canes @CoachRobLW @Armwood_Hawks @armwoodpressbox

— FloridaHSFootball.com (@FlaHSFootball) November 14, 2018
REGION 3
No. 4 Fort Myers (9-2) at No. 1 Naples (10-1)
Staver Field, Naples
This is a rematch from last year's regional final playoff game … Naples won that matchup by a score of 36-9 … This will be the fourth straight year that both the visiting Green Wave and the host Golden Eagles will have met at some point in the regional playoff bracket in Region 3 … This will be the fifth overall playoff meeting between the two Southwest Florida schools … In convincing fashion last week, Fort Myers took down No. 5 seed Barron Collier, 42-14 … Naples sent No. 8 Lehigh home as the posted a 27-6 victory … The name to know for the Green Wave is quarterback Willie Neal who had 243 yards of offense and was responsible for three scores last week … For Naples watch out for Elan Sommala has been handling the running duties for the injured Chez Mellusi. Sommala had 250 yards rushing and two touchdowns in last week's victory. Prediction: Naples 31, Fort Myers 20
POLL: Who wins Friday night?

CLASS 6A-REGION 3 SEMIFINAL
No. 4 Fort Myers (9-2) at No. 1 Naples (10-1)@FMHSAthletics @26cane26 @NaplesHS @CoachBKramer

— FloridaHSFootball.com (@FlaHSFootball) November 14, 2018
No. 6 North Fort Myers (8-3) at No. 2 Charlotte (9-2)
Wallace Keller Stadium, Punta Gorda
A district rematch from the regular season … Charlotte won the Week 8 meeting by a score of 34-18 … This is the first time both teams will meet in the postseason … Last week North Fort Myers knocked off No. 3 seed Largo, 24-17 … Charlotte took care of business in the opening round, easily taking down Clearwater, 44-20 … The visiting Red Knights will rely on talents of Shomari Mason who rushed for 199 yards and scored two touchdowns last week …. With the host Tarpons keep an eye on the defensive unit as they helped the most in their win last week as Clearwater outgained them on offense in several key categories. Prediction: Charlotte 35, North Fort Myers 17
POLL: Who wins Friday night?

CLASS 6A-REGION 3 SEMIFINAL
No. 6 North Fort Myers (8-3) at No. 2 Charlotte (9-2)@NFMHSAthletics @CHSTarponFB

— FloridaHSFootball.com (@FlaHSFootball) November 14, 2018
REGION 4
No. 6 Miami Northwestern (6-5) at No. 2 Palm Bay Heritage (9-2)
Panther Stadium, Palm Bay
This will be the first-ever meeting between the Northwestern and Heritage … Last week Northwestern took care of business by knocking off No. 3 seed Mainland, 31-16 … Heritage handled Eau Gallie with ease in a rematch from the regular season, 38-17 …. The visiting Bulls will rely on the talents of Isiah Velez who threw for 370 yards and three touchdowns in last week's win … For the host Panthers they will rely on several key athletes including quarterback Nigel Scott and rushing efforts from Rontavius Farmer and Jumaine McDonald. Prediction: Miami Northwestern 30, Heritage 14
POLL: Who wins Friday night?

CLASS 6A-REGION 4 SEMIFINAL
No. 6 Miami Northwestern (6-5) at No. 2 Palm Bay Heritage (9-2)@MNW_Bulls1955 @SwarmGang

— FloridaHSFootball.com (@FlaHSFootball) November 14, 2018
Last Week's 6A picks record: 14 correct, 2 boos out of the stadium