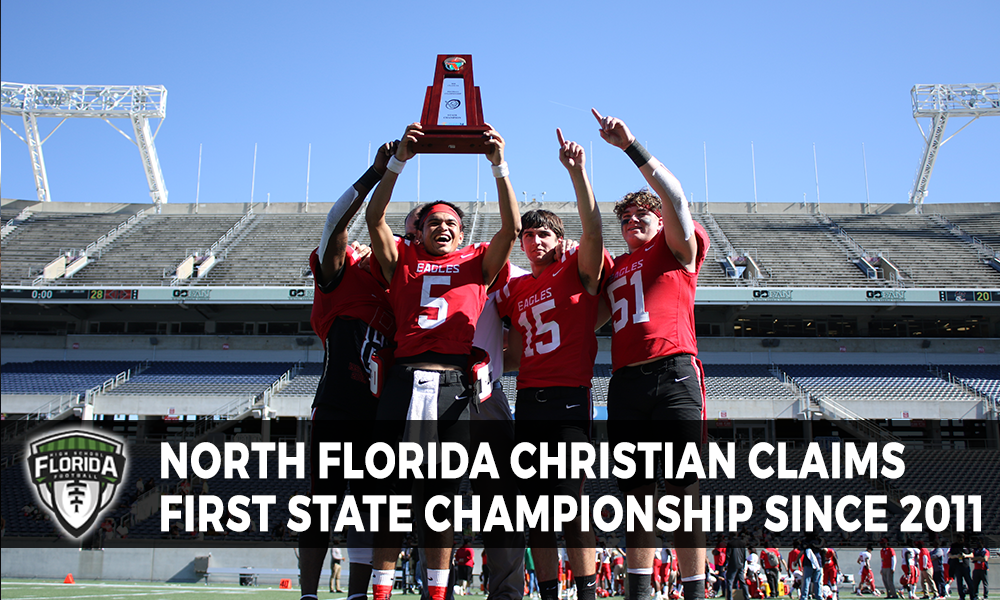 ORLANDO, Fla. – For the first time since 2011, North Florida Christian is back on top as champions.
And the march back towards the top started off quickly when the Eagles' TJ Ward intercepted a Chris Vidal pass on the first play of the game, returning it back for a touchdown to take a quick 7-0 lead with just 18 seconds off the clock.
At that point, the Eagle never looked back while bending, but not breaking when Champagnat (9-6) drew close several times in the game.
With the emotions of the first play gone wrong now a memory, Champagnat put together a 10 play, 42-yard drive that resulted in a Vidal two-yard quarterback keeper to draw the score to 7-6 with 7:22 left in the first quarter.
After that, it was a relatively quiet first half with several punts traded plus a very long 13 play, 50-yard drive for Champagnat that ended in a missed 24-yard field goal from Leonardo Duazo with 7:37 left in the half.
However, as the first half came to a close North Florida Christian (9-4) put together a sustaining nine play, 43-yard drive with JD Jerry going in for the one-yard keeper with three seconds left to give the Eagles a 14-6 lead over the Lions, a score they would take with them into the half.
Jerry, who was one of the top players for the Eagles this year, finished the game four-of-10 on passing with 47 yards as well as 68 yards rushing and two touchdowns.
In the third quarter, Champagnat's woes that were starting to become apparent in the first half, came to light even more as they tried to put a drive together after a missed field goal from the Eagles.
On a fourth-and-19 from their own 24, the snap for the punt sailed up in the air landing in the end zone with Deandrae McCray recovering for an Eagles touchdown to take a 21-6 lead with 5:57 left in the third quarter.
North Florida Christian would add their final touchdown of the game with a Jerry 12-yard rush to make the score 28-14 with 4:14 left in the quarter while Champagnat would draw closer with a Daryn Jones three-yard touchdown run to make the score 28-20.
"It was a hard-fought game all the way to the very last snap," North Florida Christian Head Coach Steve Price said.
"I am proud of our team, proud of the job they did today and they never quit."