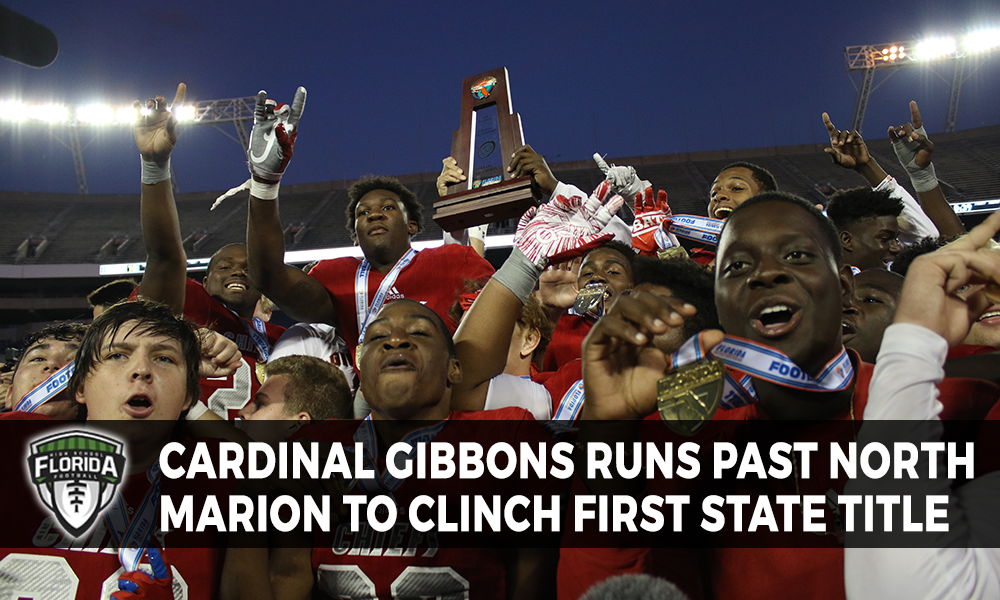 ORLANDO, Fla. – Matt Dubuc waited for 28 years for this moment.
Dubuc who was a part of the 1990 Cardinal Gibbons team, the only other team to reach a state championship game and who was a major contributor at running back, has worked to get his Chiefs to this moment since taking over as head coach in 2016.
That moment came with a 48-10 thrashing of North Marion in the Class 5A State Championship Game at Camping World Stadium.
Both teams were seeking out their first state championship in school history.
Early on things were not looking bright for the Chiefs as North Marion's Corey Wilsher helped orchestrate a 59-yard drive to open the game, taking a 3-0 lead on a Tyler Stopford 38-yard field goal that took nearly five minutes off the first quarter clock.
But Cardinal Gibbons wasn't going to lay low totally.
The Chiefs took their first possession and responded quickly with a field goal of their own, with Daton Montiel striking a kick through the uprights from 20-yards out with 3:51 left in the first quarter.
However, a turn of events late in the first quarter would change the dynamics of the game when North Marion quarterback Corey Wilsher went down with a left knee injury that saw the crutches come out with a huge ice pack icing the knee down for Wilsher.
With Wilsher out, sophomore quarterback Quintin Gross took over and quickly orchestrated a North Marion touchdown drive giving the Colts a 10-3 lead at the end of the first quarter.
The momentum that North Marion found wouldn't last very long though.
Cardinal Gibbons after failing to convert a fourth down play on their next drive, the defense stepped up to put the pressure on the Colts sending them to a three-and-out.
However, on the ensuing punt, Sidney Porter, who has been one of the Chiefs' special players this season completed the trifecta of a blocked punt, scooping the ball up and scoring with 6:55 left in the second quarter.
From there the route was on for the Chiefs as they tacked on another field goal and a 52-yard touchdown pass from Brody Palhegyi to Jake Harrington to take a 20-10 lead into the half.
In the second half, the Chiefs seized control even further with a 49-yard Vincent Davis touchdown taking a 27-10 lead with 8:04 left in the third quarter. After that, the Chiefs added on several more touchdowns with a 3-yard run from Coleman Bennett, another Palhegyi passing touchdown as well as one more Bennett touchdown to make the final score, 48-10.
Palhegyi who was making just his third start at quarterback finished the night with 10-of-16 for 138 yards passing and one touchdown while Davis led in rushing with 130 yards and two touchdowns.
"It is all about our players and our kids that did it. They got it done," Dubuc said.  "I am just lucky enough to be a part of it. A lot of hard work. Our fans were great, with a huge group that came up here."
As for getting on the map with other elite programs, Dubuc hopefully thinks that this state championship win has done that.
"Hopefully this put us on the map now with some of these elite programs in the state. I think we have punched our ticket to be a part of it," Dubuc said.