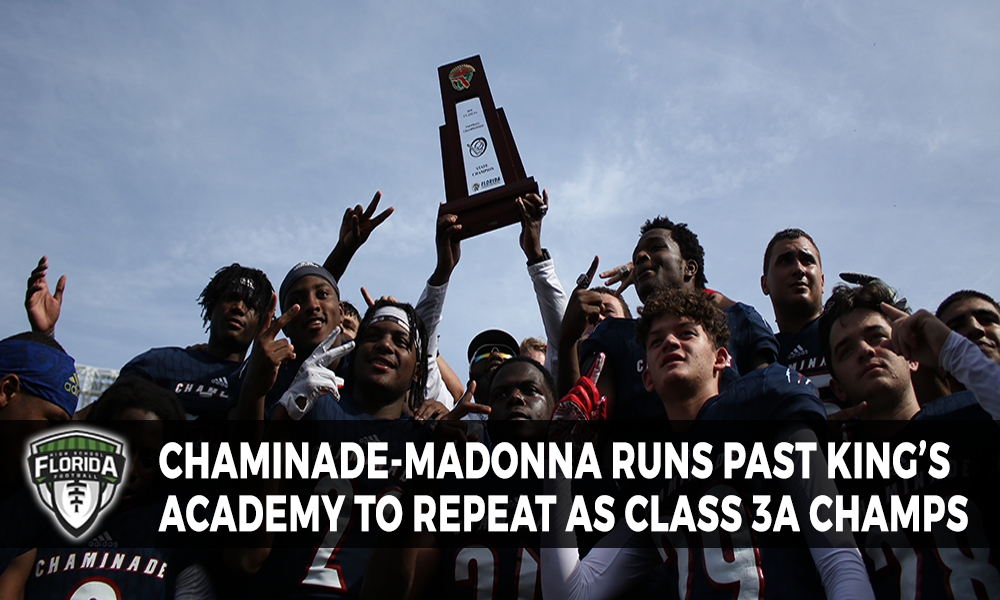 ORLANDO, Fla. – The start might have been slow, but the domination came for a team that everyone expected to repeat since the end of the 2017 Class 3A State Championship.
And as such, the Chaminade-Madonna Lions (12-2) came out on top at Class 3A State Champions for the 2018 season, winning 38-10 over King's Academy.
King's Academy (12-2), making their first-ever state championship appearance in school history got off to a hot start on their second drive of the game after Jayvon Wynn intercepted a Daelen Menard pass at midfield and returning it for 37 yards to the Chaminade-Madonna 13.
On that drive for King's Academy, Justin Wake showed his playmaking abilities hitting Corey Croteau twice, the second pass resulting in a 14-yard touchdown with 7:25 to go in the first quarter.
With the ball back Chaminade-Madonna found themselves with great field position after King's Academy went for an onside kick after the touchdown giving them great field position at the 37. However, after moving the ball to the King's Academy 23, Chaminade-Madonna failed to convert on a fourth down.
And King's Academy took advantage of the turnover on downs, marching down the field with the work of Justin Wake once again by getting down to the 20 before having to settle for a Bernie Cueto 37-yard field goal with just four seconds off the second quarter clock.
After that, the wheels started to fall off for King's Academy when Te'cory Couch intercepted the first of two passes from Wake today at their own 48.
From there it became the Willie Davis show, rushing four times and capping off a quick drive on a 14-yard touchdown run to cut King's Academy lead to 10-7.
Davis, who finished 83 yards rushing on 18 carries, would help lead Chaminade-Madonna to their second score of the game to take a 14-10 on a 13-yard touchdown after forcing King's Academy a three-and-out between the touchdown drives.
In the second half, the rout became more evident when Menard hooked up with Elijah Canion for a 71-yard touchdown reception in just one play to take a 21-10 lead.
Menard finished the day 14-of-22 passing for 218 yards, two touchdowns, and two interceptions.
Chaminade-Madonna would add a touchdown pass later on the third quarter on a 16-yard catch from Menard to John Dunmore to extend the lead 28-10.
For good measure in the fourth quarter, Chaminade-Madonna added two more scores with a Carter Davis 31-yard field goal and a Deidrick Stanley 36-yard punt return to make it 38-10.
"I am happy for these young men and my coaches and the Chaminade-Madonna community," Coach Dameon Jones said after the win. "We worked hard for this. We had doubter and naysayers, so I am just happy for these kids. They went through a lot, long season. They are just blessed."