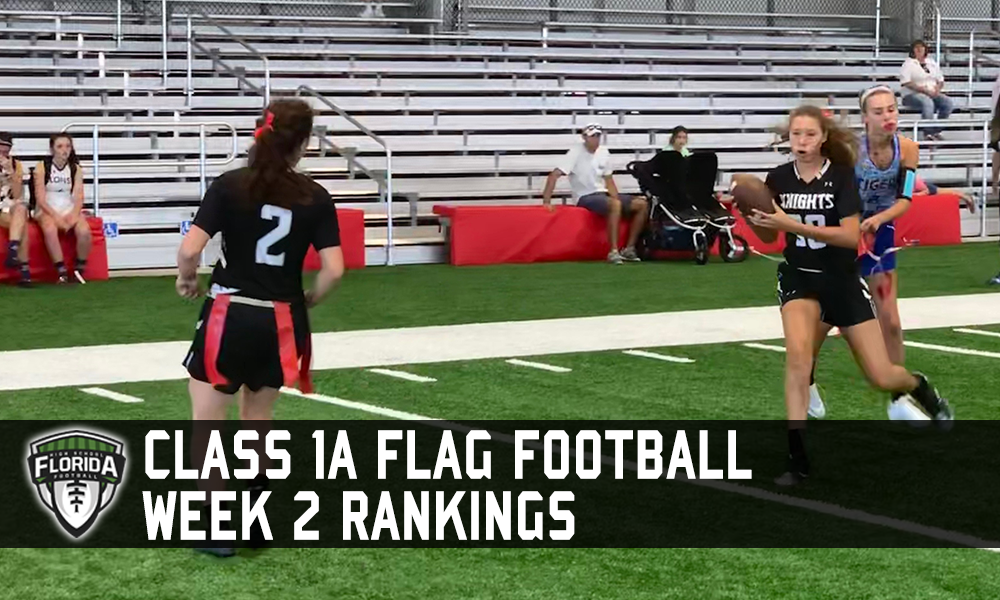 Each week during the season we update the Top 25 rankings in Class 1A providing our Top 10 teams as well as provide The Next 15 teams that we have ranked to complete the Top 25 rankings. Information used to determine the rankings include record, quality wins, defeating ranked opponents and strength of schedule (after Week 1). It is important that teams update their information with scores with us on a regular basis each week by emailing us score reports at flag@floridahsfootball.com, sending us a direct message on Twitter @FlaHSFootball or updating scores in the ScoreStream app.  Lack of information (scores) reported by the teams will only hurt their chances of being ranked, especially if they are having a solid season.
THE TOP 10
1. Robinson (Tampa)
Record: 0-0
Last Week: 1
NOTE: The Knights will finally open the season this week with matchups against undefeated Jefferson and 2A No. 1 Alonso before heading off into spring break.
2. Clay (Green Cove Springs)
Record: 1-0
Last Week: 3
NOTE: The Blue Devils opened up the season with a solid 33-0 shutout over Oakleaf and will open up district play this week with matchups against Ridgeview and Bradford before heading into spring break.
3. Godby (Tallahassee)
Record: 1-0
Last Week: 4
NOTE: With a 20-0 shutout performance over Chiles, the Cougars got the season started off in the best possible way with district matchups against Gadsden County and No. 7 Lincoln on the docket for this week before heading into spring break.
4. Miami Edison
Record: 1-0
Last Week: 2
NOTE: The inexperience of this team is now even a bigger concern given the fact that Edison was only able to defeat Everglades, 6-0 last week while Cooper City (a ranked team in Class 2A) was able to post more points on the same team in the same week. District matchups with Miami Springs and North Miami Beach with those results should open the picture up, even more, this week.
5. Glades Central (Belle Glade)
Record: 1-0
Last Week: 5
NOTE: We wondered if might have over-ranked the Raiders coming into the season, but it proved to be the right move as they defeated No. 10 Jensen Beach 12-7 in the season opener. Matchups with Wellington and Port St. Lucie are on the schedule this week before spring break commences.
6. Monsignor Pace (Miami)
Record: 2-0
Last Week: 6
NOTE: It was a good opening week for the Spartans who easily notched two shutout victories over district foes, Goleman (25-0) and Mourning (48-0). Two district matchups this week with iMater Prep and Hialeah Educational should keep Monsignor Pace undefeated.
7. Lincoln (Tallahassee)
Record: 1-0
Last Week: 7
NOTE: The Trojans started off the season with a big 41-0 win over district foe Wakulla and now await a district matchup against Jefferson County and a crosstown showdown with No. 3 Godby this week before going on the spring break hiatus.
8. Seabreeze (Daytona Beach)
Record: 1-0
Last Week:9
NOTE: Opening week was not difficult at all for the Sandcrabs who notched a 34-0 shutout victory over district foe Warner Christian. A district matchup against New Smyrna Beach awaits along with a non-district matchup against Spruce Creek for this week before spring break commences.
9. Florida High (Tallahassee)
Record: 1-0
Last Week: 11
NOTE: Florida High moves up into the Top 10 for the first time after easily shutting out Jefferson County 59-0 to open the season. Matchups with Chiles, Crestview, and Choctawhatchee will test this ranking to see if the Seminoles are truly deserving of a Top 10 ranking going forward.
10. Jensen Beach
Record: 1-1
Last Week: 10
NOTE: It is hard to even consider bumping Jensen Beach out of the Top 10 after a very tough game with No. 5 Glades Central last week, falling 12-7 in that matchup. However, the Falcons did pick up the first win against Okeechobee, winning that one 26-0. Jensen Beach won't return to the field until March 19 against Lake Placid as spring break commences this week.
RELATED: All-Classification Top 25 Flag Football Rankings for Week 2
THE NEXT 15
11. Harmony, 1-1, 8
12. Madison County (Madison), 2-0, 12
13. Pembroke Pines Charter, 2-0, 13
14. Niceville, 3-0, 15
15. Miami Jackson, 1-0, 14
16. Choctawhatchee (Fort Walton Beach), 1-0, 18
17. Brandon, 1-0, 16
18. Osceola (Seminole), 2-0, 17
19. Tarpon Springs, 1-0, 19
20. Orange Park, 1-0, 21
21. Crystal River, 0-0, 22
22. Suncoast (Riviera Beach), 1-0, 23
23. Fort Pierce Westwood, 1-0, 24
24. Mainland (Daytona Beach), 1-0, 25
25. Rickards (Tallahassee), 2-0, NR
DROPPED OUT: No. 20 Terry Parker (Jacksonville), 0-2