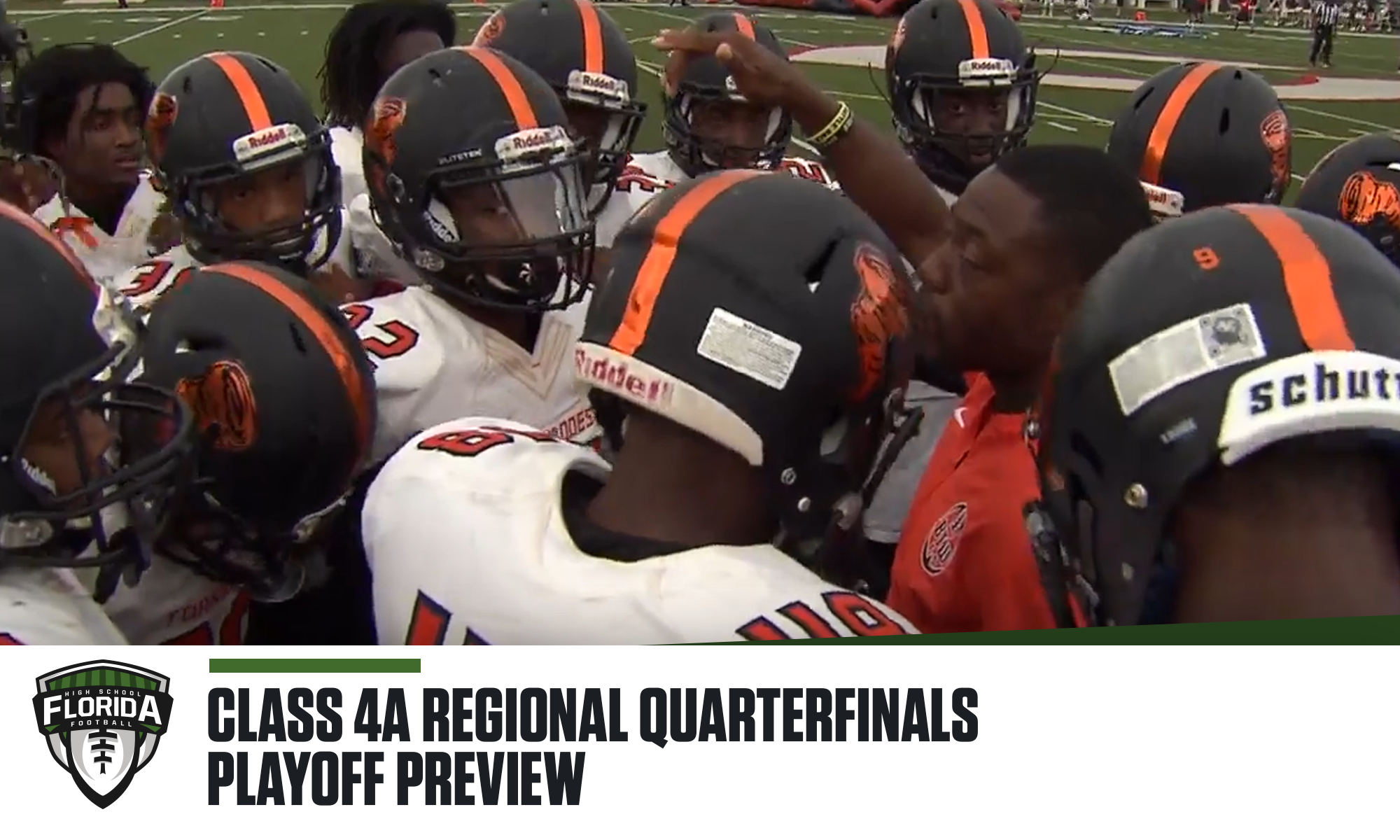 Here is our Class 4A Regional Quarterfinals Playoff Preview with predictions for all 8 games in the classification.
GAME TO WATCH
CLASS 4A-REGION 4
No. 5 Miami Carol City (5-5) vs. No. 4 Booker T. Washington (8-2)
When: Thursday
Where: Traz Powell Stadium, Miami
Kickoff: 7:00 p.m.
The Skinny: This is by far the best game in the entire classification as two of the top tier teams in Miami battle it out to face No. 1 seed Gulliver Prep next week on the road. … Both teams have played incredibly tough schedules this season, including some common opponents including Miami Central, Miami Northwestern and Trinity Christian (Jacksonville) … A few key players to watch from Carol City include wide receiver Thaiu Jones-Bell who is an Alabama commit, safety Darius Stokes who is an FIU commit, wide receiver Jovan Ferguson, wide receiver D'Andre Stafford, and safety Richard Lawson … For Booker T. Washington watch out for cornerback Corey Thornton who is committed to UCF, defensive end Tramel Logan, wide receiver Macho Arza an Eastern Tennessee State commit and wide receiver Theodore Richardson an FIU commit. … The biggest concern here for us if the wear and tear of the Chiefs' schedule this season will finally catch up to them here fully. … On paper both teams are evenly matched, however, it seems when it comes to completing a 48-minute game this season, Booker T. Washington has been able to do that without much trouble.
Prediction: Booker T. Washington 31, Miami Carol City 21
WHO WINS TONIGHT?

CLASS 4A – REGION 4 QUARTERFINAL@CarolCitySr1 vs. @MiamiBTW_FB
Traz Powell Stadium
7 PM ET

4A PREVIEW: https://t.co/zrVI5HZrcy#flhsfb

— FloridaHSFootball.com (@FlaHSFootball) November 7, 2019
OTHER PREDICTIONS
All games on Friday at 7:30 p.m., unless noted.
REGION 4
No. 5 South Walton (5-4) at No. 4 Marianna (6-4), 7:30 CT: A regular-season rematch between the two teams, it was a close one back on September 27 where South Walton pulled off a 30-27 win on the road. With having to make this trip again, South Walton could find a way once again to pull of the win and the playoff upset. This one will be close with Marianna getting revenge this time. Prediction: Marianna 27, South Walton 23
No. 6 Bradford (4-5) at No. 3 Gadsden County (5-4): Bradford could easily be 6-3 or even 7-2 with the number of close games they have been in this season. This is why their 4-5 record is very much deceiving on paper. Gadsden County has also played its fair share of tough games, but we like the visiting Tornadoes on the road this week thanks to the week-in and week-out grind they had. Prediction: Bradford 31, Gadsden County 20
REGION 2
No. 5 Astronaut (5-5) at No. 4 Keystone Heights (7-2): Astronaut has by far played the tougher schedule compared to Keystone Heights this season and there wasn't too much difference between these two teams with the final RPI numbers. I hate to say, but this one might not be close as the visiting War Eagles also has more talent available than the host Indians. Prediction: Astronaut 31, Keystone Heights 17
No. 6 Cypress Creek (Wesley Chapel) (6-4) at No. 3 The Villages (7-2), 7: It is the first-ever playoff appearance for the visiting Coyotes and to be honest this trip likely won't last very long as they face a much more talented team in the host Buffalo. This game appears to be in the end a total mismatch given the fact that two of Cypress Creek's wins are by the way of forfeit this season. Prediction: The Villages 48, Cypress Creek 10
REGION 3
No. 5 Clewiston (5-5) at No. 4 Lake Placid (4-6): For some reason, Lake Placid finished with just a slightly higher RPI than Clewiston and got the home game despite being 4-6. However, the Green Dragons did face some tougher competition this season much as the visiting Tigers have as well. However, it feels like Clewiston might be better prepared for this challenge than Lake Placid will be. Prediction: Clewiston 35, Lake Placid 17
No. 6 Lemon Bay (3-7) at No. 3 Tampa Catholic (5-5): The only reason Lemon Bay is in the playoffs is thanks to the forfeits from Glades Central that had them being in the playoffs to totally being out of the playoffs. This is a complete mismatch on paper and will be on the field. It won't even be close. Prediction: Tampa Catholic 44, Lemon Bay 3
REGION 4
No. 6 Monsignor Pace (5-5) at No. 3 Cardinal Gibbons (8-2): The visiting Spartans faced a gauntlet of challenging teams all season but found their grove in the second half of the season to reach the playoffs in Head Coach Mario Perez's first year. However, drawing Cardinal Gibbons wasn't probably the ideal matchup against Matt DuBuc's defending state championship program who has also faced their own gauntlet of teams this season. This pick is strictly business and not an indictment on either team's schedule or coaching this season. Prediction: Cardinal Gibbons 35, Monsignor Pace 20