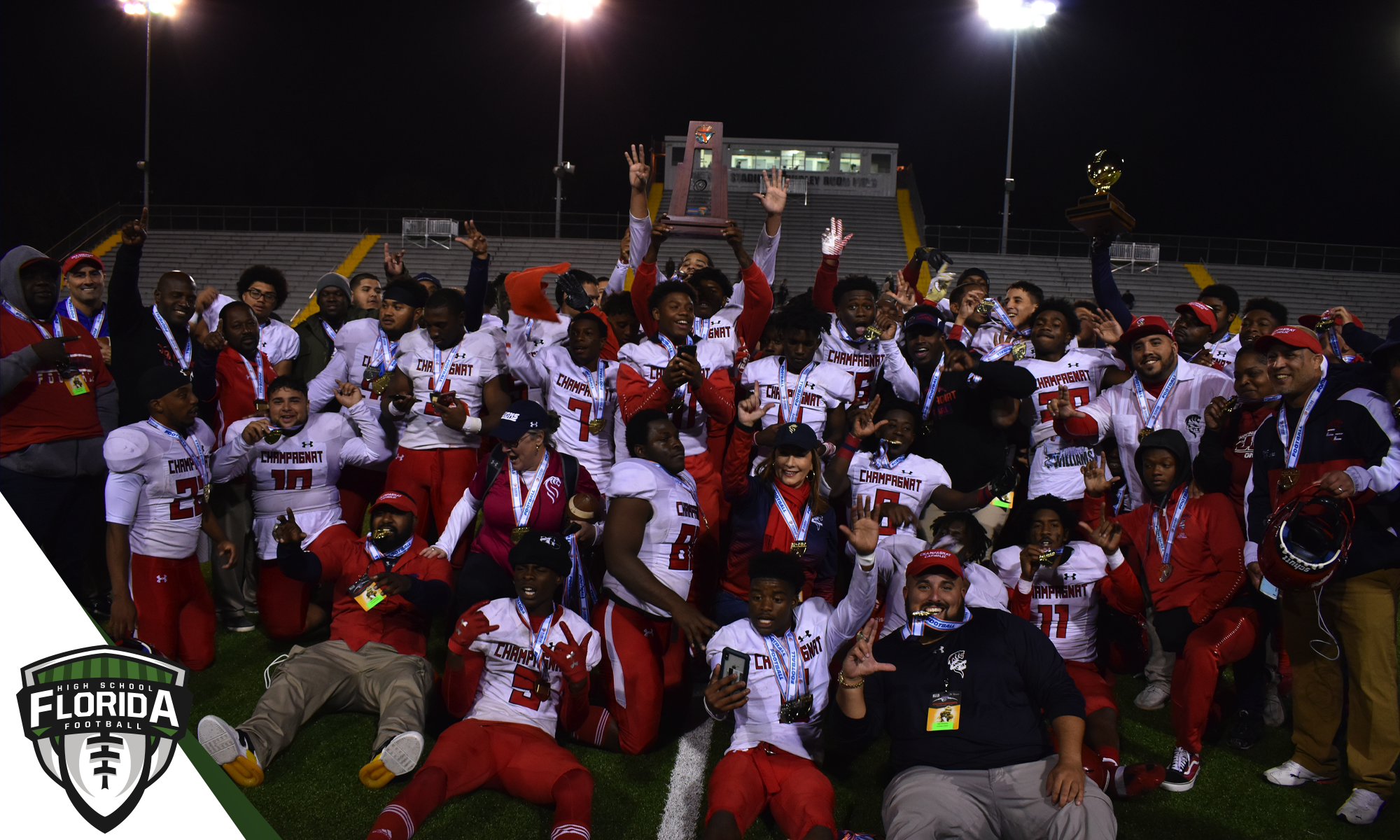 TALLAHASSEE, Fla. – It was all about shutting the run game down.
And for Champagnat Catholic, that is exactly what they did on Thursday night 35-14 victory at Gene Cox Stadium in the 2019 FHSAA Class 2A State Championship game against Victory Christian to claim the third overall state championship in school history – all that have come this decade since 2013.
Champagnat Catholic (10-3) came into the game knowing they had to keep Cornelius Shaw contained for the most part and more importantly keep him out of the end zone as often as possible.
In that effort, the defense did exactly just did limiting Shaw's damage to just one touchdown and 113 yards on the ground on 27 carries, with that lone touchdown coming with just 4:09 left in the game with the Lions pretty much in control at that point.
Both teams started off the game with their first possession not going much of anywhere, but it was a punt from Victory Christian (11-2) back to Champagnat Catholic that got the scoring started for the night when William Jeudy muffed the punt at their own 42 to give the Storm great field position for their first score of the night.
That score, a 23-yard touchdown run from Jeremiah Byrd took Victory Christian up 7-0 with 6:29 left in the first quarter.
It wouldn't take long for Champagnat Catholic to respond – 2:04 to be exact – to respond back with a 10-yard pass from Ryle Aguila to Donovan Jones with a two-point conversion coming from Everett Bradley to put the Lions up 8-7 and never looking back for the rest of the game.
With a few punts exchanged afterward, Champagnat Catholic found the endzone once more with the arm of Ryle Aguila finding Malik Rutherford for a 69-yard touchdown pass – the longest of the night for Aguila – to put the Lions up ahead 15-7 with 7:56 left in the first half.
Kicker Eathan Moncada would add a 28-yard field goal near the end of the second quarter to give Champagnat Catholic an 18-7 lead at the half.
Moncada would end up kicking another 28-yard field goal in the third quarter to put the Lions up 21-7.
However, Champagnat was not even done yet with the scoring with Ryle Aguila finding his third touchdown pass of the night this time to Johnquai Lewis from 26 yards out to put the Lions up 28-14.
Aguila finished the night 9-of-16 passing for 153 yards and three touchdowns.
Calvin Montgomery finished off the scoring on the night with a one-yard run with 1:32 left in the game to make it 35-14 which game after Shaw's 16-yard touchdown run with 4:09 left to cut the score to 28-14.
Head Coach Hector Clavijo III was happy about his team's performance and winning his first state championship as the team's head coach, but importantly was happy the game plan went as he had hoped to.
"As long as we could shut the run down, I knew we would win this game. We did it and it wouldn't be easy. The Shaw kid is a heck of a running back.
As for Victory going up early – well he wasn't even concerned.
"They scored on a fluke [in reference to Victory Christian's score in the first quarter] situation. They had great field position. They scored. I am not concerned. We have been down 28 points and came back. Being down seven doesn't bother me."
And redemption it was from last year's game falling to North Florida Christian, which ironically is in the same city as this year's state championship game.
"Definitely. Honestly, we gave that game away last year and I wasn't going to let the same thing happen this year."
But the most important thing on the night was completing the business trip at hand.
"We took care of business," Clavijo said.