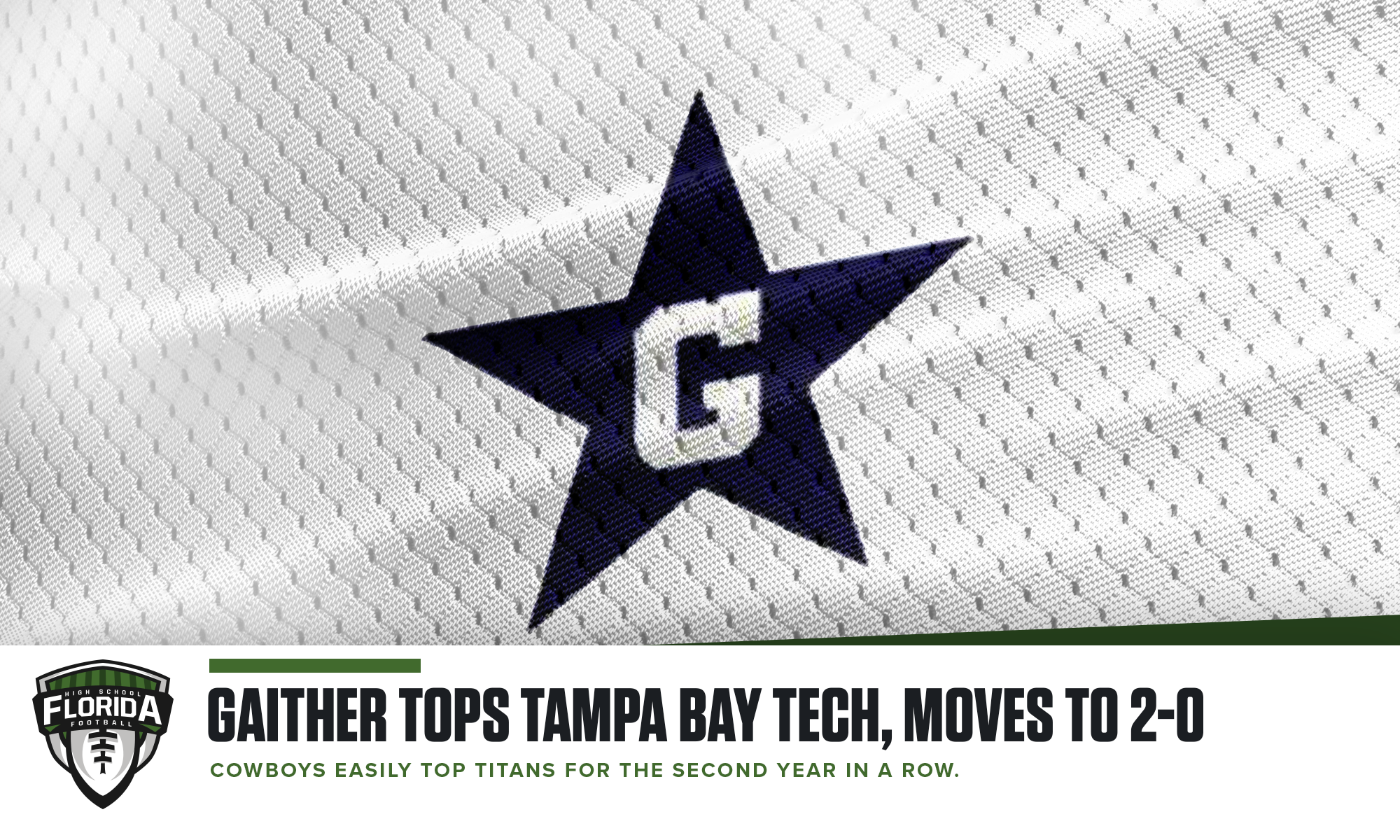 The two top-ranked teams in Tampa battled it out Friday night, with the Gaither Cowboys leaving the field victorious. The Cowboys toppled Tampa Bay Tech 34-14 to remain the best team in the 813.
The Game
Tampa Bay Tech started off strong, picking Gaither off in the end zone early in the first quarter. Good teams try not to let other good teams knock their confidence. Great teams use plays like that as motivation to lock in and win. Gaither, in this case, played the role of a great team.
Gaither prohibited a Titans score, then turned around and got on the board. Quarterback Kiael Kelly, a Ball State commit, threw 17 yards to receiver Jordan Oladokun, an Iowa commit, for the score.
17-yard TD pass from @kiael_kelly to @JordanOladokun. Gaither leads 7-0. @FlaHSFootball @TBHomeTeam pic.twitter.com/6u7uciPMCJ

— Alejandro Tamayo (@AlexTamayo22) September 17, 2020
However, Tampa Bay Tech had a 62-yard answer, courtesy of quarterback David Wright and receiver Jamari Gassett, a Buffalo pledge. Unfortunately, a failed two-point conversion attempt left the Titans trailing.
Wow. Big time 62-yard TD pass from David Wright to @JamariGassett18. Two-point conversion is no good so Gaither leads 7-6. @FlaHSFootball @TBHomeTeam pic.twitter.com/pODEG8Iuxf

— Alejandro Tamayo (@AlexTamayo22) September 17, 2020
Once again, Gaither used a good Tampa Bay Tech moment as fuel. The Cowboys ran up the score 20-6 before the half. Kelly, who had a great game, was responsible for both touchdowns.
Running back Ricky Parks, a Utah commit, got on the board for Gaither in the third quarter. That would be the only score from either team that quarter. Parks found the end zone again in the fourth, putting the Cowboys up 35-6.
Another 11-yard TD run by @_RParks3. Gaither leads 34-6. @TBHomeTeam @FlaHSFootball pic.twitter.com/mXchIKxsKM

— Alejandro Tamayo (@AlexTamayo22) September 18, 2020
But, Tampa Bay Tech fought to the end. The Titans capped off the game with a touchdown and a two-point conversion to make the final score 35-14.
Final Thoughts
The Cowboys are locking in on both sides of the ball and seem to thrive off of adversity. Tampa Bay Tech looked better more than the box score would suggest. But Gaither's will to win stopped the Titans as much as possible. Look for the Cowboys to move up this week.
The Titans left points on the field. They are a good team that can definitely be worked back up to speed. However, they have a rough schedule ahead of them, which could make or break them. I am curious to see if Tampa Bay Tech has the tenacity it showed against Chamberlain moving forward.