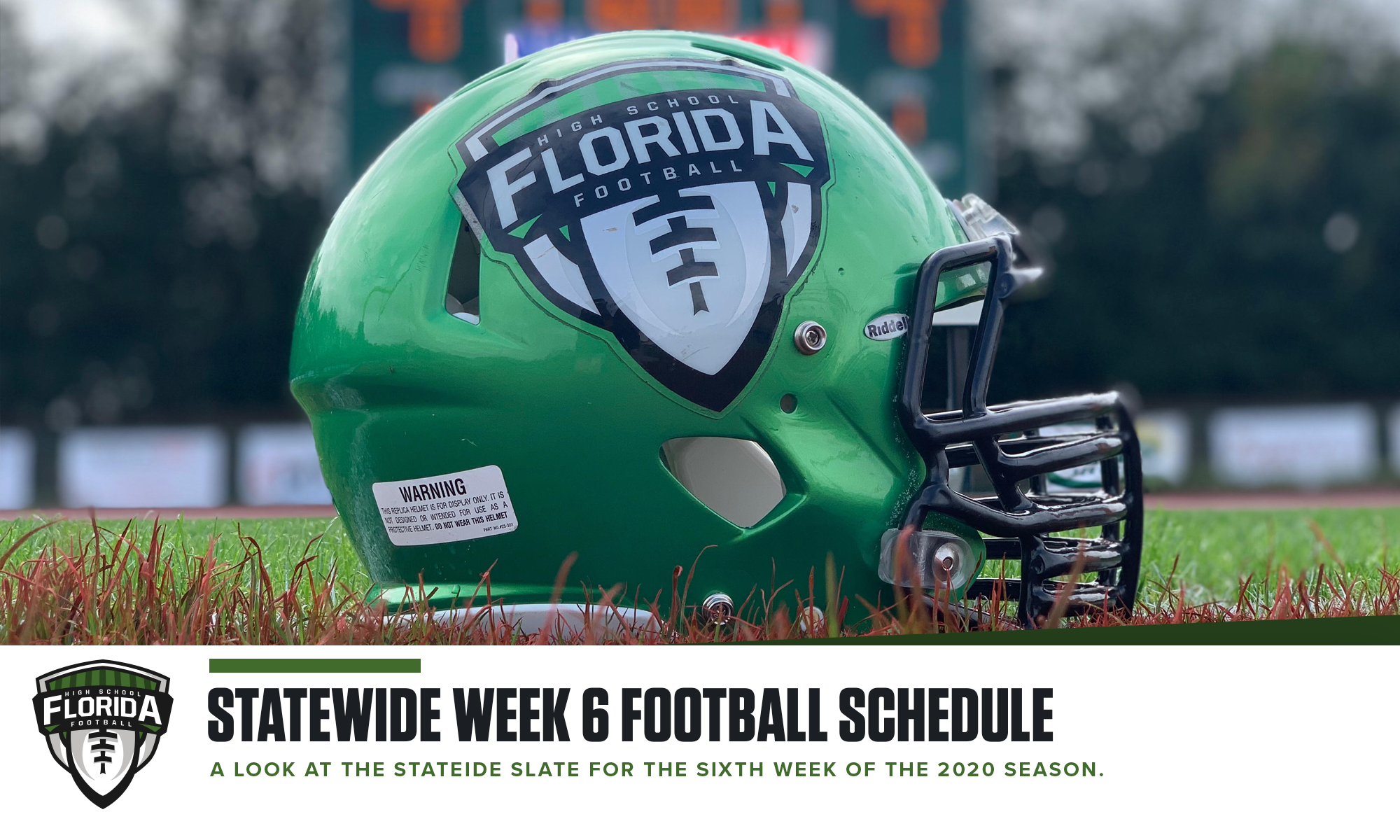 It is Week 6 of the 2020 Florida High School Football Season!
This week we welcome more South Florida teams to the fold who are starting their season's this week so we welcome them to the schedule as we start the backstretch of the regular season of an already modified 2020 season.
IMPORTANT NOTE REGARDING COVID-19
Remember, fan attendance will be limited this season at most games and will vary in numbers due to COVID-19 guidelines. Please contact the school you might be interested in attending before showing up as most schools will only presale tickets prior to the game or will conduct ticket sales strictly through methods online and apps. Most schools anticipate of having their games broadcasted through video streaming platforms, radio stations or television stations. Please ask the schools involved in the game you are interested in check out to see if that game will be available for broadcast.
NOTE #1: If you see an error or need to report a schedule change, please report details to Joshua Wilson by emailing them to Joshua.Wilson@floridahsfootball.com.
NOTE #2: This schedule is subject to change due to last minute game additions and cancellations. Please check back often for updates.
WEEK 5 SCHEDULE
All kickoff times are 7 p.m. Eastern unless noted
FHSAA 11-MAN
Thursday
Choctawhatchee at Navarre, 7:30 CT
Countryside at Boca Ciega
Freeport at Baker, 6 CT
Hawthorne at Bradford
Mosley at Niceville, 6 CT
Northview at Walton, 6 CT
Osceola (Seminole) at Palm Harbor University
Out-of-Door at Bradenton Christian
Pace at Tate, 7 CT
Pensacola Catholic at Escambia, 7 CT
Pine Forest at Booker T. Washington (Pensacola), 6 CT
Rutherford at Arnold, 7 CT
St. Edward's at Seven Rivers Christian
St. Joseph at Providence
Seminole (Seminole) at Hollins
Somerset Silver Palms at Belen Jesuit
Friday
A'kelynn's Angels Christian at Faith Christian
American Collegiate at American Heritage (Delray)
Andrew Jackson at Baldwin, 6
Archbishop McCarthy at Clewiston, 7:30
Atlantic (Port Orange) at Deltona
Aucilla Christian at Rocky Bayou Christian, 7 CT
Baker County at Terry Parker, 6
Barron Collier at Golden Gate
Bartow at Kathleen, 7:30
Bell Creek Academy at Jupiter Christian, 4
Bishop Kenny at Orange Park
Bishop McLaughlin at Santa Fe Catholic
Bishop Verot at Cardinal Mooney
Blake at Spoto, 7:30
Boca Raton Christian at Glades Day
Booker at Braden River, 7:30
Bozeman at Sneads, 7 CT
Brandon at Hillsborough, 7:30
Bronson at Tenoroc, 7:30
Calvary Christian (Fort Lauderdale) at Benjamin
Canterbury (Fort Myers) at Gateway Charter
Cape Coral at North Fort Myers
Central Florida Christian at Legacy Charter
Chamberlain at Gaither, 7:30
Champagnat Catholic at TRU Prep Academy
Chiefland at Trenton, 7:30
Christ's Church Academy at Stanton, 6
Citrus at Central (Brooksville), 7:30
Clearwater Central Catholic at Jesuit, 7:30
Community School of Naples at St. John Neumann
Cottondale at Franklin County, 7:30
Cypress Creek (Orlando) at Colonial
Dade Christian at Calvary Christian (Clearwater), 7:30
DeSoto County at Lemon Bay, 7:30
Discovery at Frostprooof, 7:30
Dunnellon at North Marion, 7:30
Durant at Bloomingdale, 7:30
Eagle's View at Cedar Creek Christian
East Lee County at Island Coast
Eau Gallie at Heritage (Palm Bay)
Ed White at Atlantic Coast, 6
Englewood at Menendez
Episcopal at Pine Ridge
Estero at Bonita Springs
Evans at Oak Ridge
Everglades Prep at Doral Academy
Fernandina Beach at Paxon, 6
Fivay at Wesley Chapel, 7:30
Flagler Palm Coast at St. Augustine
Fleming Island at Oakleaf
Florida Christian at Marathon
Fort Meade at Avon Park, 7:30
Fort Myers at Dunbar
Fort Pierce Central vs. Centennial at South County Stadium
Fort Walton Beach at Milton, 7:30 CT
Foundation Academy at Northside Christian
Freedom (Orlando) at East River
Freedom (Tampa) at Alonso, 7:30
Gainesville vs. Buchholz at Citizens Field
Gateway (Kissimmee) at Boone
Godby vs. Leon at Gene Cox Stadium
Hagerty at Winter Springs
Haines City at Sebring
Halifax Academy at Cornerstone Charter
Hamilton County at Newberry, 7:30
Harmony at Bishop Moore
Hernando at Nature Coast, 7:30
Hilliard at Branford, 7:30
Holy Trinity at Satellite
Ida Baker at South Fort Myers
Immaculata-La Salle at St. Brendan
Indian Rocks Christian at Keswick Christian
Jay at Chipley
Jefferson at King, 7:30
Jefferson County at Wakulla, 7:30
John Carroll at South Fork
Jones at Apopka
LaBelle at Southwest Florida Christian
Lafayette at Dixie County, 7:30
Lake Brantley at Seminole (Sanford)
Lake Gibson at Hardee, 7:30
Lake Highland Prep at The First Academy (Orlando)
Lake Howell at Matanzas
Lake Minneola at East Ridge
Lake Placid at Evangelical Christian
Lake Weir at Belleview
Lakeland Christian at Carrollwood Day
Lakewood Ranch at Gulf
Land O' Lakes at Pasco
Lecanto at Crystal River
Leesburg at The Villages
Lely at Gulf Coast
Liberty (Kissimmee) at Tohopekaliga
Liberty County at Wewahitchka, 7 CT
Lincoln at Chiles
Lyman at University (Orange City)
Madison County at Columbia, 7:30
Mandarin at Trinity Christian (Jacksonville), 7:30
Marianna vs. Bay at Tommy Oliver, 7 CT
Martin County at Jensen Beach
Melbourne Central Catholic at Cocoa Beach
Miami Christian at Westminster Christian, 4
Middleburg at Ridgeview
Monsignor Pace at Cardinal Gibbons
Naples at Lehigh
Nease at Creekside
New Smyrna Beach at Eustis
Newsome at Lennard, 7:30
North Bay Haven at Holmes County, 7 CT
North Florida Christian at Florida High, 7:30
North Port at Bayshore, 7:30
Northeast (St. Petersburg) at Dunedin
Oasis at IMG Academy White
Ocala Christian at First Academy-Leesburg
Ocoee at Celebration
Okeechobee vs. Fort Pierce Westwood at Lawnwood Stadium
Olympia at University (Orlando)
Orlando Christian Prep at The Master's Academy (Oviedo), 7:30
Osceola (Kissimmee) at St. Cloud, 7:30
Oviedo at Lake Mary
P.K. Yonge at Taylor County, 7:30
Palatka vs. Suwannee at Paul Langford Stadium, 7:30
Palm Bay at Viera
Palm Glades Prep at Palmer Trinity, 4
Palmetto at Manatee, 7:30
Palmetto Ridge at Immokalee
Pensacola at Gulf Breeze, 7:30 CT
Pinellas Park at Clearwater
Plant at Steinbrenner, 7:30
Plant City at Tampa Bay Tech, 7:30
Poinciana at Ridge Community, 7:30
Ponte Vedra at Bartram Trail
Port Charlotte at Mariner
Port St. Joe at Blountstown, 7 CT
Port St. Lucie at Sebastian River
Raines at Sandalwood, 6
Ribault at Fletcher, 6
River Ridge at East Lake
Riverdale at Cypress Lake
Riverview (Riverview) at East Bay, 7:30
Rockledge at Bayside
Santa Fe at Union County, 7:30
Sarasota at Southeast, 7:30
Seffner Christian at Cambridge Christian
Somerset Academy (Pembroke Pines) at Westminster Academy
Somerset South Homestead at Gulliver Prep, 4
South Lake at Anclote, 7:30
South Sumter at Mount Dora
Space Coast at Merritt Island
Spruce Creek vs. Seabreeze at Daytona Stadium
St. Francis Catholic at Bell, 7:30
St. John Paul II (Boca Raton) at Cardinal Newman
St. John Paul II (Tallahassee) at Maclay
St. Petersburg at Tarpon Springs
St. Petersburg Catholic at Saint Stephen's Episcopal
Sumner at Leto
Tavares at Umatilla, 7:30
Taylor (Pierson) at Interlachen, 7:30
The First Academy (Orlando) at Trinity Prep
Titusville at Astronaut
Treasure Coast at Vero Beach
Trinity Catholic at Bolles, 7:30
Trinity Christian (Cedar Hill), Texas at Gadsden County, 7:30
Trinity Christian (Deltona) at Bishop Snyder
True North at Coral Shores
Venice vs. Lakeland at Bryant Stadium, 7:30
Vernon at Graceville
Victory Christian at Berkeley Prep
Weeki Wachee at Springstead, 7:30
Wekiva at Dr. Phillips
West Nassau at Clay
West Port at Vanguard, 7:30
Wharton at Middleton, 7:30
Wildwood at Williston, 7:30
Windermere at West Orange
Winter Haven at Auburndale, 7:30
Winter Park at Lake Nona
Wiregrass Ranch at Mitchell, 7:30
Yulee at First Coast, 6
Zarephath Academy at West Oaks Academy
Zephyrhills at Cypress Creek, 7:30
Zephyrhills Christian at Hudson
Saturday
IMG Academy at Duncanville, Texas, 12
Keystone Heights at Crescent City
SSAC 8-MAN
Friday
Oak Hall at Academy at the Lakes
Merritt Island Christian at Shorecrest Prep
St. Johns Country Day at All Saints