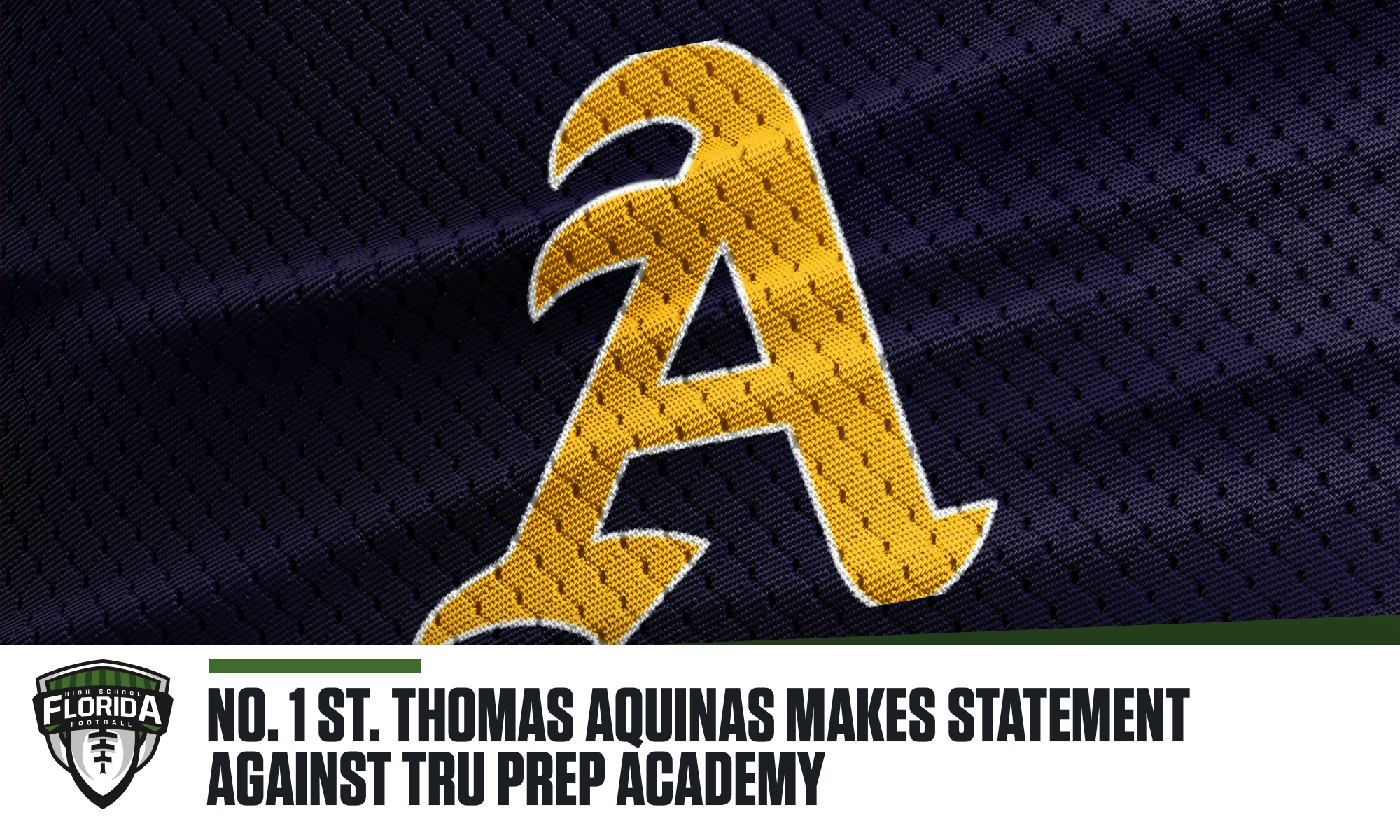 A lightning delay is never fun. Lightning delaying one of the state's most tenured team's first-game showdown against an undefeated newcomer is practically sacrilege. But, the game ensued, and it was worth the wait.
Anyone with a semblance of an interest in high school football knows St. Thomas Aquinas is one of the state's most tenured and talented programs. TRU Prep Academy, on the other hand, was a head-scratcher for those invested in the sport. With NSU University School opting not to play amid the coronavirus, many of its players jumped ship to Miami Gardens to play for the Saints. The result? Undefeated… until they played the No. 1 Raiders.
Despite promises to "shock the world," talented TRU Prep Academy fell 25-13.
The Game
Aquinas struck first. Quarterback Zion Turner found Quincy Skinner for the first score of the night. However, a failed PAT put the Raiders up just 6.
But, a quick answer from TRU Prep quarterback Nick Vattiato and receiver Brandon Inniss gave the Saints the lead.
Brandon Inniss' 23-yard receiving touchdown gives Tru Prep Academy a 7-6 lead on St. Thomas Aquinas.

Inniss, the No. 1 WR in the 2023 class, is elite. @brandon5star2 pic.twitter.com/4JUOFiSF6M

— Michael Yero (@MichaelYero) October 17, 2020
Inniss, the No. 1 receiver in the sophomore class, is a name you will be hearing tonight, for the rest of the season, and for a long time after that. He scored again in the second quarter. But, this time it was TRU Prep's turn to miss an extra point, 13-6.
If there's one thing STA can do, it is come up strong on D. This time, it was cornerback Ja'Den McBurrows' time to shine, coming up with a clutch second-quarter pick.
.@UMichFootball commit @Mcburrows_Jaden gets his first pick of the season for @STA_Football. pic.twitter.com/EnsQCv1hZ5

— Marcus Benjamin (@_BenjaminReport) October 17, 2020
McBurrows' interception led to a Raiders touchdown: a 1-yard keeper from Turner. 13, all.
4:02 2nd: St. Thomas Aquinas 13, TRU Prep Academy 13

Raiders QB Zion Turner (@_ZionTurner) gets in end zone on 1-yard quarterback sneak; XP is good#YouGoWeGo @STA_Football @TwanRussell @JasonTaylor @GunnarHansenn @jay_wimbrow @Hankk_22 pic.twitter.com/nPGfqIjh8l

— New Era Prep (@EraPrep) October 17, 2020
Another forced fumble (by Caden Martinez) before halftime gave the Raiders all the momentum, which they capitalized on in the third quarter.
Turner connected with Maurice Newton to give Aquinas the go-ahead touchdown…
CAMERA ERROR: Zion Turners finds Maurice Newton for a touchdown that helps St. Thomas Aquinas regain the lead. Score is now 19-13. @305Sportss @STA_Football @_ZionTurner pic.twitter.com/f3VQSgwINz

— Michael Yero (@MichaelYero) October 17, 2020
then, the duo did it again to stretch the lead even further.
However, an early-fourth-quarter turnover by the Saints threatened to shake the Raiders' control over the game; until McBurrows notched his second interception of the night. Unfortunately, what was supposed to be a pick-six was downgraded to just an interception due to illegal blocking.
The @UMichFootball commit @Mcburrows_Jaden gets his second interception of the game for @STA_Football and takes this one to the house. Score called back for an illegal block. St. Thomas closing in on a hard earned win over Tru Prep Academy. pic.twitter.com/3tgAIbs9CH

— Marcus Benjamin (@_BenjaminReport) October 17, 2020
A Dallas Turner (STA) sack with just over a minute left essentially ended the game. St. Thomas Aquinas returned to the high school football scene with a win over an undefeated team. Sounds about Raiders.