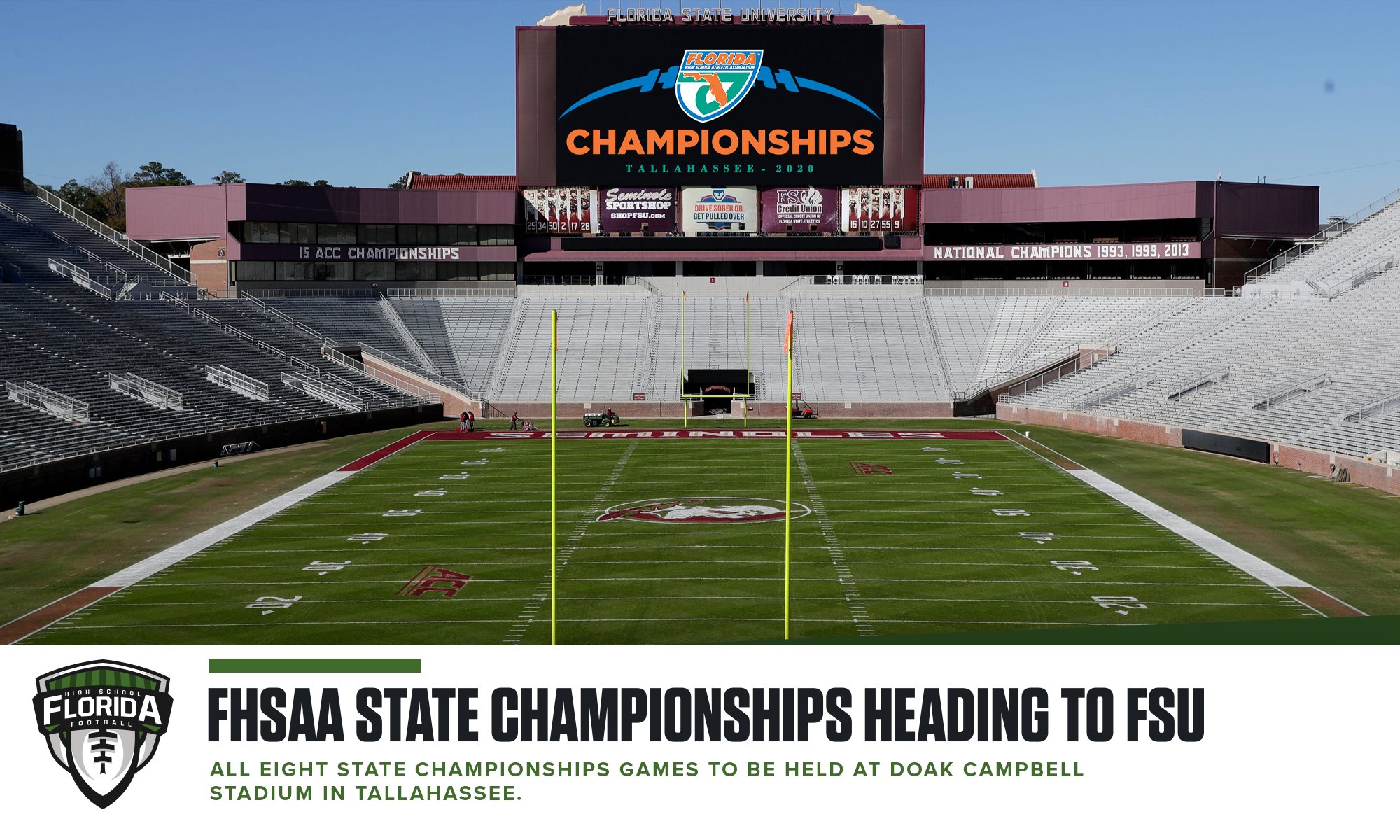 GAINESVILLE, Fla. – After a long wait, the Florida High School Athletic Association on Friday morning announced that Flordia State University's Doak Campbell Stadium will host all eight FHSAA football state championships coming up next month.
The decision comes after Classes 4A-8A were left without a location after spending one year in Daytona Beach, a contract that was voided back in February, per the Orlando Sentinel, after multiple issues came out of having the games there with multiple issues in the stadium were detected. State Championships in Classes 1A-3A were originally scheduled to be played at nearby Gene Cox Stadium.
The games, which are scheduled to take place from December 16-19, will be held with social distancing guidelines in place with two games per day. A schedule of when each classification will play will be published once all classifications have completed the state semifinals, which will not come until after Classes 5A-8A's State Semifinals conclude on Friday, December 11.
This will be the first time since 2002 that all the FHSAA Football State Championship games will have been played in Tallahassee when Doak Campbell Stadium hosted them that year and in 2001.
"Hosting all divisions together in 2020 at FSU's Doak Campbell Stadium is a testament to the County's community partnerships with Leon County Schools and Florida State University to create a safe, competitive environment that will continue to drive sports tourism here in Leon County," said Leon County Administrator Vincent S. Long in a press release sent out by the FHSAA.
Bobby Bowden Field at Doak S. Campbell Stadium on the campus of Florida State University, popularly known as "Doak," is home to the Seminole football program three-time national champions.  The stadium has a capacity of 79,560 and is the second-largest in the Atlantic Coast Conference (ACC).  The playing surface is natural grass, according to the FHSAA press release.
"We are honored that FHSAA has entrusted in Leon County to host this event during these very challenging times," said Kerri L. Post, Director of Leon County Division of Tourism. "We look forward to welcoming fans from around the state to watch four days of championship football here in Tallahassee."
All tickets will be sold online only at a presale rate of $15, and $18 if purchased the day of the game. An advanced parking rate of $3 is included in the price of each ticket according to the press release. They also note that when purchasing tickets that seats will be assigned throughout the stadium to ensure physical distancing. Fans will be asked to follow all health protocols currently in place for FSU football games at Doak Campbell Stadium.
"The FHSAA is excited about the upcoming Florida High School Football State Championships to be hosted at Doak Campbell Stadium in Tallahassee," said FHSAA Executive Director, George Tomyn in the release.  "Creating opportunities for our student-athletes has been a top priority of ours this year and finding a facility large enough to safely host all who wish to attend, is a dream come true.  We have worked with the folks at Visit Tallahassee and in Leon County for many years now with great success and we could not be more grateful for their efforts in making these championships a reality for the student-athletes of the State of Florida."