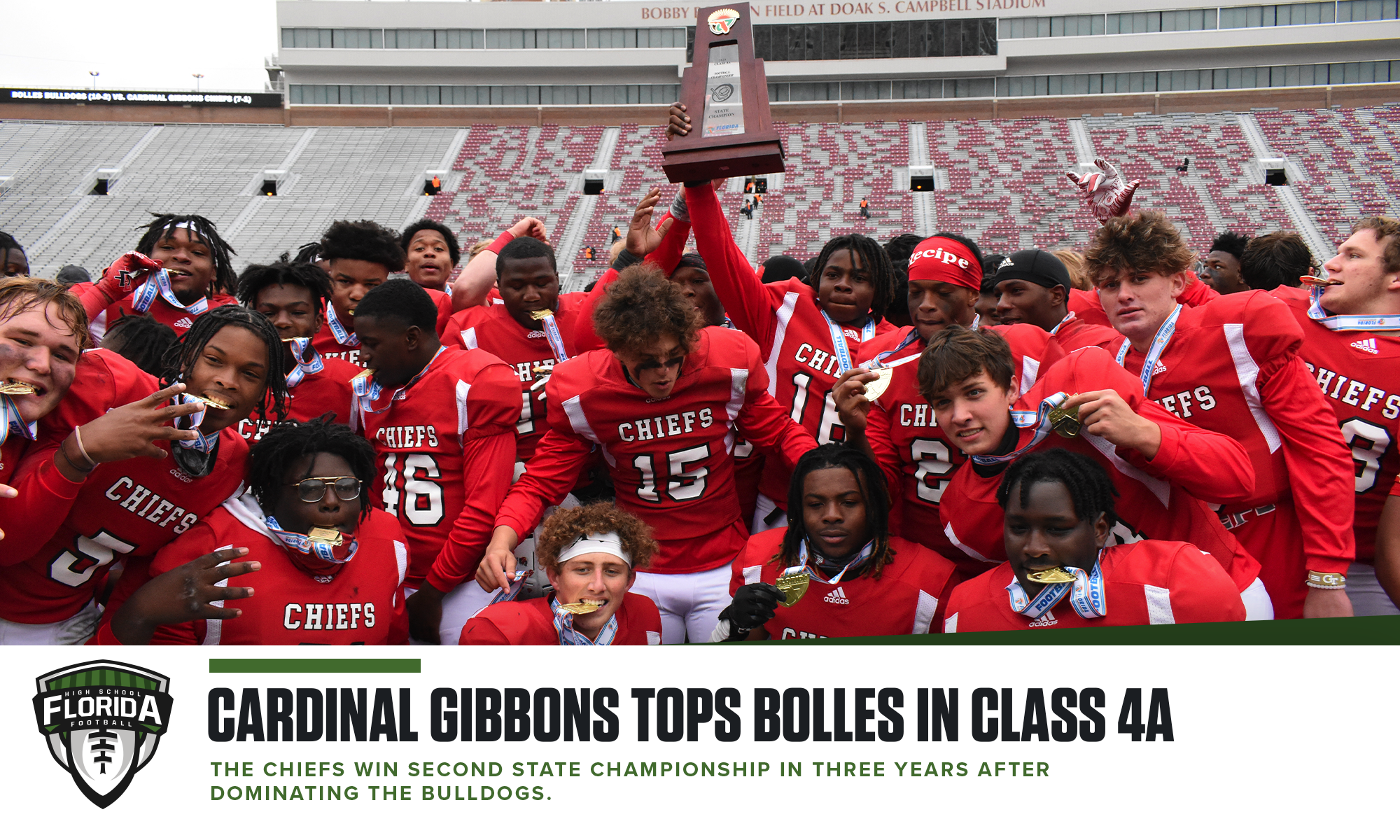 TALLAHASSEE, Fla. — The first of three games at the FHSAA State Championships have been Jacksonville vs. South Florida. After two, the 904 and the Tri-County were 1-1.
South Florida now gets the advantage, with Cardinal Gibbons' (8-1) win over Bolles (10-3) in Class 4A. Although the Bulldogs struck first, the Chiefs looked to put the game away in the fourth. But, Bolles fought hard in the last three minutes of the game. Still, Cardinal Gibbons won 35-21, taking their second state title in three years.
Game Recap
Bolles' running back Kade Frew ruled the first half. In fact, Frew even found the end zone on the second play of the game.
One drive is all Bolles needed to find the end zone pic.twitter.com/YJitKV6uZs

— FloridaHSFootball.com (@FlaHSFootball) December 17, 2020
On the other hand, Gibbons looked shaky early on and players allowed the Bulldogs defense to get to them. But, Jesse Anderson made some magic happen and the Chiefs are on the board.
Cardinal Gibbons scores pic.twitter.com/zXDBBl2yll

— FloridaHSFootball.com (@FlaHSFootball) December 17, 2020
But, when you've got a Clemson signee on your team, you expect him to score, too. Receiver Troy Stellato caught his first of two touchdowns from quarterback Brody Palhegyi gives Gibbons the advantage.
Future Clemson Tiger WR Troy Stellato gets #ALLIN the end zone to put Gibbons up on Bolles

Notice he sticks the ball in before his body gets in. Smart player pic.twitter.com/TTT5rtGuls

— FloridaHSFootball.com (@FlaHSFootball) December 17, 2020
Then, Chiefs' RB Kamari Moulton got his turn to take it to the house on this 32-yard run.
Kamari Moulton takes a screen 32 yards to the house and Cardinal Gibbons pushes the lead to 21-7. pic.twitter.com/Qs1vWlxhU0

— David Wilson (@DBWilson2) December 17, 2020
Moulton and Stellato both scored again, and suddenly this game looks just about over…
Until Bolles receiver, Davis Ellis returns a kickoff for a touchdown. 35-14, Gibbons. Ellis follows up his own touchdown with a long pass from QB Gunner Boree and gets tackled at the 1.
Davis Ellis tries to keep Bolles in this thing. pic.twitter.com/JVIeGc6iQB

— FloridaHSFootball.com (@FlaHSFootball) December 17, 2020
Kade Frew scored on the next play. In order to pull this off, the Bulldogs need to recover the onside kick.
And they do it.
Bolles recovers the onside kick. :47 to go pic.twitter.com/sKZK3XfQJ7

— FloridaHSFootball.com (@FlaHSFootball) December 17, 2020
But, with 47 seconds left, two touchdowns is a tall order. Ultimately, Bolles could not execute. Cardinal Gibbons' built-up lead proved too much for the Bulldogs.
Quotes
Cardinal Gibbons Head Coach Matt DuBuc:
"Everybody did their job in a tough year and we were just fortunate enough to get here. They gave us a chance to compete, and here we are."
"Without the support of the school and administration, we wouldn't be here today. I'm just proud of the way we fought back."
"I think these guys have been underrated. I expected to win today, but you never know how the ball's gonna bounce or how it's gonna roll or if they do a good job on special teams. Today, we were just better."
Players of the Game
Gibbons' Stellato racked up 69 yards on 6 receptions, plus 2 touchdowns. Palhegyi went 29-of-33 for 358 yards and 4 touchdowns in the air; He added 66 rushing yards. Moulton rushed for 55 and a TD and caught for 51 and a TD. ILB Trayvon Brown tallied an interception.
Bolles' Frew put on a show, amassing 121 yards and adding two touchdowns. Boree went 7-of-12 for 33 yards.
College Roundup
For Cardinal Gibbons, WR Troy Stellato is off to Clemson, SDE Jah-mal Wilson is off to Cincinnati and OT Anthony Early is off to Florida Atlantic (FAU).
For Bolles, OLB Caden Fordham will attend NC State, TE Justin Cayenne will attend the University of Pennsylvania (Penn) and SDE David Adewale is an Air Force commit.