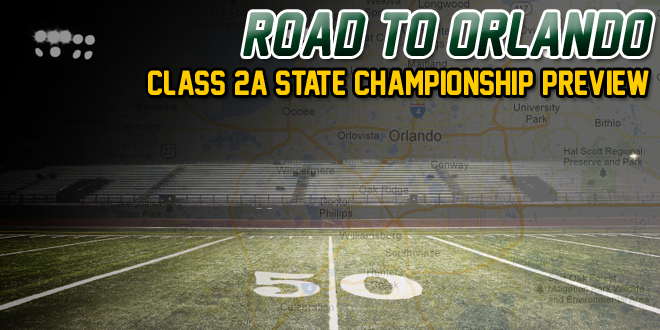 WHO: Champagnat vs. Victory Christian
WHEN: Friday, December 6 – 1:07 p.m. kickoff
WHERE: Florida Citrus Bowl
WHY: Class 2A State Championship
THE RECORDS
Champagnat – 13-0
Victory Christian  – 10-3
THE COACHES
Champagnat – Mike Tunsil, 4th year at Champagnat, 5th year overall as a head coach | 31-24 overall record
Victory Christian – Tommy Lewis, 1st year at Victory Christian, 14th year overall as a head coach | 121-50 overall record
HOW THEY GOT HERE
Champagnat – The Lions played a schedule that had some toughness, but also was played a bit on the lighter side compared to 2012. The Lions have won every single game they have played up to this point in the season and some of the games were easily won without any issue. The closest challenges they have had with dealing a team that could have likely knocked them off was Glades Day in the Regional Finals.
Victory Christian – Victory Christian started off with a new head coach in Tommy Lewis this season. Having to  learn a new system, the Storm had to adjust to get things going. Once that was accomplished, winning the district came apparent, but the streak going through the playoffs has been highly talked about. Victory Christian knocked contender Warner Christian during the Regional Finals, while knocking off an apparent favorite in North Florida Christian in the State Semifinals.
KEYS TO WINNING
Champaganat – The key here will be the fact that Victory Christian will be looking to force the Lions to turn the ball over in this game. The biggest stunning fact is that Champagnat has only lost the ball two times this season, something that is very rare to see when looking at high school statistics. Ball protection will be the key here to keep the Storm at bay. Pretty much at this point, Champagnat will focus on doing what it has done each and every week and that is focusing on the game ahead and not looking ahead to the biggest things.
Victory Christian – They will have to come and be ready mentally and physically. Victory Christian has played some good teams this year, but this Champagnat team will be the best team will have faced in all of 2013, considering the amount of Division I prospects on the roster. They will have to create opportunities of their own, while taking advantage of any mistakes the Lions do make. The biggest key for the Storm will be making very few mistakes to take the trophy back home to Lakeland with them.
PLAYERS TO WATCH
Champagnat – DL Travonte Valentine, WR Franklin Labady, CB Jason Williams, WR Darnell Salomon, WR Steven Claude, CB Gerald Robinson, SS Shaq Jackson, DL Moises Rivera
Victory Christian – OL/DL Chris Nelson, QB Caleb Lewis
PREDICTION
Champagnat 38, Victory Christian 20