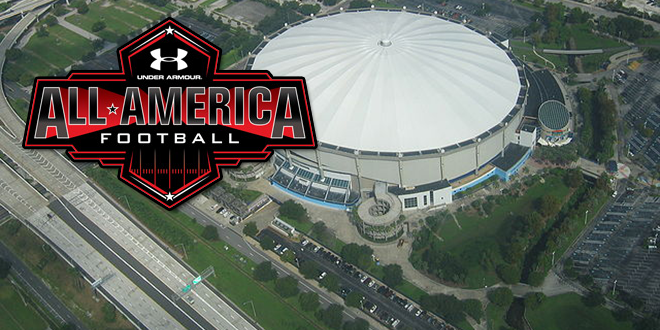 ST. PETERSBURG – Officially the last high school football career for all of the players that played in the 2014 Under Armour All-America Game, there is a lot to look back on and reflect upon.
For the Sunshine State, there were quite a few performers in this year's game and we take a look at how everyone did.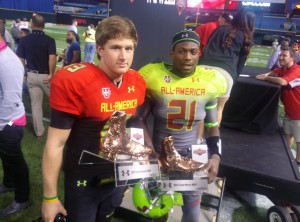 QB Sean White – University School
White looked comfortable in his position all afternoon and it paid off for him when he was rewarded with the Team Highlight MVP Award. Sean looked solid all week during practice and he credits Travis Rudolph in part of him having a great week. White was 10 for 12 on passes for 156 yards and no interceptions. The Auburn commit threw two touchdown passes, that helped Team Highlight win the game. White also won the American Family Insurance Pass Attack contest in the 2014 American Family Insurance Skills Challenge competition.
WR Bo Scarbrough – IMG Academy
Scarbrough was used in different positions with different formations in the game, going out at times as receiver and other times as a halfback. The Alabama commit showed he could be part of any trickery Nick Saban could have in Tuscaloosa. Scarbrough had 2 carries for 16 yards, 2 receptions for 39 yards, plus he had one kick return for 26 yards.
QB Michael O'Connor – IMG Academy
O'Connor got his chance to throw the ball in the game, but looked shaky at times as he only went 3 for 6 in pass attempts, but 1 of the 3 did go in for a touchdown to WR Travis Rudolph during the third quarter. The Penn State commit finished the night with 46 yards passing.
WR Travis Rudolph – Cardinal Newman
The newest commit for the Florida State 2014 class showed off what he could do tonight as he broke out some big plays on the field including catching a 10 yard touchdown pass from Michael O'Connor in the third quarter to help Team Highlight to victory. Rudolph finished the night with four catches for 48 yards and one touchdown.
RB Dalvin Cook – Miami Central
Cook showed the nation tonight why he is one of the best running backs. The former Florida, now Florida State commit rushed for an Under Armour All-America game record of 82 yards, plus one touchdown which came during the third quarter of the game. Cook was recently crowned the Class 6A Player of the Year by the Florida Dairy Farmer's Association and is now a finalist for Mr. Football of the Year Award.
WR/RB Isaiah McKenzie – Plantation American Heritage
McKenzie didn't show off as much as he would have liked to in the game at his natural position, but he finished with 24 yards of rushing on four carries, plus one kickoff return for 75 yards and a punt return for 28 yards that allowed him to finish the night with 127 all-purpose yards, the best for any player in the game in the all-purpose category.
WR Ermon Lane – Homestead
Lane had a good game this afternoon as the Florida commit finished with 35 yards receiving on four receptions plus had a kickoff return for 24 yards.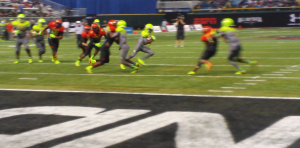 LB Kain Daub – Sandalwood
The Florida State commit finished the night with 2 tackles for Team Highlight.
LB Dillon Bates – Ponte Vedra
While not having some of the best moments in his senior year, Bates showed he was ready to play at Tennessee this afternoon as he finished with 2 solo tackles and 2 assisted tackles, including one for a loss in the game.
CB J.C. Jackson – Immokalee
The still current Florida commit finished the game with three overall tackles.
DE Chad Thomas – Booker T. Washington
The outstanding defensive end didn't get much in the stats column in the game, but when his number was called he did produce as he finished the night with one tackle and one sack which resulted in a 9 yard loss.