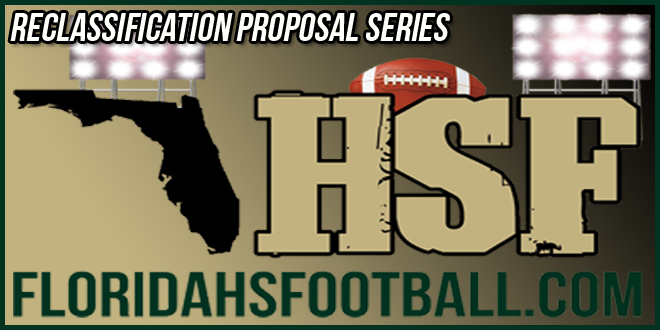 In Part II of our Reclassification Series Proposal, we are going to take a look at how Class 7A and Class 6A would like under this proposal. If you missed Part I click here.
There are several things to keep in mind here:
We try to place teams as close together as possible.
The reduction of many two, three and four team districts is a goal in this series. The fewer the better, but not always avoidable.
We did not count very many independents on emerging from that status come reclassification time. Teams that dropped out this off-season are not counted as well, believe to have to sit out at least two years from district play due to breaking contracts for those district games.
All-boys schools Jesuit (Tampa), Belen Jesuit and Columbus have had their enrollments doubled as required by FHSAA rules.
Enrollment data used for this research comes from the 2013 FHSAA student population report.  These numbers could change some things this fall, but most schools are expected to stay around the same enrollment numbers, based upon growth rates in most areas.
What would Class 7A look like?
The new Class 7A would look a lot like the current Class 8A, except for a couple of things:
A new district involving Osceola and Polk county teams would be formed in this situation.
The Orlando-area would see an increase in the number of team in the highest classification.
Some of Miami's districts would get a little shake up due to geographical location of the teams and the number of teams in Miami-Dade County alone.
Only two four team districts are in this class with most districts averaging five to six teams.
Class 7A Districts
District 1: First Coast, Flagler Palm Coast, Mandarin, Sandalwood, West Port
District 2: DeLand, Lake Brantley, Lake Mary, Lyman Seminole (Sanford), Spruce Creek, University (Orange City)
District 3: Hagerty, Oviedo, Timber Creek, Univeristy (Orlando), Winter Park, Winter Spring
District 4: Apopka, Evans, Ocoee,  Olympia, Wekiva, West Orange
District 5: Boone, Colonial, Cypress Creek, Dr. Phillips, Freedom (Orlando), Oak Ridge
District 6: Gateway, Haines City, Osceola (Kissimmee), Ridge Community
District 7: Alonso, East Bay, Newsome, Plant, Riverview (Riverview), Steinbrenner, Wharton
District 8: Manatee, Palm Harbor University, Riverview (Sarasota), St. Petersburg
District 9: Centennial, Fort Pierce Central, Treasure Coast, Vero Beach
District 10: Jupiter, Palm Beach Central, Palm Beach Gardens, Royal Palm Beach, Seminole Ridge, Wellington
District 11: Boca Raton, John I. Leonard, Lake Worth, Park Vista, Santaluces, Spanish River
District 12: Coral Springs, Deerfield Beach, Douglas, Monarch, Piper, South Platnation, Taravella
District 13: Cypress Bay, Everglades, Flanagan, Miramar, West Broward, Western
District 14: Dr. Krop, Hialeah, Hialeah Gardens, Miami Senior, Miami Beach, North Miami
District 15: Braddock, Columbus, Coral Gables, Miami Coral Park, South Miami, Southwest Miami
District 16: Coral Reef, Ferguson, Miami Killian, Miami Palmetto, South Dade, Varela
Class 7A Map
What would Class 6A look like?
Almost same situation with Class 6A, like Class 7A when you look at things, but here are some exceptions:
It would look very close to what the current Class 7A is, but there would be some different teams in their and the spread of teams here is a bit bigger.
Some of the well-known Class 6A teams would be in this new class that includes Miami Central and Gainesville just to name a couple.
This would also be the first class that spans across from the Panhandle to  South Florida.
Most districts would average six teams in this classification.
District 1: Crestview, Navarre, Niceville and Tate
District 2: Buchholz, Chiles, Gainesville, Forest (Ocala), Leon, Lincoln
District 3: Atlantic Coast, Creekside, Fleming Island, Fletcher, Oakleaf
District 4: East Ridge, East River, Lake Howell, Lake Minneola Mainland, New Smyrna Beach
District 5: Bartow, George Jenkins, Kathleen, Lake Region, Lakeland, Winter Haven
District 6: Celebration, Harmony, Lake Nona, Liberty (Kissimmee), St. Cloud
District 7: Freedom (Tampa), Gaither, Hillsborough, King, Sickles, Tampa Bay Tech, Wiregrass Ranch
District 8: Bloomingdale, Brandon, Durant, Lennard, Plant City, Strawberry Crest
District 9: Countryside, East Lake, Northeast (St. Petersburg), Pinellas Park, Seminole (Seminole)
District 10: Braden River, Lakewood Ranch, North Port, Sarasota, Palmetto, Venice
District 11: Charlotte, Fort Myers, Gulf Coast, Palmetto Ridge, South Fort Myers, Riverdale
District 12: Martin County, Melbourne, Sebastian River, South Fork, Viera
District 13: Atlantic (Delray Beach), Dwyer, Forest Hill, Olympic Heights, Palm Beach Lakes, West Boca Raton
District 14: Blanche Ely,  Fort Lauderdale, Northeast (Oakland Park), Plantation, St. Thomas Aquinas
District 15: Cooper City, Hollywood Hills, Nova, McArthur, South Broward
District 16: American, Mater Academy, Miami Central, Miami Southridge, Miami Sunset, North Miami Beach, Reagan, Westland Hialeah
Class 6A Map
Your thoughts?
Comment below or share your thoughts on The Varsity Message Board on our series.
Part III will be released this afternoon showing the set up of Class 5A and Class 4A under this proposal.
The Reclassification Series Proposal
Part I | Part II | Part III | Part IV | Part V