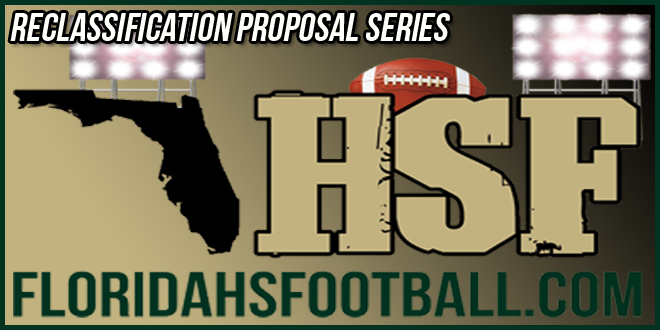 In Part III of our Reclassification Series Proposal, we are going to take a look at how Class 5A and Class 4A would like under this proposal. If you missed Part I click here or if you missed Part II click here.
There are several things to keep in mind here:
We try to place teams as close together as possible.
The reduction of many two, three and four team districts is a goal in this series. The fewer the better, but not always avoidable.
We did not count very many independents on emerging from that status come reclassification time. Teams that dropped out this off-season are not counted as well, believe to have to sit out at least two years from district play due to breaking contracts for those district games.
All-boys schools Jesuit (Tampa), Belen Jesuit and Columbus have had their enrollments doubled as required by FHSAA rules.
Enrollment data used for this research comes from the 2013 FHSAA student population report.  These numbers could change some things this fall, but most schools are expected to stay around the same enrollment numbers, based upon growth rates in most areas.
What would Class 5A look like?
Things for a Class 5A start to not look the same as the current Class 6A as we bring in some of the Current Class 5A schools into the mix here. This certainly will create a different look and feel in the districts created.
There will be two four team districts, the smallest of all districts in this situation.
Most districts will maintain an average size of about six teams per district
District 1: Escambia, Milton, Pace Pine Forest Washington (Pensacola)
District 2: Choctawhatchee, Fort Walton Beach, Gulf Breeze, Mosley
District 3: Columbia, Ed White, Englewood, Paxon, Robert E. Lee, Stanton, Terry Parker
District 4: Bartram Trail, Matanzas, Middleburg, Nease, Orange Park, Ponte Vedra, St. Augustine
District 5: Belleview, Citrus, Lecanto, Lake Weir, Vanguard (Ocala)
District 6: Land O' Lakes, Mitchell, Springstead, Sunlake, Wesley Chapel, Zephryhills
District 7: Boca Ciega, Clearwater, Dixie Hollins, Largo, Osceola (Seminole)
District 8: Blake, Chamberlain, Jefferson, Jesuit, Leto, Robinson
District 9: Deltona, Edgewater, Leesburg, Pine Ridge, Seabreeze, South Lake
District 10: Armwood, Auburndale, Lake Gibson, Sebring
District 11: Cape Coral, Ida Baker, Island Coast, Mariner, North Fort Myers, Port Charlotte
District 12: Barron Collier, East Lee County, Estero, Golden Gate, Lehigh, Lely, Naples
District 13: Bayside, Eau Gallie, Heritage, Jensen Beach, Okeechobee, Palm Bay, Port St. Lucie
District 14: American Heritage (Plantation), Boyd Anderson, Boynton Beach, Dillard, Stranahan, Suncoast
District 15: Goleman, Hialeah-Miami Lakes, Miami Carol City, Miami Norland, Mourning
District 16: Belen Jesuit, Homestead, Miami Jackson, Miami Northwestern, Miami Springs
Class 5A Map
What would Class 4A look like?
Class 4A would merge a lot of the current Class 5A and Class 4A teams into one classification, but some districts would look similar from the current Class 5A.
We can close the gap with this classifciation and eliminate one of the smaller classifications that is not needed. Some of the districts here may surprise you, but they could be good for the teams involved.
One thing to note here is that Fort Pierce Westwood is in a situation here that it would likely qualify for geographical isolation status, in this case a move up to Class 6A, District 13 would not be an issue, if it was approved.
Only one four team district was created in this classification.
The average number of teams per district ranges between five to six teams.
District 1: Arnold, Bay, Pensacola, Rutherford, West Florida
District 2: East Gadsden, Godby, Rickards, Suwannee, Wakulla
District 3: Fernandina Beach, Raines, Ribault, West Nassau, Yulee
District 4: Baker County, Bishop Kenny, Bolles, Westside, Wolfson
District 5: Bradford, Clay, Keystone Heights, Menendez, Palatka, Ridgeview
District 6: Crystal River, Dunnellon, Eastside, North Marion, Santa Fe (Alachua)
District 7: Central (Brooksville), Hernando, Pasco, Nature Coast, South Sumter, Weeki Wachee
District 8: Anclote, Gulf, Fivay, Hudson, Ridgewood, River Ridge
District 9: Dunedin, Gibbs, Lakewood, Middleton, Spoto, Tarpon Springs
District 10: Mulberry, Lake Wales, Poinciana, Tenoroc
District 11: Atlantic (Port Orange), Bishop Moore, Eustis, Mount Dora, Tavares, Umatilla
District 12: Astronaut, Cocoa, Fort Pierce Westwood, Merritt Island, Rockledge, Satellite, Space Coast, Titusville
District 13: Avon Park, Booker, Bayshore, DeSoto County, Hardee, Southeast
District 14: Clewiston, Cypress Lake, Dunbar, Immokalee, LaBelle, Lemon Bay
District 15: Cardinal Gibbons, Coconut Creek, Glades Central, Hallandale, Somerset Academy (Pembroke Pines)
District 16: Booker T. Washington, Doral Academy, Gulliver Prep, Keys Gate Charter, Miami Edison, Monsignor Pace
Map of Class 4A
Your thoughts?
Comment below or share your thoughts on The Varsity Message Board on our series.
Part IV will be released tomorrow showing the set up of Classes 3A, 2A and 1A under this proposal.
The Reclassification Series Proposal
Part I | Part II | Part III | Part IV | Part V