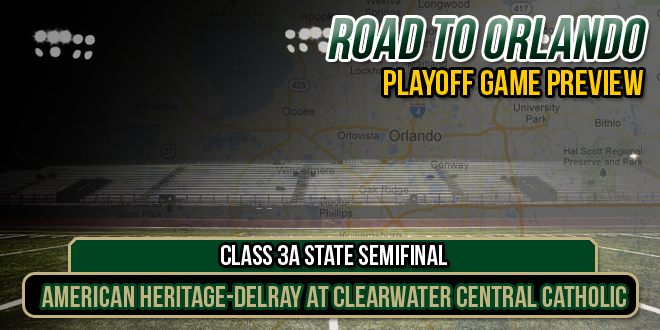 Win Tickets to an FHSAA State Championship Game! Click here to register!
Delray American Heritage (10-1) at Clearwater Central Catholic (11-1)
Last Week's Results: Clearwater Central Catholic def. Cardinal Mooney, 14-10; American Heritage def. Westminster Christian 23-7
Looking Ahead: Winner plays Lakeland Christian/Trinity Christian winner in the Class 3A state championship game.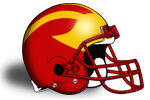 About Clearwater Central Catholic: Stopping the defending state runner ups Marauders high scoring offense won't be an easy task, the Marauders have scored at least 40 points in eight of their last ten games, including a season high 62 two weeks ago. Quarterback Jeff Smith Jr., a Boston College commit, has thrown for 2165 yards and 15 touchdowns while also running for 1236 yards and 19 touchdowns on the ground. He isn't the only weapon as tailback Camron Cotman (766 yards, 17 TDs, 576 receiving yards, 5 TDs ), tailback Scott Depergola (628 yards, 6 TDs) wide receiver John Brunner (740 yards, 5 TDs) also are huge contributors on offense.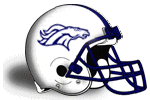 About American Heritage: Often forgotten, the Stallions who scored 40 or more points in 7 of their 10 games got everyone's attention with a win over nationally ranked and arch rival Plantation American Heritage. American Heritage missed the playoffs for the first time in 13 years last season and on a mission to make it to state and attempt to win the schools fourth state title. The Stallions are led by linebacker Rondarian Bell, quarterback Warren Robinson, cornerback Desmond Cain, linebacker Josh Ward, tailback Devin Singletary, tailback DJ Davis, linebacker Elijah Howard and lineman Tito Hamilton. It's no surprise the Stallions are in the state semifinals after playing a demanding schedule which including games with Miramar, Glades Central, Pahokee, Plantation American Heritage and Palm Bay Heritage during the regular season.
Prediction: American Heritage