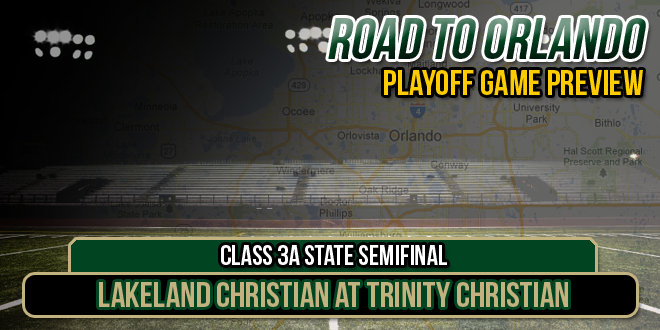 Win Tickets to an FHSAA State Championship Game! Click here to register!
Lakeland Christian (11-1) at Trinity Christian (9-2)
Last Week's Results: Trinity Christian def. Trinity Catholic, 20-10; Lakeland Christian def. First Academy, 53-27
Looking Ahead: Winner will play American Heritage/Clearwater Central Catholic winn in the Class 3A state championship game.
About Lakeland Christian: Former University of Florida quarterback Wayne Peace is the head coach of Lakeland Christian and his team is loaded on both sides of the ball led by utility player Christian Alexander (2613 yards, 34 TDs). Alexander threw for 227 yards and 3 TDs in their first ever playoff win for the Vikings two weeks ago. He followed that up with an 18 of 24 for 191 yard and three touchdown performance in a rout over First Academy last week. The Vikings never punted rolling up 426 yards and a season high 53 points thanks to tailback Keland White's 114 yard and three touchdown performance. Aside from Alexander and White (707 yards, 13 TDs), the Vikings (winners of eight in a row) will count on wide receivers RB Marlow (1055 receiving yards, 15 TDs) and Larenz Deshazor (854 receiving yards, 11 TDs).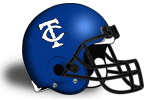 About Trinity Christian: Teams focus all their attention in trying to stop 5 star players Jeffrey Holland and Kevin Toliver (326 yards, 5 TDs), but tend to forget about their other playmakers like quarterback Billy Cobb (1510 yards, 21 TDs), tailback Rasheed Martin (764 yards, 8 TDs), tailback Michael Clark (480 yards, 8 TDs), wide receiver Chris Barr (579 yards, 6 TDs) and tailback Jalin Buie. Other players like safety Ben Edwards, defensive back Deontai Williams, linebacker Andre Smith and lineman Kendrick Norton could play huge factors on defense. Defending state champions went on the road and came home with a tough grind it out win over Ocala Trinity Catholic, who was 14-3 at home during the playoffs.
Prediction: Trinity Christian