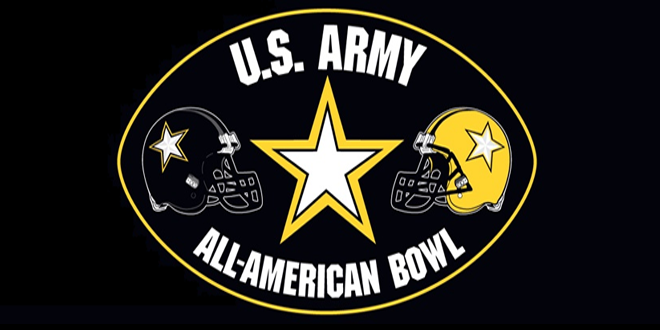 ROCKAWAY, N.J. (December 2, 2014) – The U.S. Army All-American Bowl Selection Committee has narrowed down its list of nominees to six finalists for the prestigious 2015 U.S. Army Player of the Year Award. The U.S. Army Player of the Year Award is given to the nation's most outstanding senior in high school. The U.S. Army Player of the Year will be recognized during the U.S. Army All-American Bowl Awards Show on Friday, Jan. 2, 2015, in San Antonio, Texas. The winner will be presented with the Ken Hall Trophy, modeled after high school football legend Ken "Sugar Land Express" Hall.
"The six Player of the Year finalists have exhibited tremendous dedication to their sport and teams, and have shown leadership both on and off the field," said Mark S. Davis, deputy assistant secretary of the Army for marketing. "We congratulate all of the finalists and look forward to the winner's announcement in January during the U.S. Army All-American Bowl awards show."
The 2015 U.S. Army Player of the Year finalists, in alphabetical order, are:
Rasheem Green (Junipero Serra High School, Gardena, California)
Green is currently ranked the #3 defensive tackle in the nation by 247 Sports. The 6-foot-5, 284-pound senior has offers from over 20 schools, including Oregon, UCLA and USC. During his junior year, Green recorded 30 solo tackles and 14 sacks in 14 games placed, earning the title of 2013 Mission League Lineman Most Valuable Player. Prior to suffering a knee injury in Serra High School's last regular season game this year, he recorded eight sacks and over a dozen tackles in a single game. His head coach, Scott Altenberg, will be part of the coaching staff as the West team Head Coach for the 2015 U.S. Army All-American Bowl. Green will be making the trip to San Antonio with Altenberg and fellow Army All-American and teammate Stanley Norman.
Derrius Guice (Catholic High School, Baton Rouge, Louisiana)
Ranked the #4 running back in the country by 247 Sports, Guice stands at 5-foot-11, 219-pounds. The LSU commit finished his 2015 regular season with more than 1,300 rushing yards and 16 touchdowns. As an elite running back, Guice rushed for 1,100 yards and 13 touchdown in his junior year at Catholic High School. He has been recognized for his ability to run with power and show good vision on the field.
Porter Gustin (Salem Hills High School, Salem, Utah)
Having played as both a quarterback and linebacker in high school, the 6-foot-5, 240-pound senior is ranked fifth in the state for passing yards with 2,864 and also leads in tackles with 152. Ranked by 247 Sports as the #1 player in Utah, Gustin has offers from over 30 schools, including USC, Notre Dame, Arizona State, Florida State and LSU. As one of the nation's top linebacker recruits, the Army All-American is also a candidate for the Gatorade National Player of the Year award and was named a Semifinalist for the Butkus Award. Athleticism is a family affair, as Gustin's father was a starting quarterback at the University of Wyoming and his mother was a high school All-American who went on to be a four-time all-conference basketball player at BYU and Wyoming.
Martez Ivey (Apopka High School, Apopka, Florida)
Known for crushing defenders on the move in the second level, the impressive 6-foot-6, 270-pound offensive lineman is a force to be reckoned with. Ivey has offers from 18 Division I schools, including the University of Florida, Auburn, Alabama, Clemson and Florida State. The top-rated senior is ranked #1 in position by 247 Sports, ESPN, Rivals and Scout. Ivey's humble attitude and consistency earned him a leadership role as captain of the Apopka High School football team. Fellow teammate Chandler Cox will also be playing in the 2015 U.S. Army All-American Bowl.
Trenton Thompson (Westover Comprehensive High School, Albany, Georgia)
The University of Georgia commit and 6-foot-4, 292-pound defensive line earned a number of accolades as a high school senior. Thompson is currently ranked the #1 defensive tackle in the state, #1 overall recruit, ranked by 247Sports and #6 overall recruit in the ESPN 300. As a four-year starter, Thompson has recorded 241 tackles, 21 sacks and two interceptions. His 83 tackles and 12 sacks during his junior made him an all-state pick.
Chris Warren (Rockwall High School, Rockwall, Texas)
With over 20 offers from Division I schools, including Oregon, Stanford, Texas and Washington, Warren is ranked #6 in position by 247 Sports. The 6-foot-2, 232-pound running back was named for Offensive Player of the Week by the Dallas Morning News this year for the week ending November 1st. He has recorded 3,307 rushing yards, 276 receiving yards and 50 touchdowns in 20 games played as a varsity athlete. Warren is the son of former NFL running back Chris Warren, who played for the Seattle Seahawks, Dallas Cowboys and Philadelphia Eagles.
The selection process began this fall as players were evaluated by the U.S. Army All-American Bowl Selection Committee and by coaches from across the country. Past U.S. Army Player of the Year Award winners include Kevin Jones (2001), Lorenzo Booker (2002), Chris Leak (2003), Ryan Perrilloux (2005), Mitch Mustain (2006), Jimmy Clausen (2007), Terrelle Pryor (2008), Bryce Brown (2009), Dillon Baxter (2010), Demetrius Hart (2011), Dorial Green-Beckham (2012), Max Browne (2013) and Elijah Hood (2014).
For 15 years, the U.S. Army All-American Bowl has been the nation's premier high school football game, serving as the preeminent launching pad for America's future college and NFL stars. Andrew Luck, Patrick Peterson and Jamaal Charles made their national debuts as U.S. Army All-Americans. In the 2014 NFL draft, there were a total of seven U.S. Army All-American Bowl Alumni drafted in the first round. The 2014 U.S. Army All-American Bowl drew a crowd of 40,017 to the Alamodome, and was the most-watched sporting event on television over the weekend, excluding the NFL playoffs.
The U.S. Army All-American Bowl is owned and produced by All American Games, a New Jersey-based sports marketing and event management company. The U.S. Army is the title sponsor of the U.S. Army All-American Bowl, and American Family Insurance is the lead national sponsor and presenting sponsor of the telecast on NBC. Other national sponsors include adidas, Gatorade, San Antonio Visitors Bureau, 247Sports, XOS Digital, NCSA, Lockheed Martin, Xenith, Battle Sports Science, EvoShield, 23 Blast Movie, NewTek and Football University. National sponsors of the U.S. Army All-American Marching Band include the National Association for Music Education, Drum Corps International, Jupiter Wind Instruments, Mapex Marching Percussion, Majestic Concert Percussion and DeMoulin Uniforms.
For more information on the U.S. Army All-American Bowl and its related events, visit usarmyallamericanbowl.com and goarmy.com/events/aab or the official Facebook and Twitter pages located at facebook.com/USArmyAllAmericanBowl and twitter.com/armyallamerican.