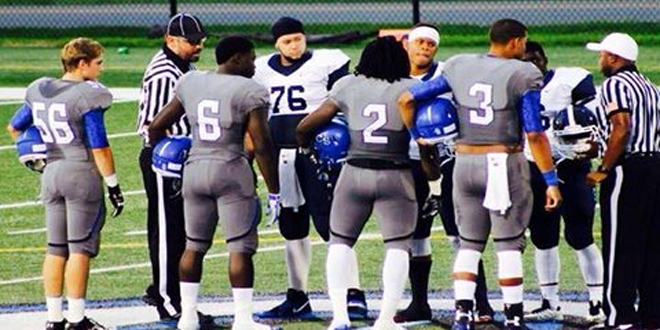 August 20
Lake Gibson at Lakeland
Note: Technically this game does not count being it is a kickoff classic, but tell that to a bunch of 15-18 year olds who would like to do nothing better than start their season with a win over their arch-rival.
August 21
Columbus at Winter Haven
Note: Charlie Tate has built a solid program at Winter Haven, making the playoffs 9 of the last 10 years, including six straight regional semifinal appearances. What a way to start the season than a great test against the 2014 Class 8A State Runner-up.
August 28
Victory Christian at Pasco
Note: The defending Class 2A state champs Storm will find out where they stand immediately. Pasco, which has advanced to the third round of the playoffs 3 of the last 7 years, missed the playoffs last season for the first time in years stopping a seven-year run.
September 4
Lake Wales at Merritt Island
Note: Two of the most well-known teams to have won multiple state championships will meet this year in Merritt Island. This will be a great test for both programs since it is early in the season that should both teams if they reach the playoffs this season.
September 11
Miami Carol City at Lakeland
Note: Since 2004, the Dreadnaughts have made it a point to schedule some of the top teams from Miam-Dade and Broward Counties. This year Miami Carol City, likely the fourth best team in Miami-Dade County, makes the trip up north.
September 18
Viera at Kathleen
Note: The much-improved Viera team will make a trip over to Lakeland take on Kathleen in which should be a great test for both teams. Viera is loaded with talent and in most years Kathleen is as well. Fans should get their monies worth from this game.
September 25
Suwannee at Lake Wales
Note: Suwannee will be making a nice, long road trip this season to take on a Lake Wales program that has just as much history as themselves. Both teams have several Division I prospects and both could easily upset the other depending on how well each team starts out the first weeks of the season.
October 2
Land O'Lakes at Lakeland Christian
Note: One of the top teams in Pasco makes the trip across I-4 to take on the Vikings. Beginning in 1997, the Gators made the state playoffs 14 consecutive years, however have fallen on hard times and missed the playoffs since 2010.
October 9
Lakeland Christian at Melbourne Central Catholic
Note: Good test for the Vikings who begin district play a week later. Rematch of a first round playoff game last season in which Lakeland Christian held off Melbourne Central Catholic 32-26.
October 16
Winter Haven at Lakeland
Note: The two best public schools in Polk County face off, in what will be a good chance for the Blue Devils to take over the county. Whoever does come out on top will likely be sitting in the drives seat in the District 7A-7 standings.
October 23
Fort Meade at Pahokee
Note: Both teams shockingly dropped down from Class 3A to Class 1A, setting up this huge showdown with the District 1A-8 likely to be on the line.
Blanche Ely at Lakeland
Note: Since 2004, the Dreadnaughts have made it a point to schedule some of the top teams from Miami-Dade and Broward Counties. Since 1999, Blanche Ely has made the playoffs 13 of the last 15 years including a state championship in 2002.
October 30
Kathleen at Lakeland
Note: Kathleen stunned Lakeland 24-3 two years ago to not only win the District 5-7A title, but more imporantly stop a 19 consecutive game losing streak to its arch-rival. Kathleen attempted to win back-to-back games over its rival for the first time since 1975-1976, but that didn't happen as Lakeland won an offensive struggle 21-2 to improve to 37-12 in the all-time series.
DeSoto County at Hardee
Note: The states oldest continuously played rivalry has been one-sided for a while. Hardee, which holds a 28 game lead in the series, had won five in a row in the series and 18 out of 21 since 1993, however DeSoto County stunned Hardee last season to earn its first win in the series since 2008.
November 6
Avon Park at Sebring
Note: The states third oldest rivalry has seen its share of up and downs. Hard to believe this but from 1926 to 1967 Avon Park once dominated the Highlands County rivalry. Since then its been all Sebring, who has won nine in a row and 20 out of last 25 in the series including a 30-6 win last season.
POLL
[poll id="7″]