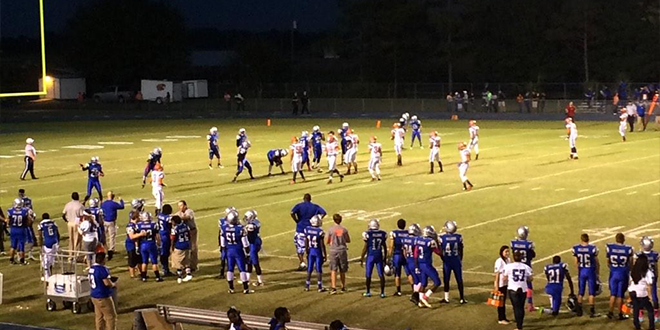 There is nothing like a great rivalry to get the community, students and players all fired up for.
Some of the state's best and oldest rivalries dating back over 90 years have been contested right in the Heartland Region.
Lakeland & Kathleen
Series: Lakeland leads, 37-12
Next meeting: October 30 at Lakeland
Note: Kathleen stunned Lakeland 24-3 two years ago to not only win the District 7A-5 title, but more importantly stop a 19 consecutive game losing streak to its arch-rival. The last time Kathleen knocked off Lakeland, future NFL Hall of Fame linebacker Ray Lewis was roaming the sidelines which was in the early 1990's. Kathleen attempted to win back-to-back games over its rival for the first time since 1975-1976, but that didn't happen as Lakeland won in a offensive struggle 21-2.
Results over the last five years:
2014: Lakeland 21, Kathleen 2
2013: Kathleen 24, Lakeland 3
2012: Lakeland 28, Kathleen 27
2011: Lakeland 31, Kathleen 21
2010: Lakeland 47, Kathleen 13
Hardee & DeSoto County
Series: Hardee leads 58-31-5
Next meeting: October 30 at Hardee
Notes: The states oldest continuously played rivalry has played for the Walter F. Buck Carlton Trophy since 1965. The trophy was temporarily retired in 1972 after three consecutive DeSoto County wins, a stipulation of the original trophy presenter, but was brought back in 1982. Hardee, which holds a 28 game lead in the series, had won five in a row in the series and 18 out of 21 since 1993, however DeSoto  County stunned Hardee last season to earn its first win in the series since 2008.
Results over the last five years:
2014: DeSoto County 23, Hardee 18
2013: Hardee 26, DeSoto County 7
2012: Hardee 21, DeSoto County 13
2011: Hardee 42, DeSoto County 6
2010: Hardee 14, DeSoto County 12
Avon Park &  Sebring
Series: Sebring leads 52-40-1
Next meeting: November 6 at Sebring
Note: The states third oldest rivalry has seen its share of up and downs. Hard to believe this but from 1926 to 1967 Avon Park once dominated the Highlands County rivalry. Since then its been all Sebring, who has won nine in a row and 20 out of last 25 in the series including a 30-6 win last season.
Results over the last five seasons:
2014: Sebring 30, Avon Park 6
2013: Sebring 44, Avon Park 14
2012: Sebring 36, Avon Park 0
2011: Sebring 45, Avon Park 0
2010: Sebring 34, Avon Park 0
Bartow & Lake Wales
Series: Began in 1970, Lake Wales leads 23-21
Next meeting: November 6 at Bartow
Notes: Bartow dominated the rivalry early in the annual showdown, but Lake Wales has had the upper-hand lately. The Highlanders have won nine in a row and 15 out of the last 17 in the series, after a 32-18 win last season.
Results over the last five seasons:
2014: Lake Wales 32, Bartow 18
2013: Lake Wales 55, Bartow 20
2012: Lake Wales 45, Bartow 15
2011: Lake Wales 41, Bartow 0
2010: Lake Wales 37, Bartow 7
Winter Haven & Auburndale
Series: Began 90 years ago
Next meeting: August 28 at Winter Haven
Notes: The rivalry between near by county rivals dates over 90 years. Winter Haven has won six in a row recently and 8 of the last 11 in the series.
Results over the last five seasons:
2014: Winter Haven 43, Auburndale 13
2013: Winter Haven 42, Auburndale 9
2012: Winter Haven 22, Auburndale 3
2011: Winter Haven 34, Auburndale 17
2010: Winter Haven 54, Auburndale 0
Honorable Mention: Fort Meade & Frostproof, Lakeland & Lake Gibson, Kathleen & Lake Gibson, Bartow & Fort Meade, Lake Wales & Haines City, Fort Meade & Mulberry