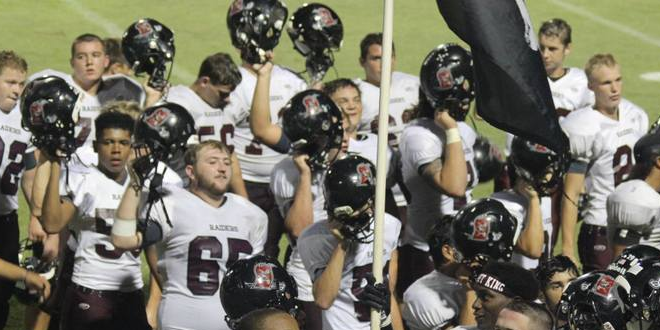 Navarre at Dothan
When: Friday, August 21, 7:00 p.m.
Where: Rip Kewes Stadium in Dothan, Alabama
2014 Records: Navarre, 9-3; Dothan, 5-6
Navarre Key Players: Michael Carter (Jr., RB), Derrick Smith (Sr., RB/FS), Hasaan Williams (Sr., RB/FS), Octavien Moyer (Sr., WR/DB/P), Xavier Fernandez (Jr., LB), Bo Hering (Jr., LB), Anthony Miller (Sr., DL), Thomas Leggett (Sr., CB/WR)
Dothan Key Players: Jacoby McDaniel (Jr., QB), Deon Dozier (Sr., RB), Ketric Blocker (Sr., WR), Tyson Williams (Sr., ATH), Nick Fields (Sr., DL), Josh Ryle (Sr., LB), Tyrez Linsdey (Sr., DB), Juan Moore (Sr., DB), Kasuan Wall (Sr., DB)
About Navarre: Since 2010, Navarre has made a habit of not only making the playoffs 3 of the last 4 years but advancing past the second round every time. Jay Walls has built the program into a consistent program (1 Final Four appearance, 1 Elite 8 appearance, 2 Sweet 16 appearances) that keeps looking to take that next step. That next step will be determined by a good mix of returning starters on offense including Carter (744 yards, 12 TDs on 90 carries, 337 receiving, 5 TDs), Smith (541 yards, 6 TDs on 100 carries), Williams (266 yards, 2 TDs on 36 carries) and Moyer (10 catches for 105 yards). Defensively, the Raiders are stacked led by Fernandez (125 tackles, 9 tackles for loss), Hering (109 tackles, 7 tackles for loss), Leggett (98 tackles) and Miller (91 tackles, 19 tackles for loss, 14 quarterback hits). Navarre hosted Dothan on Halloween night last year, winning easily 49-24 giving the Raiders plenty of confidence heading into this one.
About Dothan: Dothan didn't something it hadn't done in nearly 20 years last year, hosting its first home playoff game in 17 years. Unfortunatetly for the seventh straight time, it was a short stay with another one and done showing in the first round. The Tigers have a lot to prove this season and with a heavy senior class will look to earn the schools first playoff win since 1997. Six starters return on offense, while five return on defense. McDaniel moves from starting receiver back to quarterback, where he started two games as a freshman. Dozier (344 yards) and Williams (56 catches for 647 yards, 4 TDs) will have five senior lineman in front of them. Defensively, the Tigers lost six of their top seven tacklers, however five returning starters are back including all three in the secondary: Moore (67 tackles), Lindsey and Hall. One player to keep an eye on is Ta'Juan Williams, a 6-4, 230 pound transfer from Spruce Creek (Florida) High, who played two years at quarterback.
Outlook: If there is a weakness on the Dothan team it is the defensive front seven, as only one starter from the defensive line and linebacker return. Look for Navarre to expose that area, especially the tandem of Carter, Smith and Williams.
Prediction: Navarre