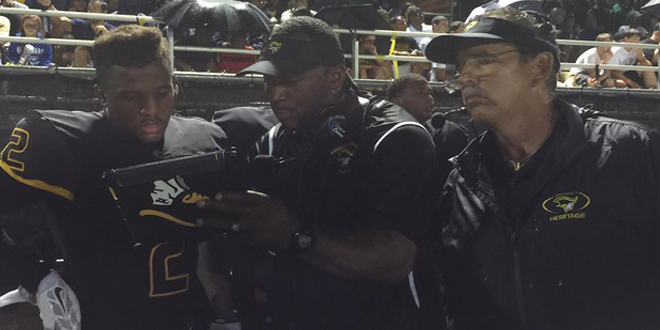 Week two of South Florida High School Football was exhilarating and saw some of the area's best teams clash head to head, headlined by a nationally relevant showcase between American Heritage of Plantation and visiting DeMatha Catholic from Maryland.
We appear to be closer to getting a clearer picture on who the area's best team is but we're not quite ready to declare exactly who that is. At least not yet, based on the results on the field. However, several teams made strong cases this past weekend.
Even in a loss, American Heritage Plantation looked strong, losing by only one point to DeMatha.
BIG GAME RECAP: It was exciting to see the DeMatha Catholic team from Hyattsville, Maryland visit South Florida for two reasons. First, because national powers rarely make the trip to South Florida to play, it's usually area teams traveling out of the region to do battle. And secondly, it was a great opportunity to see how legitimate the program was on the gridiron facing one of the area's best teams in American Heritage Plantation, especially after blowing out Miami Central on the road who many thought to be the best in the area.
Just two weeks earlier, American Heritage was thrust onto the national stage with a shocking 19-7 win over IMG Academy in Bradenton. Locally, everyone who follows South Florida Football closely knew this team was talented and perhaps underrated nationally. But the IMG win on the road, really turned heads.
That set up Saturday's match up.
Credit DeMatha Catholic for coming in strong and asserting themselves on the ground gaining an early lead. University of Maryland RB commit Lorenzo Harrison was DeMatha's best player on the night. He applied pressure at tail back with strong runs, played great on defense at linebacker adding physical play to the stingy Stag defense and was gem on special teams also.
DeMatha went to halftime leading 16-3 and appeared to be in full control of the game. They were aided by countless penalties and special team miscues by American Heritage, who totaled 13 for over 100 yards on the night.
But in the second half, the Stags began making miscues of their own and started passing the football and slowing the game down.
That decision gave American Heritage new life.
After the game, Stags head coach Elijah Brooks took full responsibility for allowing Heritage back in the game in the second half.
"I didn't put the team in the best position to win the game down the stretch," speaking about his decision to begin passing the ball late.
"We had the game in control and I called a pass play. It was an idiotic play call, we should have just ran the ball to keep the clock on our side. It's just things that I take 100 percent fault for and we'll get better from this."
Heritage surged back behind the leadership and strong play from their junior quarterback Jason Brown. After DeMatha fumbled a screen pass, Heritage took over. Brown, the former linebacker, ran toward the end zone and bowled over a Stag defender as if he were hitting the 'truck stick' in the popular video game 'Madden.'
The play electrified his team and the crowd. The score was now 16-9 after another blocked extra point.
DeMatha scored again and Brown led two more drives following to bring the game to within one point 23-22. But it wasn't enough.
Head coach Mike Rumph raved about his junior signal caller post game.
"The part that no one sees is that he's a leader every week. He put us in a great position to win this game, but unfortunately we couldn't pull it out."
And the reason why is because Heritage just made too many mistakes. An extra point attempt to win the game by converting a two-point try was penalized for 'delay of game.'
On the next attempt, which was now going to be an extra point kick, there were too many players on the field and they were backed up another five yards.
Once the kick was finally attempted, it was missed 'wide-right' and the Stags would eventually escape after recovering the onside kick with 53 seconds left.
Overall, the game is a story of missed opportunities for American Heritage but we are left to wonder what may have been. How good could this team be, playing without starting RB Kyshaun Bryan and having made so many mistakes to come within one point of a Top-3 rated team in DeMatha?
We'll know soon enough.
The win did confirm that the Stags are for real. Coach Brooks spoke about its significance post game.
"We respect Florida football, we respect football everywhere, but we think we can play football also. We've beaten every Florida team we've faced and that's something we can be proud about."
QUICK HITTERS
Miami Carol City got in the win column notching an impressive win over Oxbridge Academy of West Palm Beach. They did so behind the impeccable running of freshman Nayquan Wright. After the two point loss to Coral Gables in week one, the Chief staff reportedly stayed until the early morning hours to discuss their woes on offense and getting Wright the ball more. It worked.
St Thomas Aquinas continued its dominance routing Miramar 48-18, a team that had beaten them three out of the last four tries. They now look ahead to area rival Plantation.
Pembroke Pines' Flanagan High and Coconut Creek High School faced off for a tough early season test of mettle on Friday night. Flanagan held on to win 21-14 after taking a 21-0 in the fourth quarter, behind their second string QB Stanford Samuels III, a national recruit at defensive back. After giving up two quick scores late, Flanagan buckled up to win by a touchdown.
Both Miami Central and Miami Booker T. Washington stopped the bleeding this weekend from opening blowout losses with blowout wins over opponents they were expected to dominate. However, the jury is still out on how they will respond to stiffer competition later on in the season.
American Heritage-Delray traveled to New Jersey and lost on the road to national power Bergan Catholic 37-7.
SMALL SCHOOL LOVE: Calvary Christian (Ft. Lauderdale) is 2-0 in the early season, playing as an independent in the Southeastern Football Conference. They should be favored to win their next two games over Immaculata-LaSalle and Pope John Paul II (Boca Raton) to bring them into a key matchup with Coral Springs Charter.