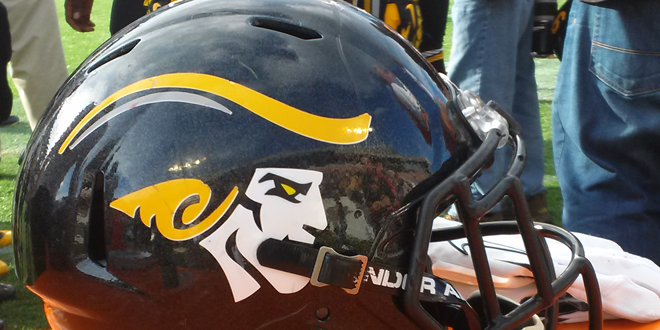 FloridaHSFootball.com is a partner of USA TODAY High School Sports
Plantation American Heritage  survived an early scare to put away Coconut Creek 41-20 on Friday.
The Patriots (3-1), after allowing Coconut Creek (2-2) to tie the score at 14 following an interception, scored 27 unanswered points to put the game out of reach. The game's final play was a 6-yard run by American Heritage's 4-foot-5 running back, Adam Reed.
American Heritage cornerback Patrick Surtain Jr. opened up the second half with a 55-yard interception return for a touchdown to put the Pats up 34-14. Jason Brown threw his second touchdown pass of the night, a 35-yarder to Anthony Schwartz, to end American Heritage's scoring.
Brown had two first-half touchdown runs and threw a second-quarter touchdown pass to junior wide receiver Laress Nelson. The other first-half score for American Heritage came on a 2-yard run by running back Khalil Herbert.
RELATED: Super 25 rankings
RELATED: For more high school sports news and scores, visit USA TODAY High School Sports
Coconut Creek quarterback Jhakari Harrison threw two first-half touchdowns, the second to tie the game at 14-14.
American Heritage next plays at Miami Norland next Saturday. Coconut Creek plays host to Cardinal Gibbons on Oct. 2.
Follow USA TODAY HSS on Twitter at @USATODAYHSS