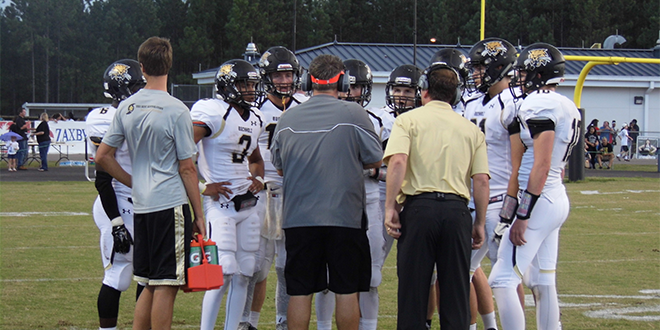 ORANGE PARK – It has been one heck of a week to say the least for Oakleaf.
Earlier in the week, the Knights moved up to No. 2 in the latest Associated Press Florida State High School Football Class 7A Poll, its highest ever ranking in that poll.
The Knights also started out No. 2 in the FloridaHSFootball.com Class 7A rankings at the start of the season and was recently ranked No. 3 as of this week.
Following the release of the rankings, the week of practice was anything but productive.
Oakleaf coach Derek Chipoletti admitted his team had one of his worst weeks of practice and it showed Friday night in a 20-14 stunning District 7A-3 loss to visiting Buchholz at Zaxby's Field.
"This week a lot of stuff has been going and I think there might be some truth to that," Chipoletti said. "Practice this week was terrible, the kids weren't as focused and we needed this wake up call."
Buchholz took the opening kickoff and marched 80 yards in 13 plays culminating with junior tailback Torey Richardson's 1 yard plunge stunning the home crowd which gave the Bobcats an early 7-0 lead with 7:10 left in the first quarter.
"They did somethings different that we hadn't seen on film," Chipoletti said. "They did a great job of mixing up their formations."
An Oakleaf offense that was already struggling averaging 16 points a game, two of its last three games, hard to believe hit rock bottom against the Bobcats.
"Offensively we didn't practice well this week," Chipoletti said. "These kids are a scrappy bunch, we only have one Division I-A kid on offense and the rest are little fellas. We couldn't throw because we couldn't protect that well and when he had to throw we had people in his face."
Knights quarterback Jordan Johnson was harassed all night long by book ends Taylor Garrison (4 sacks) and Chris Rumph, both who were constantly in the backfield harassing him.
Keyon Garmon rumbled 14 yards for a first down for the Knights before fumbling the ball away before falling down. Buchholz took advantage of the mistake just five plays later.
Bobcats quarterback Jackson White (13 of 19 for 145 yards) rolled right and found Barry Moore for a 4-yard score giving the Bobcats a 14-0 lead less than six minutes left in the first half.
A possession later, the Bobcats appeared on the verge of making it a three score lead at the half but Khalif Copeland picked off a White pass inside the ten killing a Bobcats drive with forty seconds left till half.
Buchholz carried a 14-0 lead into half riding a lot of confidence going into the second half on the verge of a potential upset.
Oakleaf took the second half kickoff and behind tailback Keylan Brown (129 yards on 15 carries), marched down the field with ease. Brown busted off a 26 run on the first play from scrimmage of the second half.
Javonte Ferguson took a jet sweep and started right cut back left and behind a key block from Johnson raced 14 yards down to the 26 yard line. Brown continued the drive with runs of 3, 8 and 15 yards the latter, which cut the Bobcats lead to 14-7 with 10:25 left in the third quarter.
It appeared Oakleaf has swung all the momentum after that opening drive of the second half, however the pendilum quickly swung back to Buchholz.
Marcus Clayton fielded the ensuing kickoff at his own 10 and raced 90 yards up the middle untouched increasing the Bobcats lead to 20-7 just 11 seconds later.
Two possessions later, Buchholz again appeared to put the game away driving inside the Oakleaf 25 yard line, but Nick Roberts picked off White at the 15 yard line to close out the third quarter.
Clayton nearly hauled in a interception a possession but couldn't keep his feet in bounds keeping the Bobcats drive going. Eight plays later, Clayton made a diving interception on a fourth and 10 play.
White, who also is the Bobcats punter, shanked a punt off the side of his foot, giving the Knights possession at midfield with under five minutes to play in the game.
Johnson led the Knights on a long drive culminating with his 9 yard touchdown toss to Darius Perry on fourth and goal with under two minutes to play cutting the lead to 20-14.
Buchholz recovered the onside kick and with Oakleaf having just one timeout left in the game appeared well on its way to pulling the major upset.
After three short runs by Washington (101 yards on 23 carries), the Bobcats were forced to punt again with 18.1 seconds left.
A high snap over White head sailed way behind him, the Bobcats struggled to gain possession of the ball while the Knights inadvertently kicked the ball out of bounds at the 4 yard line with 8 seconds left.
Johnson first pass sailed out of bounds, setting up one final play for the Knights.
Another low snap was picked up by Johnson, who scrambled to fight off the pass rush before finally going down as the horn sounded giving Buchholz its first win over Oakleaf and ending the Knights 13 game winning streak.
"We extended two drives that helped them remain on offense," Chipoletti said. They run a screen on third and long and pick up the first down and then on fourth and short, we jump offsides and give them another first down.
Buchholz (3-1, 1-0) will take on Ocala Vanguard at Citizens Field in Gainesville next Friday while Oakleaf (3-1, 0-1) travels over to Clay in Green Cove Springs for a Clay County showdown.