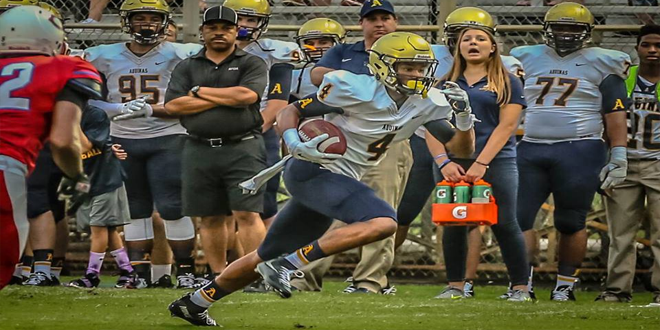 FloridaHSFootball.com is a partner of USA TODAY High School Sports
St. Thomas Aquinas used special teams play to trounce visiting Cypress Bay 45-10 on Friday.
Three of the Raiders' five first-quarter touchdowns followed blocked kicks.
The first score came after Aquinas blocked a field goal attempt by the Lightning's Jake Furhman. A few plays later, Raiders running back Sam Llewellyn ran it in from Cypress Bay's 10-yard line. Grayson Crozier made it 14-0 with an 18-yard blocked punt return a few minutes later. Adetutu Daranijo recovered a blocked punt in the end zone to put the Raiders up 28-0. After another stalled Cypress Bay drive, Michael Harley returned a punt 42 yards for a touchdown and Aquinas led 35-0 in the first quarter.
RELATED: Super 25 rankings
RELATED: For more high school sports news and scores, visit USA TODAY High School Sports
Quarterback Jake Allen threw two touchdown passes, the first a 12-yarder to Dominic Thieman with 4:48 left in the first quarter, and the second, from 23 yards out to Harley, in the second quarter.
Playing under a running clock in the second half, the Raiders added to the lead with a 24-yard field goal by James McCourt. Andrew Parchment scored Cypress Bay's only touchdown on a 20-yard run in the third quarter.
The Raiders (4-0) play next Friday at Hallandale. The Lightning (1-2) play host to Plantation next Friday.
Follow USA TODAY HSS on Twitter at @USATODAYHSS