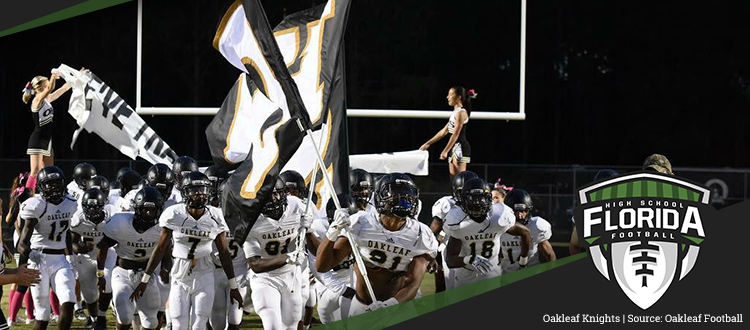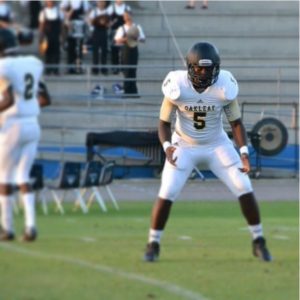 OAKLEAF KNIGHTS
Head Coach: Steve Reynolds
District: 7A-3
2015 Record: 8-2
Offensive Formation: Multiple Spread
Defensive Formation: 4-3
RETURNING ATHLETES
Name, Height, Weight, Year, Info & 2015 Stats in parenthesis
• DB Nick Roberts, 5-11, 175, Sr. (4-year starter who hold multiple offers, has 11 career INTs; Last season had 3 picks, 2 FR, 5 passes defensed; HM FHSF 7A All-State Elite Team)
• WR Rontrez Morgan, 5-11, 170, Sr. (4-year starter, career with 70 catches and 650 rec yds. Committed Indiana State)
• QB Jordan Johnson, 5-11, 175, Sr. (1,735 yds passing, 17 TDs; HM FHSF 7A All-State Elite Team)
• DB Kwame Clark, 5-10, 180, Sr. (5 career INTs, 9 career PBUs)
• TE/FB Dominque Mitchell, 6-1, 245, Sr. (15 catches in 2015)
• DT Jayon Bradley, 5-10, 260, Sr. (3-year starter)
NEWCOMERS ON THE FIELD
Name, Height, Weight, Year, Additional Info in parenthesis
• RB Keshawn King, 6-0, 175, So. (Played JV last season, but already has a 67 varsity TD run to his credit)
• RB Jakobie Baker, 5-9, 185, Jr. (Stint at LB last season, but has switched to RB)
• OL Mitch Cutherbertson, 6-2, 225, Jr. (Throw back player – tough, hard nosed and very coachable)
• OL Jalen Rivers, 6-5, 325, Fr. (Coaches believe he will be a big name for the Oakleaf offense)
• DE Chantz Williams, 6-4, 215, Fr. (Another athlete coaches believe will be a big name for Oakleaf)
2016 SCHEDULE
* – denotes district game
• Aug. 26 at Westside, 7
• Sept. 2 at Orange Park, 7
• Sept. 9 at Ponte Vedra, 7
• Sept. 16 at Buchholz, 7:30*
• Sept. 23 vs. Clay, 7
• Sept. 30 at Fleming Island, 7:30*
• Oct. 7 BYE WEEK
• Oct. 14 vs. Arlington Country Day, 7
• Oct. 21 vs. Creekside, 7*
• Oct. 28 vs. Bartram Trail, 7*
• Nov. 4 vs. North Marion, 7
STORYLINES TO FOLLOW
New Sheriff in town: After four of watch under Derek Chipoletti, the reins of the Knights program are being handed over to a man who followed behind him when he left Bradford to take the Oakleaf job. That would be Steve Reynolds. Reynolds who went 9-11 in two seasons at Bradford in 2012 and 2013 takes over a team that has rose through the ranks of success in Clay County football that is only one of four teams in the county to have at least reached the regional finals. Reynolds won't be left without anything the cupboard as most of the coaching staff that was there under Chipoletti has remained intact during the transition. Chipoletti stepped down to take a job in the private sector.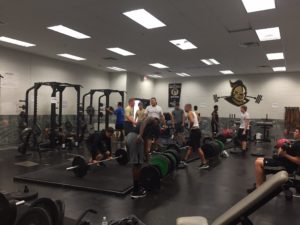 Next man up?: There are going to be some BIG shoes to fill as the departure of Shaquille Quarterman leaves a big hole at the linebacker position. Having been the senior leader for the defense last season, that role transitions to someone new this season? Who will that be? The question remains unanswered at this point, but that main person to assume the shoes of Quarterman could certainly become apparent during fall camp before things get started with a huge preseason game when they host Camden County, Ga. on August 19.
Offense should be consistent, defense will be young: If there is one bright thing about the potential of this team, it will be the offense which will be lead once again by quarterback Jordan Johnson. Johnson who threw for over 1,700 yards last season will be the key piece to keeping thing consistent while the defense comes together around a few new players, especially as the front seven of the defense will be young, but helped by a veteran secondary. This should help keep Knights in the mix for a playoff spot.
KEY NON-DISTRICT GAME TO WATCH
• Sept. 23 vs. Clay – If Camden County were a regular season game (which it will be next season) it would certainly fill this slot. However, that does not downgrade the matchup with Clay by any means. This has become a fun overall matchup for fans of both schools and has been a battle that ultimately has decided who win's the St. Vincent's Clay County Cup for the last few seasons. Overall, expect a packed house of fans from both teams at The Dungeon for this one.
KEY DISTRICT GAME TO WATCH
• Sept. 16 at Buchholz – Can't stress the importance of this game enough (along with another key district game against Bartram Trail on Oct. 28). This game came down to the final minutes and the final plays which ended up costing Oakleaf a win, plus ultimately a spot in the playoffs last season. This season Buchholz returns quite a few skill guys that are going to contribute big once again this season. With that said, having to make a trip down to Gainesville for this game could be something that could prove a challenge on the field depending on how fast the Knights can come together, especially on defense.
THE OUTLOOK
With a new head coach, but some familiar taking the reins of the program, the transition for the Oakleaf football program has not been faced with difficulty as some programs would go through with a new head coach coming in from outside the program.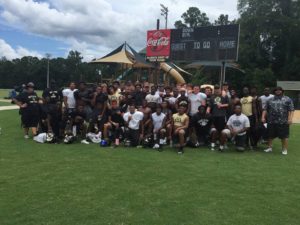 With that said the biggest thing for the Knights to worry about is how fast their defense can develop. Having to replace most of your defensive line with younger players who may or may not have enough experience will be a key thing to watch. Even though the secondary is made up of more veterans, this could be problematic if opposing offense have their way too easily early on in the season.
Offensively, you should expect to see a lot of consistency, which should help keep Oakleaf in competitive games as the defense comes around. Jordan Johnson has been a consistent passer for the Knights and there should be no reason to expect that to change. He will have the abilities of Rontrez Morgan to be able to help pick up yards though the air while also having newcomers Keshawn King and Jakobie Baker helping in the backfield to move the ball down the field as well.
Overall, the Knight will certainly be in the playoff hunt once again this season in District 7A-3. If the Knights did learn from their mistakes last year that cost them a playoff spot despite going 8-2, they will certainly be in the dance come mid-November. However, they must keep an eye on the talent that both Buchholz and Bartram Trail have cultivated or it could be a very long season for the Knights – something they certainly don't and shouldn't have to think about.