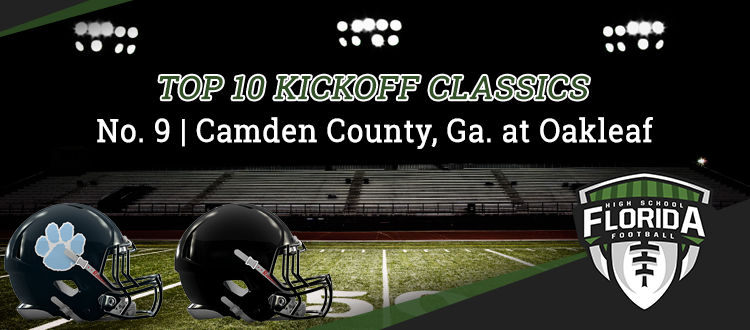 9. Camden County (Georgia) at Oakleaf
When: Friday, 7:00 p.m.
Where: The Dungeon at Zaxby's Field, Orange Park
Radio: Camden County – WKBX 106.3 FM, Kingsland
Why: After finishing last season 8-2 and outside the playoffs, the Oakleaf Knights knew the only way to keep getting better was to find a tough challenge in the process. That challenge will come in the form of the Camden County Wildcats out of Kingsland, Ga. What has been recognized as one of the toughest teams to play against from Georgia, Oakleaf will get to see how some of the new players will perform, filling some big shoes that include the ones left behind by University of Miami signee, Shaquille Quarterman. For Camden County, which finished the 2015 season with a 10-2 record, starts out in a new classification in Georgia, dubbed the "Big 44" or better known as Class AAAAAAA. The Wildcats are ranked No. 6 by Georgia High School Football Daily and will be competing with Colquitt County for the top spot in their region this season. And last not least, while the game will count for Camden County as it is their season opener, it will not count for the Knights.
Predictions
USA TODAY HSS Score Predictor: Camden County 33, Oakleaf 14
Josh's Prediction: Camden County 38, Oakleaf 14
Who do you think will win?